Leveraged Margin Loans
Leveraged has been awarded a 5-star rating in Canstar's 2017 Margin Loans Star Ratings. Find out why Canstar have recognised the Leveraged margin loan as providing outstanding value to consumers.
This year, Canstar has researched and rated 12 providers with 14 margin loan products in Australia. Canstar is pleased to congratulate Leveraged on achieving our 5-star rating for outstanding value margin loans. This is the first time we have rated margin loan products from Leveraged and we congratulate them on receiving a 5-star rating this year.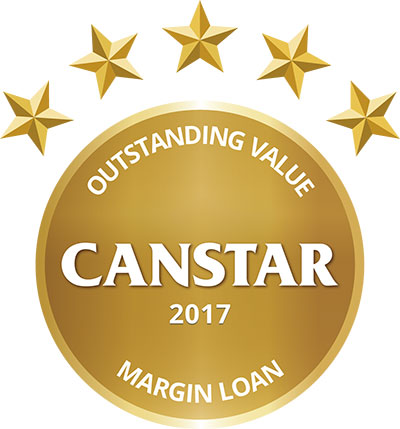 Why Leveraged won a 5-star rating for margin loans
Leveraged is able to maintain an extensive list of acceptable securities alongside a competitive price proposition.
In particular, the Direct Investment Loan currently offers the lowest fixed rate in the market at 4.70%. They also offer a variable rate of 5.50%, which is just 0.20% shy of the lowest rate on offer.
Additionally, the product offers a total of 603 ASX listed companies as acceptable securities.
The inclusions above represent a selection of what is included. Additional conditions may apply to different features. Please ensure that you read the product disclosure statement (PDS) to determine all the loan options and inclusions for the product you are considering.
Canstar is an information provider and in giving you product information Canstar is not making any suggestion or recommendation about a particular credit product. If you decided to apply for a home loan, you will deal directly with a financial institution, and not with Canstar. Rates and product information should be confirmed with the relevant financial institution. For more information, read our detailed disclosure and our Financial Services and Credit Guide (FSCG).
About Leveraged
Leveraged (formerly known as Leveraged Equities) is a specialist provider of margin loans.
Leveraged Equities was founded in 1991 by stockbroker Ord Minnett. Acquired by Adelaide Bank in 2000, it has since grown in Australia and New Zealand.
How Leveraged supports the community
Parent company Bendigo and Adelaide Bank support the Australian community through a number of initiatives. The Community Enterprise Foundation, their charitable arm, gave out community grants of more than $6 million in 2015-16. More than 8,500 young people have participated in 1,250 business and community projects through Lead On Australia, a community development organisation established in 1999. Bendigo and Adelaide Bank also provide tertiary education scholarships to disadvantaged young people:
Source: Bendigo Bank
How Leveraged protects the environment
Parent company Bendigo and Adelaide Bank protect the environment by matching 70% of the energy purchased by the company against renewable sources. They also partner with organisations such as Switch To Save, Earth Hour, Cool Australia, and Trees For Life (Adelaide Bank plants a tree or shrub for every customer who switches to eStatements).