As temperatures begin to plummet, Nadia Crighton, from Pet Insurance Australia, takes a look at some of the aliments that affect our pets during winter.
Winter is certainly on its way. As the afternoons turn to darkness and the morning alarm sends shivers down your spine, it's time to start considering some winter warmth for your pets.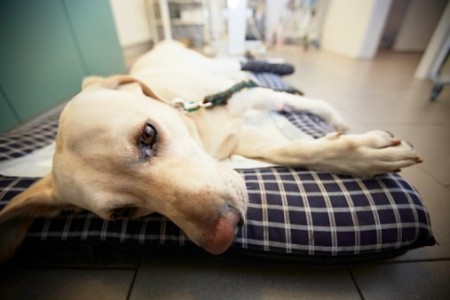 Pet Insurance Australia is reminding all pet owners that it's important to keep your 'furrever friend' warm this winter.
That means you need to make an action plan now to keep your pets comfortable as the colder months approach. We've listed some of the key tips for keeping your pets warm in winter below.
The dog breeds that adjust best to the cooler weather include thicker coat pups like Huskies, Alaskan Malamutes, and German Shepherds.
Boxers, Greyhounds, and French Bulldogs are more susceptible to the cold, and would benefit from extra warm bedding or wearing a coat during the winter months.
Tips for keeping your pets warm in winter
RSPCA NSW recommends a few key tips to keep your beloved pet warm and healthy, and away from the vet, this winter:
Sleeping: Outdoor pets need well-insulated shelter that is weather proof, such as the laundry or another protected area. Indoor pets will love it if their bed and a blanket are placed in the cosiest part of the house. The main thing is to get the bed up off the cold floor, whether that's with a bed or a trampoline bed – or letting them sleep on your Older pets may need to wear a coat at night. But never use a hot water bottle or wheat bags, as these can overheat and cause burns.
Sunlight: Getting enough warmth is just as important during the day for our pets. Pet Insurance Australia spokesperson Nadia Crighton says you could start by "moving kennels into the sun, and cat beds into light drenched windows".
Coats: If you're out for a walk in the winter rain, consider a waterproof walking coat for your dog. Make sure the coat is fitted correctly and is not too tight or too loose.
Food: Just like us, your pets feel hungrier in winter as they burn more calories to stay warm. Follow our guide on avoiding pet weight gain in winter, and ask your vet if you're not sure how much to feed your fur baby.
Water: Many dogs do not drink enough water during winter months. A good way to ensure your dog is getting some additional water, while adding some warmth, is to add it to their dinner – something like a stock cube, or a teaspoon of vegemite added to some warm water. Make sure the water is warm, not hot. This is also good for older pets as it can help soften the food a little, which is soothing on old teeth and gums.
Exercise: Exercise is important at all times of the year, even in winter. So get outdoors and take your pet for a walk, making sure to accessorise short-haired breeds with a warm jacket.
Grooming: Pets' fur is designed to keep the warmth against their skin, but the heating system doesn't work right if their fur is matted or tangled. Regularly groom your pet, or get it professionally done if you're not confident doing it by yourself.
Read our other year-long health tips for your pets:
Find out what your pet insurance policy will help cover, such as a pre-winter vet check-up or the usual post-winter tick prevention treatments:
Most dogs and cats will go in and out of seasonal changes without much fuss; however, some animals do need a little extra love and attention as the cooler weather approaches. Here's how to handle it.
Older pets struggle in winter
It's no surprise that our older pets struggle with the cooler weather. Older pets feel the cold easily, with many showing some symptoms of arthritis and stiffness as the cooler weather approaches.
Making sure your older dog and cat is kept warm is paramount. Place beds in the sunlight, add additional blankets and consider a dog coat for the cooler nights.
For older cats, you can also purchase heat pads that you pop into their beds – because as anyone who has a cat knows, most cats hate wearing a coat like a dog would.
Another key thing to look out for are the symptoms of arthritis, as insurer Pet Insurance Australia has noticed an increase in claims for arthritis recently.
"In 2010 we saw just over 2,000 claims for arthritis, this number is now well over 15,000 claims per year," said spokesperson Nadia Crighton.
Some of the tell-tale symptoms of arthritis in pets to watch out for include (Pet Insurance Australia):
Pacing, particularly at night
Licking joints
Groaning when getting up or lying down
Yelping when running or jumping
Tight joints
Unusual walking or signs of stiffness
Reluctant to get up or exercise
If your older pet is showing any of the symptoms or signs of arthritis, pop along to the vet for a quick check.
"The medication now available for arthritis is giving new lease on life to many arthritic bound animals," says Ms Crighton.
Pet insurance may be able to help cover the cost of certain medications depending on your type of pet insurance and level of cover. The treatment options available today are simply amazing and you'll be surprised how quickly your older pet will return to its happy self.
Long-haired breeds in winter
Many pet owners may wonder, "Is my pet's coat thick enough for winter?" If it's not, it's easy enough to fix with a coat or other warming aids. But what about breeds with their own coat – how do you know if it's thick enough?
If you have a long-haired, heavy-coated dog or cat, you'll find they cope very well in the winter conditions. In fact, it's important for them to get out in the chilly air. If they spend too much time in front of the fire or heater, their body may not actually trigger that it's winter and grow long enough for the temperature outdoors!
The main thing is to prevent matting and knots in your pet's hair as it grows, by grooming your animal regularly. Matting can be a huge problem for heavy coated cat and dog breeds, as it can become painful when the hair is so entangled that it pulls on their skin. Don't be tempted to cut the knots or hair-matts out of the fur, particularly close to the skin, as this can end in tears for all involved!
Instead, use a specialised comb or head off to the groomer for some professional help. Some comprehensive pet insurance policies will cover certain types of routine care such as professional grooming. Check your policy and contact your insurer if you think you may be eligible to make a claim: