What do Aussie pet owners want from their pet insurance provider, and which insurer has kept its customers' tails wagging the most?
While value for money was the biggest driver of overall customer satisfaction among pet owners who took part in Canstar's survey, the winner of our first ever Most Satisfied Customers – Pet Insurer Award received high scores across the board.
As part of the Award, Canstar surveyed 634 Australian pet insurance policyholders, with respondents asked to rate their satisfaction with various aspects of their experience with their insurer, including cost, communication, customer service, the claims experience, comprehensiveness of cover and value for money.
RSPCA has won Canstar's first ever Most Satisfied Customers – Pet Insurer Award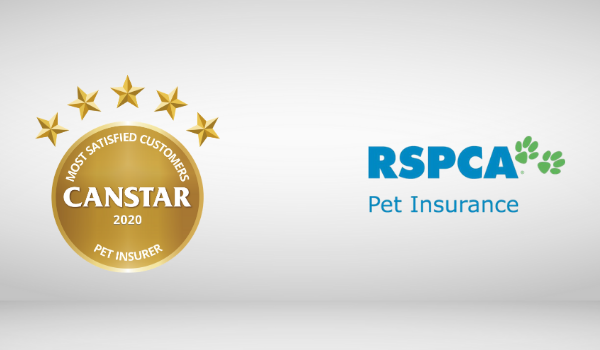 Australians may be more familiar with RSPCA's work as an animal welfare organisation, but it's also a provider of pet insurance – and evidently one that's doing a good job of keeping its customers happy, according to Canstar's survey.
RSPCA was the top-performing provider for value for money, customer service, communication, and comprehensiveness of cover.
According to RSPCA's website, it offers its pet insurance customers benefits that include an annual claim limit of up to $20,000, excess-free claims, a 10% multi-pet discount, and up to 80% of eligible vet bills reimbursed when a claim is approved.
It also offers four different levels of cover, ranging from its General Accident & Illness Cover to its Ultimate Plus Accident & Illness Cover. Policyholders can choose to add Routine Care Cover as an optional extra to RSPCA's two higher-tier levels of cover. RSPCA's pet insurance is issued by global financial services provider, The Hollard Insurance Company.
What were the main drivers of overall customer satisfaction when it came to pet insurance?
Perhaps unsurprisingly, value for money had the greatest degree of influence on overall satisfaction at 22%, while cost (i.e. premiums) and comprehensiveness of cover followed with 19% each. Following them were claims experience (18%), customer service (13%), and communication (8%).
The survey found Queensland consumers were the most satisfied overall with their pet insurers, whereas South Australians tended to be the least satisfied of the states considered. Satisfaction peaked at either end of the age spectrum, with consumers aged 18-29 and 70+ years old reporting the highest levels of satisfaction with their pet insurers. Female policyholders were generally more satisfied with their pet insurers than their male counterparts.