The RSPCA has warned pet owners to remain vigilant after a series of dog baiting incidences across Australia.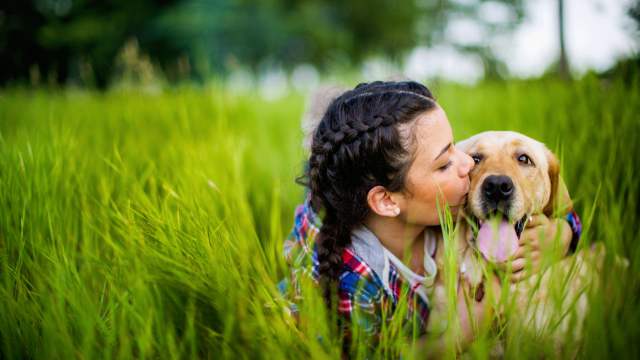 The warning comes after an anonymous letter was found by a Western Australian family threatening to poison their dog because the owners 'allowed' it to 'bark, let alone howl.'
"One more morning like today, and we will poison it," the letter said.

Source: RSPCA WA
The table below displays a snapshot of accident and illness pet insurance policies on Canstar's database with links to providers' websites.
In Queensland a 10-month-old labradoodle, Harvey, ingested rat poison covered in peanut butter during a walk with owners. Harvey is now recovering but RSPCA spokesman Michael Beatty told the Courier Mail the baiting incident in the Teneriffe park was disturbing and deliberate.
"(Baiting) is certainly not uncommon, but normally if animals are baited it is as a result of a neighbourly dispute or barking dog in the area," he said.
"But this was actually in a public park so somebody has obviously deliberately set out to harm any animal which is really disturbing."
This was one of 29 complaints submitted to the RSPCA in Brisbane between June and September, more than twice of the number of complaints from the same period in 2016.
Another similar incident happened in a Newcastle park where a border collie ingested rat poison. His owner, Lucas Gresham said he was grieving the loss of his "best mate".
"We went running every day. He never left my side," he told the Newcastle Herald,
"You just hope it doesn't happen to anyone else, so the more we can get the word out, the better."
If you suspect anything, or have any information to report, contact Policelink on 13 14 44 or Crime Stoppers on 1800 333 000. The RSPCA Cruelty Complaints Hotline can also be reached on 1300 852 188.
The story of Juno the 6-year-old dobermann
(As told by her owner Nadia Crighton)
Speaking from personal experience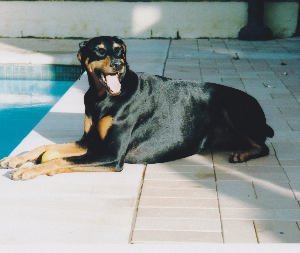 there is simply nothing worse than witnessing your beloved dog suffer in agony and fear, from the horrors of being baited.
One of our beautiful dobermanns, Juno (pictured right), came charging through the kitchen a few years back. With no warning she suddenly collapsed at my feet and began having uncontrollable seizures.
We rushed her to the nearest veterinary hospital, where she sadly succumbed to the poison, which debilitated her nervous system and destroyed her organs.
The sheer look of fear in my dog's eyes during those seizures has haunted me to this very day. Later, we discovered she had been baited by a group of men who had intended on killing our beautiful dogs before attempting a home invasion. What they didn't expect was that my dominant girl would never allow her companion to eat the bait. Instead, she would devour the entire piece of meat.
Luckily we caught our 'baiters'. A few weeks after her death the police confirmed the confession and elaborate plot of poisoning my dogs and breaking into my home.
Nadia's solution
Since this time, we have always been very strict on teaching all of our dogs a command to eat. We encouraged them to never take food off anyone unless given 'permission' with a password. Even now, my 10-year-old German shorthaired pointer will refuse to take treat from the vet until I give him the word and a nod.
Now this is in NOT a 100% foolproof way of preventing your dog from being baited. However, training my dogs to eat on command has made me feel a little more confident that I've done something to help prevent the possibility of another one of my dogs being successfully baited.
Source: Pet Insurance Australia
Signs and symptoms
If you suspect your dog has ingested anything poisonous, it's best to seek veterinary advice immediately, according to Pet Insurance Australia. Some of the symptoms of poisoning to look out for include:
Vomiting
Diarrhea, possibly bloody
Black tar-like stools
High temperature
Lethargy
Rapid breathing
Abnormal behavior
Abdominal pain
Pale gums
Muscle rigidity
Weakness
Seizures/tremors
Increased heart rate
What does your pet insurance cover?
Public relations manager at Pet Insurance Australia Nadia Crighton said costs associated with treating poisoning were usually covered by health insurance, however owners needed to take reasonable steps to protect pets.
"We saw close to 5,000 poisoning cases in 2016 ranging from human medication to rat poison, flowers and everything in between," Ms Crighton said.
"Treatment costs if your cat and dog is poisoned – accidentally, or maliciously – are typically covered by most pet illness insurance product plans in market. To be sure, always check the limits noted on the Certificate of Insurance and the terms and conditions as set out in the Product Disclosure Statement (PDS).
"That said, people should be aware a typical condition of pet insurance is the owner should take all reasonable precautions to protect their pet from situations that might result in injury or illness, including ingestion of hazardous substances.
"If you do suspect poisoning, immediate veterinary treatment is needed and also inform your local police."