Last week wasn't a good week on the ASX for department stores, with Myer and Harvey Norman both experiencing large falls.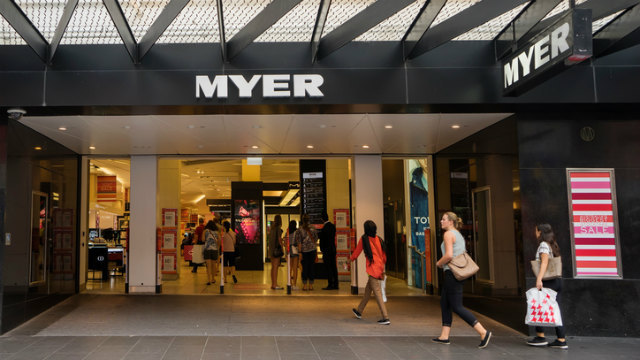 After closing the first three days above 6000 points, the ASX made a steady decline to close the week at 5,928. Myer was the one to suffer the most, falling by 15.8% to a price of 0.40 at market close on Friday.
Myer is no stranger to falling share prices – it's stock has steadily declined since its relisting on the ASX in 2009 amid various negative headlines.
Two major factors appear to have caused this particular fall however:
Amazon doubling its product offering as well as lowering prices
The landlord of Myer's flagship store in Sydney, Scentre Group, looking to sell Myer's space to more profitable tenants
Harvey Norman's shares meanwhile fell due to a near 20% drop in net profits this half-year to December 31.
In addition to dropping dividends from 14 cents to 2 cents, the retail giant's profits plummeted due to a $20.7 million impairment on its Coomboona Holdings dairy investment.
Harvey Norman's Founder Gerry Harvey was 'perplexed' by the selloff of its stocks.
"The market has just got it wrong, simple as that, they just don't get it. The result isn't bad, there is nothing wrong with the result at all," he told The Australian.
Top 5 Winner and Losers of the ASX 200 (26/02/2018 to 02/03/2018)
Winners
Losers
Rank
Change (%)
Rank
Change (%)
1
Costa Group (CGC)
18.6
1
Myer Holdings Ltd (MYR)
-15.8
2
Saracen Mineral (SAR)
8.0
2
Harvey Norman (HVN)
-15.3
3
Nine Entertainment (NEC)
7.2
3
Platinum Asset (PTM)
-13.3
4
Iluka Resources (ILU)
6.2
4
G8 Education Ltd (GEM)
-10.5
5
Lynas Corporation (LYC)
5.8
5
Orocobre Ltd (ORE)
-10.3
Prepared by Canstar. Change calculations based on data as of the market close each Friday.
The biggest winner by some distance last week was Costa Group, who grew by 18.6% after lifting its first-half underlying profit by $28.6 million. It expects full year profits to grow by about 25%.
"These results are indicative of a strong 1H FY2018, with our citrus category continuing to make a standout contribution, fuelled by growing export demand across our key markets including Japan, USA and China," Chief Executive Harry Debney said.
Saracen Mineral (8%), Nine Entertainment (7.2%), Iluka Resources (6.2%), Lynas Corporation (5.8%) rounded out the top 5.
Canstar's General Manager of Wealth Josh Callaghan said with following the end of the company reporting season, investors will go "into the dark" again for another 6 months.
"Despite a notable market correction in the middle of it, this reporting season has been a strong one with company profits and shareholder earnings up on the balance of things."
On the large market sell-off on Friday, Mr Callaghan believes that this was largely driven by a reaction to US President Donald Trump's comments about new steel and aluminium tariffs for foreign companies.
"The Aussie dollar was down for the week despite a small bump following Trump's announcement and the resulting drop in the USD."