As one of the newer entrants to the ASX 200, Afterpay saw its share price soar last week. In terms of market capitalisation growth, energy retailers experienced big gains while the major banks continued to see significant losses.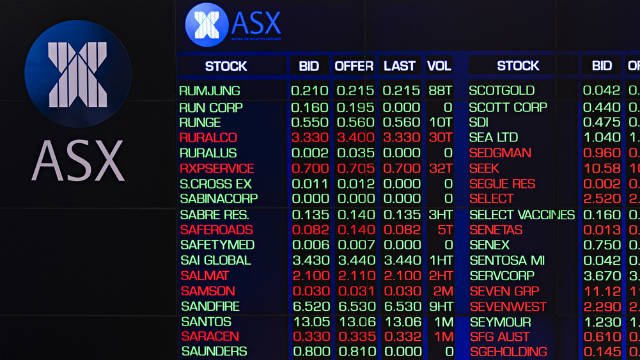 Last week's close of trade on Friday marked the end of the 2016/17 financial year, with the month of June closing at the highest it has in 10 years at 6,202 points.
Canstar's General Manager of Wealth Josh Callaghan said while the Australian market had a relatively flat week, the financial year ended on a positive note.
"All in all, it brings the end of the financial year to a positive close and notches up another good year for many investors," Mr Callaghan said.
"Many are predicting it to be more choppy in the next 6-12 months, but, that's the nature of the markets."
Tech stocks to watch
One of the newest entrants to the ASX 200, as part of the quarterly index rebalance, was retail technology company Afterpay Touch.
Afterpay Touch saw its share price increase 7.1% last week following a positive broker note from Goldman Sachs, which upgraded the stock from 'neutral' to 'buy' and increased its target price.
Goldman Sachs forecast revenues of $229.5 million in the 2019 financial year, increasing to $414.3 million by the 2020 financial year for the 'buy now, pay later' payments company.
The highest share price increase was seen from Australian Pharmaceutical Industries' stocks, up 27.3%, following the company's announcement last week that it would acquire the assets of Clearskincare Clinics.
Top 5 Share Price Winners and Losers of the ASX 200 (25/06/2018 to 29/06/2018)
Winners
Losers
Rank
% Change
Rank
% Change
1
Australian Pharmaceutical Industries Ltd (API)
27.3
1
Ooh!Media Ltd (OML)
-7.6
2
Northern Star Resources Ltd (NST)
11.0
2
Bellamy's Australia Ltd (BAL)
-7.6
3
Afterpay Touch Group Limited (APT)
7.1
3
McMillan Shakespeare Limited (MMS)
-7.3
4
Oil Search Limited (OSH)
6.7
4
Platinum Asset Management Limited (PTM)
-7.2
5
Santos Ltd (STO)
5.6
5
Altium Limited (ALU)
-6.7
Prepared by Canstar. Prices taken as of week to week close.
Energy retailers gain while banks take a hit
Last week both Origin Energy and AGL Energy saw their market cap increase, up 3.1% and 2.7% respectively.
The biggest percentage change on the winners list came from metals and mining company Northern Star Resources (+11.0%), while Santos led the charge in dollar terms, having grown its market cap by over $687 million.
"Santos had a great week finishing up 5.6% following rumours of a takeover with rival Comet Ridge," Mr Callaghan said.
On the other end of the scale, some of Australia's biggest banks continued to appear on the 'losers list' of the ASX 200 last week as the Banking Royal Commission continued investigating misconduct in the industry.
Commonwealth Bank's market cap lost over $1.6 billion, while ANZ shed over $1.1 billion.
Top 5 Market Cap Winners and Losers of the ASX 200 (25/06/2018 to 29/06/2018)
Winners
Losers
Rank
$ Change
% Change
Rank
$ Change
% Change
1
Santos Ltd (STO)
$687,360,643
5.6
1
CSL Ltd (CSL)
-$2,773,211,841
-3.1
2
Macquarie Group Ltd (MQG)
$575,246,828
1.4
2
Commonwealth Bank of Australia (CBA)
-$1,601,457,066
-1.2
3
Origin Energy Ltd (ORG)
$527,715,660
3.1
3
Australia and New Zealand Banking Group (ANZ)
-$1,157,723,759
-1.4
4
Northern Star Resources Ltd (NST)
$441,233,174
11.0
4
SYD Airport Holdings Pty Ltd (SYD)
-$901,285,294
-5.3
5
AGL Energy Ltd (AGL)
$393,495,026
2.7
5
Qantas Airways Limited (QAN)
-$758,627,634
-6.8
Prepared by Canstar. Prices taken as of week to week close.
The biggest market cap loss last week was felt by biotechnology company CSL, having shed over $2.7 billion off its market cap.
"CSL has been closely watched lately as it came within $1.50 of closing at $200 per share," Mr Callaghan said.
"We may see that price increase during the week as Goldman Sachs has released some positive notes on the stock and have it as a 'buy'."
The aviation space also took a hit last week, with both Sydney Airport and Qantas recording a decrease in market cap.