Among the shocking headlines that haunt 2020, here's a sliver of positivity: Aussies have used the COVID-19 lockdown to pay off credit card debt worth billions of dollars. Here's how they did it.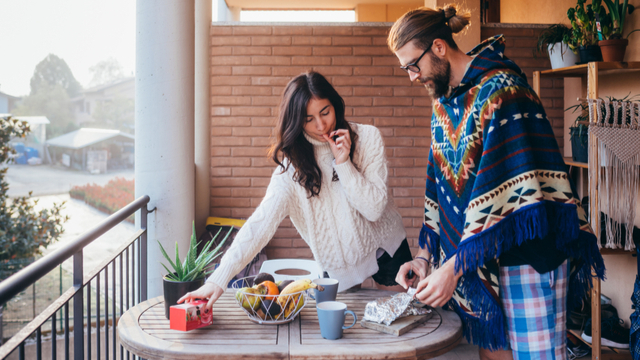 The COVID-19 pandemic lockdown strategy has surprisingly resulted in a fall in credit card debt, new Reserve Bank of Australia (RBA) statistics show. The June figures, released today, show that the number of credit card accounts had fallen by more than 137,000 since May. Balances accruing interest – credit card debt – fell by $1.6 billion in June. Compared to the same time last year, credit card debt is down more than $7.72 billion, or by almost 25%, and the number of accounts is down almost 1.7 million, a fall of more than 10%.
Credit Card Statistics – All Cards
Jun-19
May-20
Jun-20
Difference
% Change
MoM
YoY
MoM
YoY
Number of Accounts*
15.77 million
14.23 million
14.09 million
-137,791
-1,680,094
-0.97%
-10.65%
Balances Accruing Interest
$30.93 billion
$24.81 billion
$23.21 billion
-$1.60 billion
-$7.72 billion
-6.46%
-24.96%
Number of Transactions
250.62 million
214.26 million
236.26 million
22.00 million
-14.36 million
10.27%
-5.73%
Value of Transactions
$28.33 billion
$22.23 billion
$24.33 billion
$2.10 billion
-$4.01 billion
9.46%
-14.14%
Prepared by www.canstar.com.au. Data source: RBA Credit and Charge Card Statistics, Jun-2020. *Number of credit card accounts is in original terms. Statements about trends should be made with caution. All other values are in seasonally adjusted terms.
Mr Mickenbecker said debt on credit cards had been falling for years, but the acceleration of this change during the past year "will have sent bankers into a spin". He said the figures suggested that Australians were not using their credit cards as much during lockdown, compared to before COVID-19.
"The COVID-19 shutdown will have contributed to the reduced debt, with the number of transactions on credit cards also falling from around 258 million in February to 236 million in June, and the value of transactions from $28.6 billion to $24.3 billion," he said.
Another contributor to the downward slide in credit card debt was that some Australians were ditching credit cards altogether, choosing other payment methods instead. For example, the use of debit cards had risen over the same time period.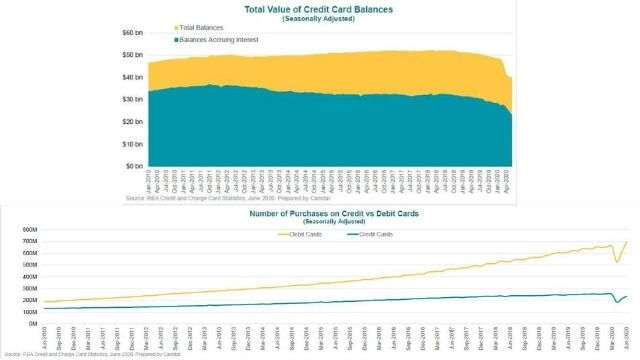 "Buy now pay later (BNPL) programs are [also] displacing credit cards, in particular among millennials who are developing an aversion to credit card debt that could be spreading throughout the community," he said.
Australians could also be finding new ways to pay down their credit card debt, Mr Mickenbecker said, such as using COVID-19 hardship relief measures to wipe it out.
"The sudden lift in scale of the reduction over the past couple of months suggests that a lump of the $29.4 billion released from superannuation has found its way into credit cards, extinguishing stubborn debt," he said.
However, he said there was a risk that credit card debt could rise again as people struggled during the economic fallout from the pandemic. While credit card debt is falling, it seems that the level of household debt is on the rise after a small dip, and our overall net wealth is trending down, according to RBA figures.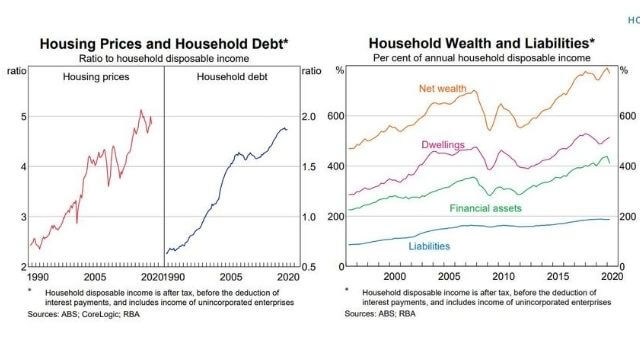 "It makes sense to park released super money in a credit card, clearing debt paying the average 16% interest rate, but we may yet see some of these debt balances return as the economic recovery becomes further protracted," he said.
"Hopefully the message is getting through that long-term credit card debt is toxic to financial health. The numbers in coming months will tell us."
---