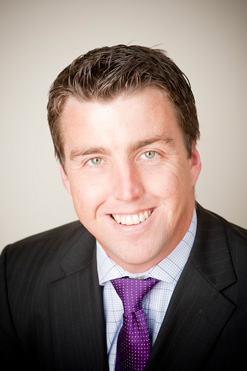 Usually by the sun. Or by my seven year old son. Then I help set the kids up for the day, have breakfast with my daughter too, and it's out the door at 7.30 for the trip to the Adelaide CBD.
Usually by tram. It only takes about 15-20 minutes, something that makes my colleagues in Melbourne and Sydney very jealous. We have an enviable lifestyle here in Adelaide and we're lucky enough to only live 6 km from the city, so sometimes I'll pull on the joggers and run home for a bit of additional exercise in the evening.
So your working part of the day starts with?
Checking emails on the tram and planning the day ahead. Of course, that means meetings with colleagues and partners across multiple sites about many different topics. About 15 to 20% of the day can be in tele/video conferences analysing and talking through feedback to better understand the needs and wants of our current and future members. A majority of my work revolves around ensuring our responsibilities as a trusted provider of wealth solutions are met and therefore a close working relationship with our compliance and investments teams is maintained.
Tell us more about Sandhurst Trustees?

A lot of people have heard about Bendigo Wealth's great value, multi-award winning Bendigo SmartStart Super, but outside of Victoria very few know much about Sandhurst Trustees. We're part of the funds management, wealth solutions and estate planning arm of Bendigo and Adelaide Bank. For more than 127 years, Sandhurst Trustees has lived true to its motto "Faithful, Mindful, Lasting" and managed people's funds through some of Australia's most tumultuous events.
That's just the latest in a long line of tumultuous events. Recognition for Sandhurst's prudential management skills, rich heritage and sound reputation is hard won and has been built upon over many years. We may have been born out of a gold rush in good times, but experience counts- especially in tough times. We've managed people's money through some extremely adverse events including:
The decade long Great Federation Drought of the late 1800's
World War I and the Great Depression in the early 1900's
World War II and several recessions in the latter part of the century
The Poseidon stock market Crash of 1969-70
The 1987 stock market Crash
The 1991 'Recession we had to Have'
The Dotcom crash
The Asian Financial Crisis
The GFC (Global Financial Crisis).
That's quite a history for any Australian company.
Yes indeed. Sandhurst effectively has a footprint in three different centuries now. Sandhurst Trustees and Bendigo and Adelaide Bank have pretty much grown in parallel starting out in Bendigo, Victoria in 1888 all those years ago. Back in those days, Bendigo was actually called Sandhurst before the town's name was changed to Bendigo. There is a great deal of connection, pride and affection for Sandhurst on the part of many of our Senior Executives at Bendigo and Adelaide Bank too. These include our current Chief Executive, Mike Hirst and Executive, Customer Voice, Marnie Baker. Both have served at Sandhurst Trustees at some stage in their career progression through to the top of the Bendigo and Adelaide Group – and they maintain close contact to this day.
How many funds do you look after?
4 Super products and over 20 managed funds across a variety of asset classes and risk profiles. I'm a member of the Sandhurst Investment Governance Board Committee and we have a dedicated experienced investment team with who we speak daily. I'm also chair of our Insurance Reference Committee which plays a critical role to ensure our life and group risk offerings meet the needs of our members and are sustainable. It's enough to keep me on my toes and of course there are the regular reviews, re-weightings and balancing to discuss and consider as well. Many of us are based in Adelaide, which is a little unusual in terms of financial services, so it's easy for our teams to catch up and quickly exchange information if we have to.
What keeps you awake at night?
I'd have to say probably more the members than the funds themselves. It's the good old Aussie "she'll be right" approach I guess. I would like to see more members engaged with their financial future. Younger people in particular tend to be disengaged with their super when they really should take more of an interest. Bendigo SmartStart Super has an age-based default mechanism for people who don't actively make their own investment choices, but it's when you're young that it's precisely the best time to tip a little more in and take advantage of the power of compounding interest over the years.
All the evidence suggests that it really does pay to take an interest in your super. Think of superannuation as 'deferred spending'. It's your money, and the more you manage to tuck away and grow, the better quality of life you are likely to have when you stop working. Money gives you choices and there's a whole range of tools on the Bendigo website to help people educate themselves. My aim is to enhance the level of engagement of our customers and to meet their expectations as they develop.
How many people actually make extra contributions?
Considering super is compulsory and that the latest ABS stats show that more than 11 million people are in paid work, not that many! More than half a million Australians earning between $40,000 and $80,000 a year make salary-sacrifice contributions and ASFA's research finds that it's mostly middle-income earners who take advantage of salary sacrificing superannuation tax contributions. All up, about 85 per cent of salary-sacrifice contributions go to employees with incomes below $150,000 a year. Lack of member engagement with super is an industry-wide problem and Bendigo SmartStart Super members are just like everyone else in that regard.
What achievement are you proudest of?
I'd be fibbing if I didn't say the value proposition that Bendigo SmartStart Super delivers to members. SmartStart Super is undoubtedly the product that I talk about most around the BBQ. It's a credit to all our team and it's doing everything we set out to do when we launched it just under four years ago. I would also add that the fact that Sandhurst Trustees weathered the GFC without freezing redemptions to customers of our Sandhurst Select Mortgage Fund when most of its competitors did is a very pleasing display of our customer focus and understanding.
PERSONAL:
Your idea of a great holiday?
Camping with the kids. It seems to slow time down and it's a great opportunity to clear the head after a working week.
Mainly spectator these days I'm afraid, but I love Aussie Rules and support the mighty Crows
Product Disclosure Statements,
kids' books and
Autobiographies.
Best advice anyone's given you?
The only stupid question is the one not asked.
You can copy and paste documents and attachments straight into your calendar in Outlook, so you've always got what you need right there in meetings. You can edit and save them there as well. Handy when several people email you stuff and you're chairing a meeting.
The views expressed in this article are the views of interviewee only and do not necessarily reflect the views of Sandhurst Trustees or the broader Bendigo and Adelaide Bank Group.