Landlord insurance
is an important consideration for property investors because it can offer financial protection against a number of risks, with two of the most common being a loss of rental income and tenants who damage their property. Canstar has crunched the numbers, and reveals the winners of its 2019 Landlord Insurance Star Ratings and Awards.
Canstar Senior Research Analyst Research Joshua Sale said that while it's important to consider policy features alongside cost when making a decision, when it came to premiums, there are significant potential savings to be found by comparing providers' landlord insurance policies.
In Victoria, for instance, the research shows that there are savings to be made, with more than 40% difference in premiums between the market average and a Canstar 5-Star Rated landlord insurance policy for units, Mr Sale said. As for North Queensland, anywhere north of Rockhampton, landlords who are renting out a house could potentially save nearly $700 a year in insurance premiums by choosing a 5-Star Rated policy compared to the market average.
Mr Sale said it is also a good idea to compare features of policies, as they can vary. Coverage could include rent default, burglary, underinsurance protection, electrical motor fusion and flood.
With this in mind, Canstar's team of researchers used a sophisticated methodology to find which insurers from our database offered outstanding value in price and features across 55 landlord insurance policies from 47 providers.
Canstar is pleased to announce three winners of the national Award for Outstanding Value Landlord Insurance and five state Award winners.
The three Outstanding Value Australia Landlord Insurance Award winners for 2019 (listed in alphabetical order) are:
ANZ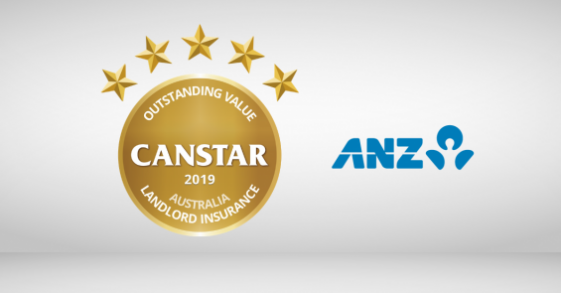 ANZ's landlord insurance policy won the 2019 Outstanding Value Australia Landlord Insurance Award due to strong performance across both price and features. ANZ offered cheaper premiums on houses and units than the market average in New South Wales, Victoria, South Australia and Tasmania. It also offered market-leading features, including:
Comprehensive burglary cover
Storm and other events cover, including cover for damage as a result of a fire or lightning strike
The landlord's choice of builder or repairer and the option to rebuild on another site
Suncorp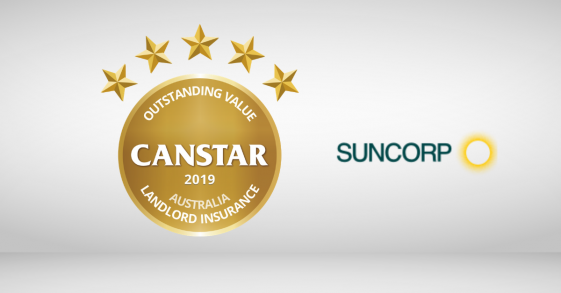 Suncorp retained the national Award for Outstanding Value Landlord Insurance for a third year, which the Canstar Research team attributed to its competitive performance in each of the seven states and regions assessed in the methodology. Suncorp was competitive on price, with its average premiums being 4% below the market average. Its premiums for units in South Australia were a standout, as they were found to be on average nearly 40% cheaper than the market average, based on the quotes obtained while undertaking this rating. In terms of features, Suncorp also offered cover for theft or burglary by tenants, up to the sum insured amount (the amount of money an insurer will pay under the terms and conditions of the insurance contract).
Suncorp also won two state Awards for providing outstanding value in South Australia and Tasmania.
State Award winners – Outstanding Value Landlord Insurance
In addition to the national Awards, Canstar has also announced location-based Awards for providers that offer Outstanding Value Landlord Insurance in various parts of Australia. The winners are:
North Queensland: Elders Insurance
Victoria: GIO
South Australia: Suncorp Insurance
Tasmania: Suncorp Insurance
Western Australia: SGUA
For more information about how Canstar rated and assessed landlord insurance policies and providers, view the methodology.
Image Source: chaythawin (Shutterstock)