It's no secret that there has been volatility in equity markets since the pandemic. The current scenario calls for rational decision making on part of investors without letting market fluctuations hijack their minds and returns.
While the majority of stock market indices have staged a sharp recovery from March 2020 market crash, the markets remain vulnerable to a pullback with fears of second infections wave looming across major developed economies, including Australia. Here are some tips that can help investors sweep through virus-driven turmoil and secure their financial future.
1. Invest for the long haul
While pandemic-induced uncertainty cannot be neglected in defining sinusoidal equity market trends, the market can be a true epitome of a money plant if you stay invested for a longer timeframe and escape panic selling.
Looking at market scenario during previous episodes of economic and financial downturn, there is substantial historical evidence that demonstrates revival in the equity market over the long haul. One typical example being the S&P/ASX 200 index that plummeted by over 50% between October 2007 and February 2009, subsequently reviving by ~57% by April 2013. Further, the index soared by over 30% by 2019 end.
A similar recovery was witnessed by S&P/ASX 200 during the current volatile scenario wherein the index plunged by ~24% in the March quarter. While the dip induced heavy selling in the market, investors with patient psychology gained by ~15% growth of the index since April 2020.
2. Choose Investment Strategy Matching Your Risk Appetite
Selecting an investment strategy needs to be a well-thought decision, based on one's risk appetite, financial goals and holding period expectations.
Patient investors can opt for buy and hold technique while utilising value investing strategy that involves tapping stocks of fundamentally sound companies at undervalued prices and holding them for a longer timeframe. While, investors seeking capital appreciation can beef up their portfolio with stocks of companies exhibiting above-average growth signs, enforcing growth investing strategy.
Besides these investing styles, investors can also endorse other investing strategies like contrarian, defensive, dividend growth and indexing, in line with their risk tolerance and individual objectives.
3. Use Fundamental Analysis to Make Winning Stock Picks
Prudent decision making based on fundamental analysis can help investors make a good buy in the volatile equity market. Elements like earnings, dividend yield, price-to-earnings (P/E) ratio and other price ratios deserve closer attention while cherry-picking stocks based on fundamental analysis.
For instance, investors can add stocks with the lowest 12-month trailing P/E ratio in their portfolio nest, paying less for each dollar of profit generated. While, it is equally important to look at other decisive qualitative factors, instead of solely relying on a single financial ratio.
Performing proper fundamental research as per market pulse prior to taking an investment decision can prevent investors from making wrong calls amidst market turmoil.
4. Seek Potentially Attractive Themes
Given the uncertainty surrounding duration and depth of COVID-19 pandemic, investors can take exposure to income winners, established growers or disruptive trend-based players considering their risk profile and return expectations.
One can put their investment money in companies operating in financial technology, online retail, online education, healthcare and shining gold space, that are bucking the trend in coronavirus era.
5. Be Cautious of Behavioural Biases
One needs to take a cautious shift from bearish to bullish sentiment, keeping a bird's eye perspective and dodging behavioral biases.
Stick to your plan
Look for value
Seek growth in emerging spaces
Make informed decisions
Invest in businesses you understand
Look for long term investments to avoid short term risks
Change your strategy reactively to the market
Invest based solely on predictions
Engage in panic selling
Follow the herd
Expect the market to be going down forever
Engage in short term trading strategies with an unsuccessful approach
Now is the time to make decisive financial decisions and firm up your own financial plan to be able to sail through these unprecedented times.
If you're comparing Online Share Trading companies, the comparison table below displays some of the companies available on Canstar's database with links to the company's website. The information displayed is based on an average of 6 trades per month. Please note the table is sorted by Star Rating (highest to lowest) followed by provider name (alphabetical). Use Canstar's Online Share Trading comparison selector to view a wider range of Online Share Trading companies.
---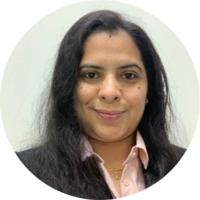 Hina Chowdhary is the Director, Equity Research at Kalkine, and has extensive experience of about 15 years in the area of Research including Equities. At Kalkine, she is responsible for Strategy & Direction for Content Generation. She has earned a Master of Science degree from the renowned Indian Institute of Technology. Hina's work profile entails in-depth analysis for stocks using a diverse set of financial data tools and models in order to provide appropriate investment opportunities and insights on which stocks to buy, sell or hold. She has hands-on experience in developing industry breaking equity news, company specific investment themes/ ideas, and other equity research related products.