Can you still be an effective value investor as the market swings? This article deciphers how to find a value stock during any market condition.
The black-swan event of the coronavirus crisis might be a once-in-a-lifetime opportunity for bargain hunter investors to tap high-quality businesses at bargain valuations. Though value investing went through a rough patch in the current financial year, the probable second wave of infections in FY21 seems to be offering attractive pockets of opportunities to be found by value investors amidst potentially emerging bearish trends.
While the contrarian 'buy-low sell-high' ideology holds considerable potential to deliver above-average returns over the long run, one needs to move forward with caution. Having said that, here are some quick tips for proponents of value investment strategy to select value stocks.
1. Steer Clear of Value Traps
Bargain hunters often fall prey to value traps in a bear market, making false bargains. This occurs when an investor considers a stock trading at low valuation a good buy, when in fact it is not.
Evaluating a company's intrinsic value via fundamental analysis and accessing its potential to weather the COVID storm is instrumental in identifying a true value opportunity. To avoid losing hard-earned money in value traps, investors need to assess whether the stock price dip is permanent or temporary and whether a gradual bounce back can be expected on the back of strong fundamentals, balance sheet and outlook.
2. Hunt for Margin of Safety
"Confronted with a challenge to distill the secret of sound investment into three words, we venture the motto, Margin of Safety" – the famous Benjamin Graham's quote deserves closer attention.
Benjamin Graham, the founder of modern investment theory, is credited with coining the term Margin of Safety, which was later adopted by Warren Buffet – a strong proponent of value investing.
Benjamin Graham's created technique of Net current asset value per share (NCAVPS) can be utilised to gauge the stock attractiveness, involving key interplay between total liabilities, preferred stock and current assets.
The key financial metric for bargain hunters points at asset value of the company. Graham's principles highlight shares trading 66% below than NCAVPS can be considered as lucrative purchasing options. The substantial margin of safety advocated by the investing expert could help in evading the market crunches during uncertainty.
The philosophies and lessons from the father of value investing, Benjamin Graham can be used to sail profitably across volatile market conditions. Ensuring the margin of safety in value stocks by buying securities trading substantially below their intrinsic value allows investors to make an investment with minimal downside risk. In other words, a stock purchased with greater margin of safety provides greater resilience to market slumps.
Besides, as advocated by Benjamin Graham, diversification plays an important role in deriving key benefits from the margin of safety principle.
3. Diversification Matters
Holding a large chunk of wealth in a single nest widens the probability of losing all stock market returns at the same time. Instead, investors can consider parking funds in different investment avenues to maximise returns while minimising associated risks.
For instance, shares of the aviation sector tanked the most in the March 2020 stock market crash amid global travel bans. So, investors concentrated in only the aviation sector were the most exposed to this unanticipated risk, which triggered massive sell-off by a wider investing community including the legendary, Mr Buffett.
However, stocks in the travel and hospitality sector may edge towards their pre-pandemic levels once international travel resumes and economic revival kicks in. But this is more likely to be a sluggish transition.
4. Seek Well-Managed Players
While management evaluation is often overlooked while cherry picking stocks, an eye on people at the reins of power carries the utmost importance in seizing a profitable value opportunity.
Legendary investor Warren Buffett suggests assessing a company's management on two yardsticks – how well they operate a business and how they have undertaken capital allocation over time. While the first one exhibits management's ability to steer through good and bad times, the second one reveals its best-suited decisions for the company.
5. Don't Get Fixated on Growth or Value Approach
Though there is unending battle between proponents of value and growth strategies, the two approaches actually move in tandem.
For instance, earnings growth is deemed as a crucial component to determine the intrinsic value of the business. Besides, acquiring high-quality or growth-oriented businesses at undervalued prices offers greater likelihood of attaining lucrative returns over time. One such classic example of growth share is fintech darling Afterpay Limited (ASX:APT) that nosedived to $8.90 on 23rd March 2020 but is now trading above $63.
In a nutshell, decisively cherry-picking stocks with solid ground rules and positive operating cash flows is the key to turn value investing to advantage and sail through market volatility.
If you're comparing Online Share Trading companies, the comparison table below displays some of the companies available on Canstar's database with links to the company's website. The information displayed is based on an average of 6 trades per month. Please note the table is sorted by Star Rating (highest to lowest) followed by provider name (alphabetical). Use Canstar's Online Share Trading comparison selector to view a wider range of Online Share Trading companies.
---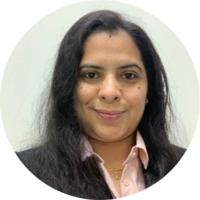 Hina Chowdhary is the Director, Equity Research at Kalkine, and has extensive experience of about 15 years in the area of Research including Equities. At Kalkine, she is responsible for Strategy & Direction for Content Generation. She has earned a Master of Science degree from the renowned Indian Institute of Technology. Hina's work profile entails in-depth analysis for stocks using a diverse set of financial data tools and models in order to provide appropriate investment opportunities and insights on which stocks to buy, sell or hold. She has hands-on experience in developing industry breaking equity news, company specific investment themes/ ideas, and other equity research related products.