Matt Leibowtiz, CEO and Founder at Stake
International trading can give investors access to investment opportunities that aren't typically available in Australia. The NASDAQ and S&P 500, in particular, can open investors up to global brands like Apple, Netflix and Google. So, it's no wonder some Australian investors are choosing to invest in US stock markets.
Each month at Stake, we report on what Aussie investors are trading and watching on our platform. Here's what we learned in May.
Most traded stocks on Stake
Aussies may have taken advantage of Tesla's falling share price as it became the most traded stock in May.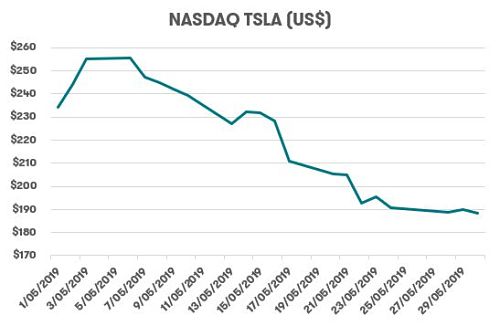 1. Tesla (TSLA) -20.88% for May
2. Apple (AAPL) -16.84%
3. Beyond (BYND) +28.57%
4. Amazon (AMZN) -7.14%
5. AMD (AMD) +2.24%
Most Traded ETFs on Stake
1. VelocityShares Daily 2x VIX Short-Term ETN (TVIX) +21.86%
2. S&P 500 Vanguard ETF (VOO) -5.66%
3. ProShares Ultra VIX Short-Term Futures ETF (UVXY) +20.75%
4. ProShares UltraPro Short QQQ (SQQQ) +26.35%
5. ProShares UltraPro QQQ ETF (TQQQ) +23.13%
Not sure what an ETF is? Read more about ETFs here.
Biggest IPO of the Month – Beyond Meat [BYND] IPO
The most hyped IPO so far this year, at least in terms of demand from Stake users, was Beyond Meat (BYND). The stock climbed 46.25% since debuting in early May, all while the market has twisted and turned through a tough period of volatility.
The LA-based lab produces plant based meat direct to consumers, but buyers might not be who you expect. While vegans and vegetarians may be the intuitive customer base, it is in fact "flexi-terians" who the industry is targeting. Those who just want to try it out in an effort to live a cleaner life and leave a smaller environmental footprint.
Most Up in May
Soliton had a very bumpy month, but despite the volatility it ended up taking out the top spot as 'most up in May'.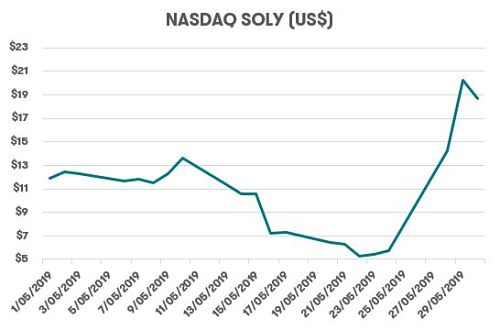 1. Soliton (SOLY) +57.11%
2. Mirati (MRTX) +45.25%
3. Gold Fields Limited (GFI) +34.42%
Most Down
1. UP Fintech (TIGR) -65.04%
2. Nautilus (NLS) -48.86%
3. Tocagen (TOCA) -47.79%
May's strangest stock – Soliton (SOLY)
Not for the faint-hearted, this Canadian programming company was as volatile as they come in May. The stock fell 51% from May 1 to May 24, before adding 254% the following week. That's years worth of returns in a few days!
Some Stake traders took advantage of the rush with 46 different traders buying at some stage during the surge.
Considering investing overseas?
Deciding on any product to invest in should not be taken lightly. You should always consider the risks involved, carefully read the disclosure documents (FSG, PDS etc) and conduct your own research. For more on the risks and benefits of investing overseas, check out this article.
Cover image: rblfmr (Shutterstock)
---
Matt launched Stake after returning to Australia from the US, and finding it difficult to continue trading US shares. Having run global trading teams in the most sophisticated financial markets using the most advanced technologies, Matt set out to open up the world's biggest markets to the rest of the globe.