Describing themselves as "a shop for shares", Stake is a fintech start-up offering Australian investors an easy and streamlined way to get into the US market. Here's what you need to know about the platform and their new app
Online share trading can be a daunting practice to get into for the inexperienced, and that's before you even consider the possibility of investing outside of the domestic Australian share market.
Once you decide you might want to get into say, the US share market, there are high brokerage fees to pay, tax forms to fill out… It's not a quick or easy process by any means.
Enter Stake, an Australian Fintech aimed at making investing in US shares a piece of cake.
What is Stake?
Stake is an online store that lets you easily access overseas investment opportunities without the usual complications involved in buying shares in non-Australian companies.
Stake's service differs from regular share trading in that it lets you invest in dollar amounts rather than share amounts, allowing fractional investment in shares, somewhat similar to fractional property investment.
A single share in your company of choice might cost $50, but Stake allows you to invest the dollar amount you choose into the company, regardless of share price. So if you invested $175 in shares in that company via Stake, you would own 3.5 shares in that company.
The minimum investment order amount you can make to buy shares using Stake is USD $10, and the maximum you can invest is USD $500,000.
Stake also allows you to give shares as a gift; you can purchase as little as USD $10 or as much as USD $500 worth of shares in a company of your choice, and that amount of shares is then sent to whomever you're gifting them to.
Before you even register, Stake's platform lets you search for shares by industry, values, and a number of other criteria. Like they say on their website, want to invest in a shoe company? Just search "shoes". And once you do find a product that catches your eye, registration is a breeze.
NEW: Stake's recent app update brings exciting new features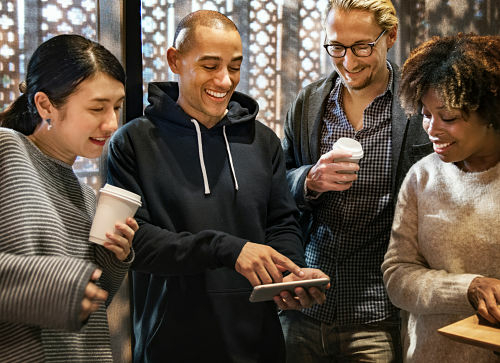 Stake recently dropped a new app with more functionality and features. So, we spoke with Stake's Head of UI and UX, Marc Lipsitz to find out more.
Q) What inspired the changes in this latest app update?
This latest update is the biggest one we've done. The app itself has been out now for almost a year and a half and we've been talking and getting a lot of feedback from customers about what they would like to see in the app. A big feature that the majority of people recommended was they wanted more functionality.
Q) What are the new features available on the app?
It is really hard in a mobile app to have full detailed charts, so we added more functionality to the chart, but often not too much that it gets complicated. Just giving the user the ability to make more insightful decisions by offering them more detail. So, we now have graphs that show how a stock is performing over a period of time whereas, before it was more of a guessing game. And we have improved the pinpoints where you can actually touch the charts and get a lot more detail that way. We've also added candlestick charting which again a lot of customers were recommending. So, that is probably the biggest addition.
Also, on the portfolio page, a lot of people were requesting to see more information in the one view. So, we've added more figures and stats related to the shares they are holding and now users can get a much better snapshot on how they're shares are performing.
Q) So, will there be more to come?
This is the start of a lot of new updates coming through in the next couple of weeks and months. We have really gathered and done a lot of testing on what other traders want to see on the app and now we are going to start executing and improving the app on an on-going basis.
Q&A with Stake founder and CEO Matt Leibowitz
Q: What sets Stake apart from other online stockbrokers/investment platforms?
Stake.com.au is a shop for shares. We're an e-commerce site for finance, not a stockbroker.
We make buying and selling shares as simple as shopping on your favourite online stores.
Through Stake.com.au, Australians can simply access investment opportunities all over the world at a fraction of the usual costs.
Q: What was the motivating factor behind the creation of Stake?
Equity markets have been a great source of wealth creation and a key component in economic and technological growth for centuries – but accessing them has been expensive, complicated and full of conflict.
Stake makes accessing global markets simple and affordable so Australians can easily invest in some of the world's most successful companies like Google, Apple, Amazon, Tesla, Facebook, and many more.
Q: How can you sustainably charge significantly lower brokerage fees than other brokers or platforms?
Stake's mission is very focused – the best access to great product at the right price. We have to keep costs low. It's in our DNA.
Stake is built on leading technology and has partnered with some of Australia's leading financial companies, such as Macquarie Bank and OFX (formerly OzForex). We don't reinvent the wheel and are able to pass those savings onto our customers.
Stake.com.au can sustain this pace for a long time, so lower costs are here to stay!
Q: How do you decide which investment products to offer to customers?
As the problem in Australia is quality access to the US share markets, we've started there. Stake has over 3,000 listed stocks and ETFs for Australians to buy and sell.
We'll continue to curate our offering and make sure we're always providing our customers with a better way to manage their money.
Q: Was Stake developed mainly for people who hadn't invested before, or are you hoping to attract veteran investors to your platform?
Stake is for anyone who wants simple access to something better and knows you don't need to overpay for it. We're amazed by the feedback from people who have been waiting for something like this for a long time.
In terms of the investor types, we've got lots of first time investors who really appreciate how intuitive Stake is and how painless we've made it to access the capital markets.
More experienced investors (like me) can now simply buy and sell US listed shares without all the costs and complexity attached to their existing platform.
For more articles like this, sign up to our newsletter below.