With the US election fast approaching, many are asking how this will be reflected in the share market. Canstar caught up with Honorary Fellow at The University of Queensland Business School Dr Rand Low to learn the impact the results may have.
Q. What impact does the US election pose for the share market and investors in Australia?
A. Share markets and investors hate uncertainty. The primary impact of the US election will be short-term volatility on US equity markets that will spill over to the Australian share market.
The US election will have a short term effect on the Australian share market, but in the medium to long-term Australia's share market is driven by it's top 5 major trading partners and Top 5 exports.
If the presidency is won by Trump, businesses feel that there is more consistency in terms of his economic policies to minimize taxes, reduce ESG investments, and a 'smaller' government although these may be implemented in a haphazard manner. The uncertainty about a Trump win are the geopolitical risks and the US commitment to being a global hegemon.
If the presidency is won by Biden, there will be more uncertainty surrounding the US domestic economic policy. Although it is hoped that Biden will have a conciliatory approach to geopolitics, how he can successfully implement domestic economic and foreign policy if congress continues to be under Republican control remains unknown.
The worst outcome for investors is any delay in the transfer of power. These will extend the magnitude and time of the US share market volatility that will impact the Australian share market.
Q. How has this been the case historically?
A. There are only 23 election events from the 1920s to 2016 whereby the market has been positive 19 times, and there have been negative returns four times on the US share market.
As there is a strong short-term correlation between US equity an Australian equity markets we know that any volatility on US equities will spillover on to Australian equities too.
Q. Can you explain what systematic trading strategies are how an event (like the US election) can play out for strategic investors?
A. Quantitative systematic trading strategies largely depend on historical data to train the mathematical models that make trading decisions and minimize human influence in the investment trading process.
If the present scenario does not reflect historical events in the past, quantitative systematic strategies will behave poorly. In that sense, fundamental strategies can be more forward-looking during periods of high uncertainty as they factor greater humans have a greater influence in the investment decision process.
Quantitative systematic strategies have performed poorly in 2019/2020 months as several of the events such as the pandemic and geo-political risks are unprecedented.
As it is widely agreed that there will be volatility on the US and Australian market regardless of whom wins the US presidential election, a strategic investor may hedge himself against volatility by purchasing ETFs that are long the VIX.
Q. What action should investors be taking to minimise any risk in their portfolio as a result of this election?
A. It will be a risk-off strategy for the rest of the year.
For conservative investors, it would be best to switch a majority of your investments to fixed income (bonds) or cash. When the dust settles around the beginning of 2021, reallocate towards equities towards countries that are managing the pandemic adequately.
For investors willing to take more risk, it is better to position towards defensive sectors such as utilities and healthcare. As the pandemic is likely to continue throughout 2021, investments in medical equipment are strong bets. Likewise with technology companies that are enablers for remote working & remote entertainment.
For medium risk investors, geopolitical uncertainty is likely to increase and central banks are struggling to contain the effects of a recession and the pandemic in a low-interest environment with quantitative easing. Therefore diversify a small amount of your investment portfolio into digital assets (i.e., cryptocurrency). Digital asset markets continue to grow and more institutional investors are taking interest, therefore allocating a minor portion of your portfolio to purchase major cryptocurrencies (i.e., Bitcoin, Ethereum) is an increasingly prudent decision.
For investors who are aggressive risk-takers, they can consider hedging their investment positions that the market will crash by purchasing ETFs that specialize in shorting the US or Australian market.
Q. Are there any other challenges facing the Australian share market
given the current geopolitical environment?
In the short-term, the Australian share market will suffer a negative spill-over effect from the US elections. Beyond that the Australian share market is influenced by the national economy which is underpinned by Australia's export markets and domestic consumption. This is evident from the Global Financial Crisis of 2007-2009 where the Australian stock market did exhibit a short-term plunge, but had a strong and steady recovery due to strong exports to China.
Australia's top exports are iron ore, coal, and natural gas which constitutes ~42% of the total share. These resource and energy exports are primarily to China, Japan, and Korea where continuing geopolitical stability and infrastructure development is required for them to sustain the rate at which they are importing these natural resources from Australia. The next top exports, education and tourism constitute 13% of the total share, and we know that these sectors have been drastically impacted by the pandemic.
Australia is a unique continent-country that is culturally European, economically Asian, and national security being American. How Australia navigates the natural tensions which exist from these diverse interests will determine the strength of its economy, and its share market in the long-term.
Main image source: Shutterstock (FS11)
If you're comparing Online Share Trading companies, the comparison table below displays some of the companies available on Canstar's database with links to the company's website. The information displayed is based on an average of 6 trades per month. Please note the table is sorted by Star Rating (highest to lowest) followed by provider name (alphabetical). Use Canstar's Online Share Trading comparison selector to view a wider range of Online Share Trading companies.
---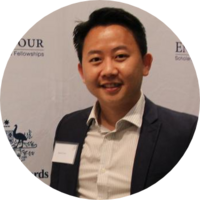 Professor Low's research areas are in investment management and portfolio optimization. He is a recipient of the Australia Awards – Endeavour fellowship at the New York University – Stern School of Business. His work has been published in leading academic and industry journals such as Journal of Banking & Finance, Quantitative Finance, Journal of Empirical Finance, Journal of Investing, and Journal of Risk.
Professor Low's is a Chartered Professional Engineer and worked in control systems engineering and project management roles for Honeywell. After completing his PhD, he worked for several years for Bank of America Merrill Lynch and BlackRock in New York City.
---
Thanks for visiting Canstar, Australia's biggest financial comparison site*