Mid-December is often associated with the aptly-named
'Santa' Rally
, as many investors adopt more of a 'bull' mentality and share prices rise. A 'Santa' Rally is by no means a guarantee, though of the last 25 years the market has had a December uptake in 21 of them.
December has been a tumultuous month for US Trade Negotiations. Early in the month Trump announced they were unlikely to reach a conclusion until after the US 2020 election, but by mid-December it looks like China and the US may have reached a 'deal in principle.'
So, what effect have Donald Trump's tariff policies and US trade negotiations had on the global economy and investors both abroad and locally?
Tariff Summary:
A tariff is most simply a tax. It adds to the cost of imported goods into a country and is paid by consumers (and businesses) due to higher prices.
Implementing or increasing a tariff may serve the government in two ways: promoting and protecting domestic industry (as imported products by comparison can become more expensive) and as a revenue collection tool.
Whilst tariffs may stimulate domestic production, they can also adversely drive up the cost of imported goods to businesses, thereby increasing the cost of production on their locally produced products.
Generally economists agree that free trade policies are preferred in a global market.
Tariffs have been front and centre in the news cycle lately as President Trump has implemented multiple tariff rounds on China and elsewhere. This sits at odds with the trend since the 1950s of US tariffs trending downward.
A major component of Trump's campaign platform places emphasis on protecting American business and industry, and imposing higher tariffs on China have been one of the ways Trump's government have worked to achieve this.
The issue with this is the potential for trading partners raising their own tariffs in return, and creating an economic standstill. This is a threat many experts feel is especially real at present.
What impact could this have on the consumer and the investor?
Historically, tariff increases in America have resulted in a poor reaction from the US stock market. US President Hoover – who shared the same Protectionist mentality of Donald Trump – signed the Smoot-Hawley bill in 1930. In the year preceding the passing of the bill, the US stock market began its decline. It wasn't until 1933 when the market once again began its upward trajectory, coinciding with the election of President Roosevelt, who called tariffs the 'road to ruin' and signed an act to cut tariffs in 1934.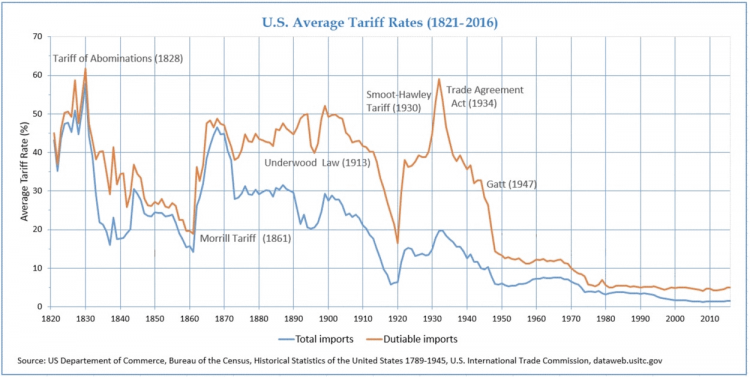 While correlation certainly doesn't imply causation, experts have argued there is an intimate relationship between this stock market crash and the tariff controversy.
So how has the stock market reacted to the multiple increases or threat of tariff increases by the Trump government?
Conditions are very different vs. 1930s America, as well as on our own shores here in Australia. Our respective economies are growing, and while the events of the Global Financial Crisis are still fresh, they are not as severe as the conditions of a post-Great Depression economy. Many similarities, however, remain. Economists have warned Trump against tariffs, as had been the case with Hoover.
There have been rumblings in Australia of a recession in response to the US-China trade war. Looking back to August of 2019, we saw a US stock market drop – including in Blue Chip companies like Apple – after Trump tweeted a 10% tariff imposed on US$300b of additional Chinese imports. This announcement spooked Australian investors as well, as the S&P/ASX200 dropped 2.71% in the same week. Despite this, only weeks later the ASX was back up – even as global markets remained turbulent.
What does this mean for Australian investors now?
So, with Trump announcing negotiations with China pushed back likely another year – followed by a 180 that would suggest a deal is closer – how has the market reacted? Will Australia react in the same manner as the US, and what does this mean for a 'Santa' rally?
Many experts have remained optimistic the trend will continue and the ASX will experience positive increase in December including Geoff Wilson, of Wilson Asset Management, in an article for The Australian Financial Review.
The statistical average of the last quarter century would suggest a 'Santa' rally is likely, but there is undeniable caution in the market as the threat of Trade Wars continue. While the ASX dropped in the first open days of December, by midweek it was once again climbing.
Indeed, by the end of the second week of December, the market was picking up in response to a Tweet from Trump indicating positive movements regarding The Trade War. The Dow Jones Industrial Average and S&P500 Indexes both hit intraday records following the announcement, and many financial experts felt this may indicate positive growth within the Australian market as well.
Typically, we have seen the December rallies begin around December 10 to 20 so now is a crucial time to be watching the market.
Before making any investment decisions, you should always consider your own financial situation and needs.
Also keep in mind a trend is not indicative of guaranteed market performance. 'Santa' Rally or no, you may be able to de-risk your portfolio by diversifying it across a range of assets and industries – a simple way to do this can be ETFs. When in doubt, consult a professional finance advisor.
If you're comparing Online Share Trading companies, the comparison table below displays some of the companies available on Canstar's database with links to the company's website. The information displayed is based on an average of 6 trades per month. Please note the table is sorted by Star Rating (highest to lowest) followed by provider name (alphabetical). Use Canstar's Online Share Trading comparison selector to view a wider range of Online Share Trading companies.