Originally published by: Dominic Beattie
Of all share market trends, one of the most consistent has been the December Market uplift, otherwise affectionately known as the 'Santa' Rally. Australian investors may remain optimistic after 2019 delivered merry returns.
So, is the final quarter outlook as festive as it traditionally is, or do experts believe we are headed for a repeat of 2018?
What is a 'Santa' Rally?
The 'Santa' rally refers to the historical trend of share prices rising in the month of December, generally around the Christmas and New Year period.
The term was first coined in 1968 by Yale Hirsch, the editor-in-chief of the Stock Trader's Almanac. He was referring to the performance of the US S&P 500 in the last five trading days of the year and the first two of the New Year.
Possible reasons proposed for this observed historical price rally are: tax considerations, people investing their Christmas bonuses, short-sellers taking their holidays or even increased optimism amidst the festive spirit.
The chart below shows the average returns since 1985. Typically, December is one of the best performing months for both Australian and US shares. This heightened performance over the festive month is likely to be the 'Santa' rally in action.
Australian investors, however, will remember the share market drop in December 2018.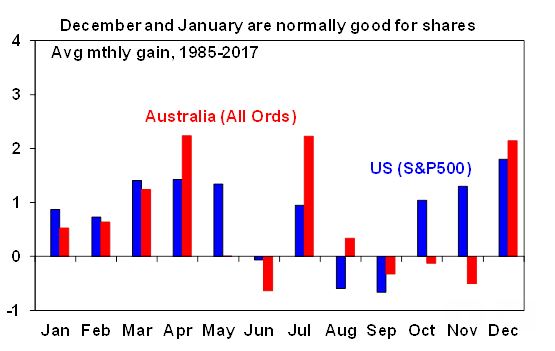 So, what are the experts saying?
Despite 2018's disappointing quarter four, experts remain optimistic. Morningstar reporter Emma Rapaport writes, "… if history is any guide, the so-called 'Santa Rally' phenomenon – whereby global stock markets soar in December – should deliver a Merry Christmas to shareholders." Rapaport goes on to support this with data from Fidelity International, which indicates of the last 25 years only six have seen negative returns in December.
In an article for the Australian Financial Review Geoff Wilson, founder of Wilson Asset Management, has also expressed his opinion the market is on the precipice of a rally during the festive season, and with banks globally holding historically low rates there is a strong and positive flow-on effect for markets.
In the last quarter century, December returns have averaged 2%. Data from Roy Morgan has also forecasted consumer spends over the Christmas season will increase by 2.6%, with the Food category making up a large portion of this spend. Roy Morgan CEO announced "…spending categories expected to grow above the inflation rate include Apparel – clothing, footwear and accessories (+3%), Hospitality (+2.3%) and Other retailing – which includes online spending (+3.7%)." This consumer spending may bode well for shareholders.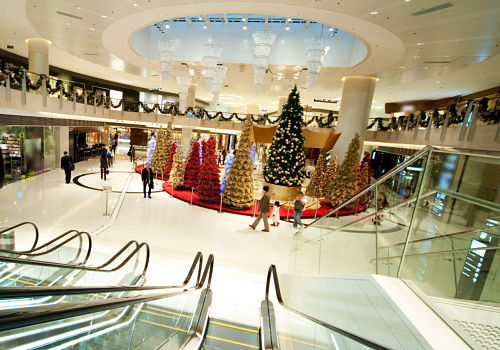 Experts have hypothesised the Santa Rally is in part due to an optimistic outlook during that particular period of the year, but with rising concerns over trade uncertainty – not just within Australian markets but globally – this may mean investors are more prone to defensive options.
So, is the market set for another 'Santa' Rally? We will leave you with this parting advice from Jarrod Purchase of SelfWealth, "The Santa Rally represents one of the most consistent seasonal trends in the stock market… However, it is important to realise that past performance should not be viewed as a guide to future market performance. Nothing is certain in the stock market, and a trend will only be true for as long as the market decides to respect it."
You should always consider your own financial needs and goals with any investment decision. When in doubt, we recommend contacting a professional financial advisor.
Cover image source: Pack-Shot (Shutterstock)
In-article image source: Nejron Photo (Shutterstock)
Considering online share trading? The table below displays a snapshot of online share trading platforms on Canstar's database, sorted by star rating (highest to lowest) and with links to providers' websites. Please note the Star Ratings are based on the casual investor profile (average of 2 trades per month). Always ensure you read the PDS before selecting a online share trading provider.