Since cryptocurrencies burst onto the scene hundreds of millions of dollars have been invested into a whole slew of different coins, each with their own benefits and drawbacks. Cryptocurrencies have had a bit of a rocky year so far, with most of them experiencing a large spike in value in December 2017 followed by a significant fall. Although, for some it's not been all bad news.
If you're interested in crypto, it can be hard to know which coins to pay attention to, and which ones will be a flash in the pan. So, we had a look at the top cryptocurrencies by market cap and how they have performed in the last 12 months.*
*3 December 2017- 3 December 2018.
1.     Bitcoin – US$72,292,622,998
YOY Performance: -0.63%
The coin that's practically synonymous with cryptocurrency, unsurprisingly Bitcoin is the market leader with over a US$70 billion in market capitalisation. Other currencies have been created since Bitcoin was released, but none have yet come close to surpassing its popularity. It's been through many boom and bust cycles, but at the time of writing it's trading for about US$4,153 per coin, a far cry from its peak in mid-December 2017 of US$19,345.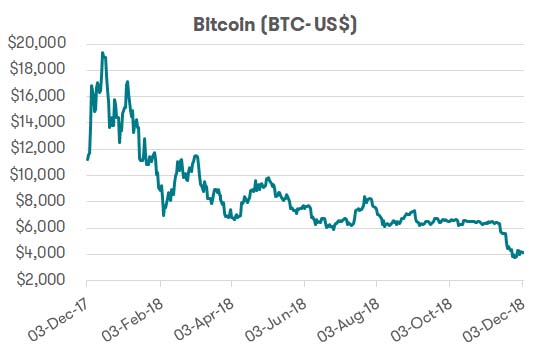 Related article: How to Buy Bitcoin in Australia
2.     Ripple – US$14,828,547,472
YOY Performance: 54.16%
Ripple was released in 2012 and is used as both a cryptocurrency and a payment network. Ripple has seen success as a settlement infrastructure network for banks, being adopted by the likes of UniCredit, UBS and Santander. In December 2017, one Ripple coin was trading for roughly US$0.24, it very quickly reached a new height trading at US$2.78 and fell almost as quickly as it rose. As of December 2018 one Ripple equated to US$0.37.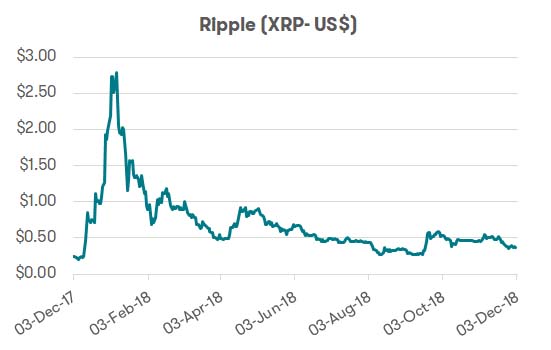 3.     Ethereum – US$12,063,146,065
YOY Performance: -74.01%
Ethereum isn't actually a cryptocurrency, but instead a whole platform for running decentralised applications. It has a subordinate currency that is used to buy computing time, called Ether, that can also be used as a standard cryptocoin. At the time of writing, it is trading around US$119, substantially lower than its January 2018 high of US$1,385.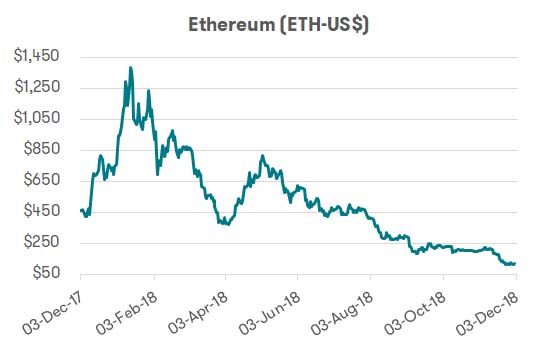 Related article: What is Etheruem?
4.     Stellar – US$3,066,476,382
YOY Performance: 77%
Stellar is designed primarily to facilitate the transfer of funds across borders, allowing businesses, organisations and individuals to conduct transfers between any given pair of currencies. Stellar saw its peak in early January 2018 when it rose 300% in just a week, from US$0.22 to US$0.88 US. At the time of trading this crypto-coin was trading at US$0.16.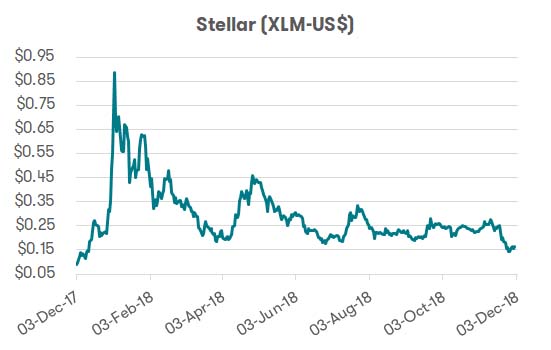 5.     Bitcoin Cash –  US$3,019,245,502
YOY Performance: -85.91%
Bitcoin Cash is a fork of Bitcoin – the result of a disagreement in how to operate the cryptocurrency. A dispute about blocksize – the fundamental underpinning of blockchain technology – led to the creation of Bitcoin Cash in 2017. At the time of writing it was trading for around US$196 per coin, down from a high in December 2017 of US$3,716 per coin.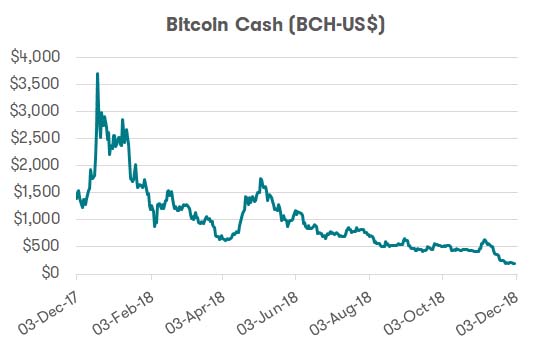 Related article: What is Bitcoin Cash?
6.     EOS –  US$2,585,381,060
YOY Performance: -24.04%
EOS is another distributed computing system that uses a coin to incentivise lending processing power. It can run all sorts of computer programs in a decentralised manner, spreading the workload across hundreds of computers. EOS had an interesting year, like the crypto-coins on this list it rose in price at the beginning of the year, fell soon after. However, it then had a second wind, bigger than the first where it was trading for US$21. At the time of writing, EOS was trading at US$2.97.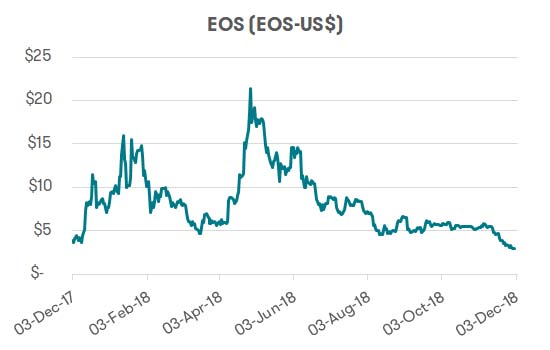 7.     Litecoin –  US$2,003,132,701
YOY Performance: -65%
Litecoin is billed as an alternative to Bitcoin, operating similarly in many ways but with a faster block generation rate which aims to decrease the time it take to process transactions. At the time of writing, one Litecoin goes for around US$34, with a December 2017 high of US$358.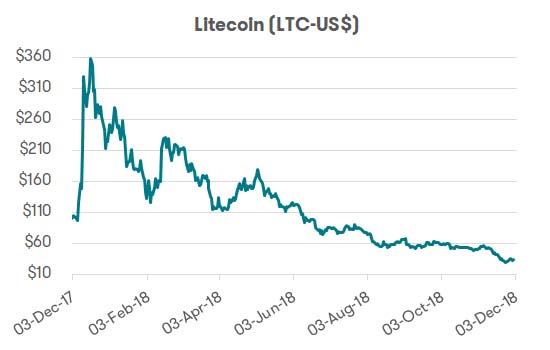 8.     Tether  –  US$1,850,386,424
YOY Performance: -0.9
Tether claims to be a stable cryptocurrency, with each coin issued exactly equal to US$1. Built of the Bitcoin blockchain, the goal is to make cryptocurrency transactions easier by fixing the exchange rate to the US dollar. There is some controversy surrounding this claim though, with the US Commodity Futures Trading Commission issuing a subpoena to the company in late 2017. As of December 2018, Tether was trading below US$1.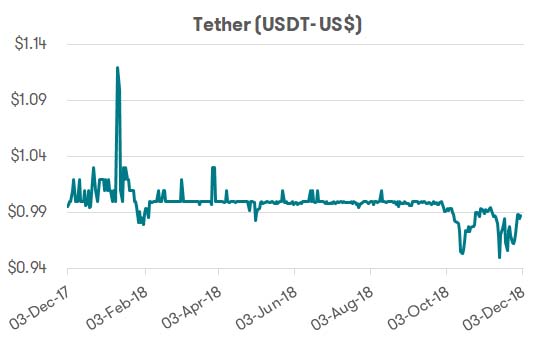 9.  Bitcoin SV – US$1,744,323,692
YOY Performance: N/A
You would be forgiven if you hadn't heard of Bitcoin SV or Bitcoin Satoshi Vision. It only very recently entered the market and made such a storm that to date its market capitalisation surpassed many other cryptocurrencies to claim the number nine spot. Bitcoin SV came about as a result of a Bitcoin Cash hard fork, which saw some in the Bitcoin Cash community wanting to recapture Satoshi original vision for Bitcoin, hence the name, and break off to form their own cryptocurrency. As Bitcoin SV was only made available for trading in late November 2018 there is no YOY performance for this coin.
Updated Crypto Market Evolution in 90s

Any new patterns? :eyes:

Higher resolution available herehttps://t.co/VjoGdTTEec pic.twitter.com/3eDaDYnb7L

— Cryptokita (@cryptokita) September 11, 2018
10. Cardano  –  US$1,085,192,235
YOY Performance: -69.6%
Developed by in conjunction with the University of Edinburgh, the University of Athens and the University of Connecticut, Cardano is another distributed computing network that utilises the blockchain, representing an evolution of the Ethereum system. At the time of writing, one Cardano coin was equal to US$0.04, it too is down from its high-water mark earlier in the year of US$1.13.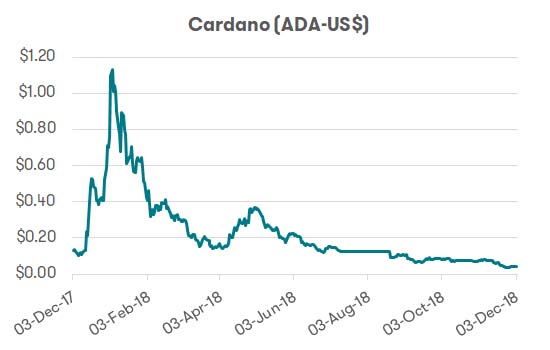 What does the future hold for cryptocurrencies?
There are literally thousands of different cryptocurrencies available, with new ones launching almost daily. However, the vast majority have attained very little market capitalisation, particularly compared to these ten listed here. Nevertheless, the crypto world is a very fast moving one, and it remains to be seen if these ten will remain the front-runners into the future and if 2019 will be a more successful year.
If you're interested in learning more about crypto, or other investments, make sure to check out Investor Hub.
*All figures correct as of 3 December 2018. Source: Yahoo! Finance.