The theory is based on the concept of investing in sectors that counterbalance other sectors that are likely to underperform in order to balance out the portfolio. While on the surface this may seem like good advice, all it really does is limit the potential profits that are achievable because you are holding onto stocks in the portfolio that are falling.
This practice also leads investors to hold over diversified portfolios of 25 to 40 stocks that look more like a dog's breakfast than a properly constructed portfolio. Anyone holding this many stocks in their portfolio knows that for the most part, one third is rising while the remaining stocks are moving down or sideways with the portfolio achieving average to poor returns, but this needn't be the case. If all an investor did is to exit stocks that fall away, they would achieve a much better return. In essence, smart investing is simply about buying what goes up, and selling what goes down. Right now, there is an influx of inexperienced investors in the market using apps to purchase stocks based on push notifications of what to buy. Unfortunately, this is resulting in a complete disregard for proper portfolio construction as the majority of their money is being invested in a small number of sectors, which is a very risky strategy.
From experience, I always recommend that you hold between 5 and 12 stocks and only invest in stocks that have the potential to rise.
So what are the best and worst performing sectors this week?
Materials have been the best performing sector so far, up over 3 percent with BHP, RIO, and Fortescue Metals all rising strongly. Utilities and Consumer Discretionary have also performed well as they are both up over 2 percent. The worst performing sectors include last week's big mover, Technology, which is currently down over 3 percent followed by Healthcare which, is slightly in the red for the week while Communication Services is just in the green
Looking at the ASX top 100 stocks, the best performers were, once again, all resource companies with Whitehaven Coal, Fortescue Metals, and Alumina all up over 8 percent so far this week. The worst performers include technology stock Xero, as it is currently down just under 4 percent, which may be an indication that its stellar rise could be ending. Next is Evolution Mining down over 3 percent and Orora Ltd down just under 3 percent so far this week.
So what's next for the Australian share market?
Once again, the All Ordinaries Index is still lacking any real direction as it continues to trade up one day and down the next. This week the bulls have pushed the Australian market slightly higher, but it remains to be seen if this will continue to break the current sideways pattern the market seems to be in. Since 1 June, the Australian stock market has risen just 4 percent, as the market is quite nervous given the US is now releasing second quarter earnings reports. If there is any bad news in these reports, we are likely to see the Dow Jones drop and a ripple effect flow on to our market.
I still believe there is time for our market to rise over the next few weeks to trade to around 6,600 points, which is due to occur in the next two to four weeks. That said, as I mentioned in my last report, if the bears take hold of the market, then we may have already seen the yearly high and we need to expect further falls. For now, until the market picks a direction, it is best to exercise caution if you intend purchasing stocks.
For now good luck and good trading.
If you're comparing Online Share Trading companies, the comparison table below displays some of the companies available on Canstar's database with links to the company's website. The information displayed is based on an average of 6 trades per month. Please note the table is sorted by Star Rating (highest to lowest) followed by provider name (alphabetical). Use Canstar's Online Share Trading comparison selector to view a wider range of Online Share Trading companies.
---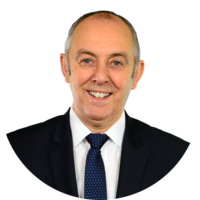 Dale Gillham is Chief Analyst at Wealth Within and international bestselling author of How to Beat the Managed Funds by 20%. He is also the author of Accelerate Your Wealth—It's Your Money, Your Choice.