The saying goes, 'all that glitters is gold' but investors may wonder whether this also holds true for their portfolios. In the wake of market volatility and low global interest rates over the past decade and particularly in 2020, gold has increasingly appealed to investors as a store of value and a hedge against volatility. Even legendary investor Warren Buffett chose to include gold exposure in August 2020.
Why invest in gold?
Gold has both defensive and growth qualities, which has led to its position as an investment safe haven in times of volatility. It can act as a store of value, as well as holding the potential to grow.
There are two key reasons for this.
Gold has a low, and at times, negative correlation to other asset classes. That is, it performs differently to other asset classes and its performance is not necessarily associated with what is happening in other asset classes. This is shown in the table below:
Table 1: Performance of Gold

Australian equity

Global equity

Australian fixed income

Global fixed income

Correlation

-0.3

-0.12

0.36

0.07
Source: Bloomberg data as at 31 July 2020. Correlations are calculated monthly over 20 years in Australian dollars. Australian equity is represented by the S&P/ASX200 Total Return Index. Global equity is represented by the MSCI World Total Return Index. Australian fixed income is represented by the Bloomberg AusBond Composite 0+ Yr Index. Global fixed income is represented by the Bloomberg Global Aggregate Total Return Index.
This relationship allows gold to be used as a diversifier against all asset classes, ideal in a range of market conditions.
2. Gold has the ability to offer positive performance in a range of market conditions, including periods of volatility. For example, if you consider the Global Financial Crisis, gold prices rose 26% while the S&P 500 fell 56%. If you consider February to end of July 2020 which covers the COVID-19 pandemic, gold gained 16.2% over the six month period while the S&P 500 fell 4.0% and the S&P/ASX 200 fell 14.3% (all in AUD terms). You can see the performance of gold against other major asset classes in the chart below.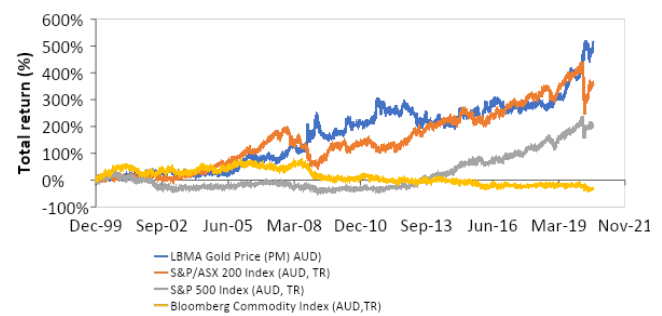 This ability to perform in a range of markets comes down to gold's position as a consumer-driven and investment-driven asset. Annual demand is primarily through jewellery (54%), followed by 36% for investment purposes and by central banks. Gold is also heavily used for purposes such as electronics or even part of medical and diagnostics equipment.
How to invest in gold
There are a range of ways to invest in gold. Three of the most common follow:
1. Physical holdings
Investors purchase physical gold bullion through a specialist commodities trading company or a refinery. Investors may need to consider freight costs, storage and insurance costs for their gold bullion. This is a pure exposure but may be difficult to access or cost prohibitive for some investors.
2. Indirect exposure through shares
Investors purchase shares in gold mining companies, such as Newcrest Mining Ltd, with the aim of being exposed to gold prices through the activities and revenue of the company. This is an indirect exposure where investors are also exposed to many company risks and the performance of the company will be influenced by factors other than the price of gold.
3. Exchange traded funds (ETFs)
Investors invest in gold on the stock exchange using a gold-backed ETF for exposure. In a gold-backed ETF, physical gold is purchased and stored by a fund manager as part of a trust and investors buy units in the trust for exposure to the market movements of gold. Investors need to consider costs for trading as well as management fees. These can be cheaper than physical storage and insurance costs for some investors relative to purchasing physical bullion themselves. Gold-backed ETFs tend to be easy to use and can be a cost-effective option.
Investors in gold should be aware of general investment risks, such as market risk or counterparty risk, along with risks specifically related to the investment method they choose.
For example, investors in physical gold may need to consider liquidity risk (that the asset can't easily be sold or purchased when the investor wants to) or risk of theft. By contrast, investors using gold-mining shares or ETFs may need to consider market risk (loss of investment value due to movements in the overall share market). ETF investors may also need to consider counterparty risk (the risk that the other party to your investment defaults or mismanages the assets).
Another aspect ETF investors should be aware of is the variation in the way that gold-backed ETFs are managed. For example, some may allow investors to redeem their units for the physical holdings, while others may only give investors a cash entitlement. There are currently three gold-backed ETFs available on the Australian Securities Exchange. The largest as well as being the world-first is ETFS Physical Gold (ASX: GOLD) which is distributed by ETFS Securities Australia.
Gold in the longer term
While gold may be drawing attention due to current high prices and Warren Buffett's interest, it tends to be used as a long-term investment. It can offer diversification, growth and a measure of stability over time. Gold really is more than a glittering metal for a portfolio.
For more information on investing in gold, or to find out more about ETF Securities' range of investments, click here.
If you're comparing Online Share Trading companies, the comparison table below displays some of the companies available on Canstar's database with links to the company's website. The information displayed is based on an average of 6 trades per month. Please note the table is sorted by Star Rating (highest to lowest) followed by provider name (alphabetical). Use Canstar's Online Share Trading comparison selector to view a wider range of Online Share Trading companies.
---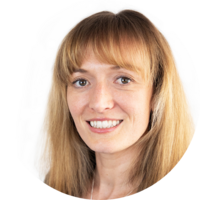 About Sara Allen
Sara Allen is responsible for content research, creation, and curation for ETF Securities. She has more than 10 years of experience in content and marketing across investments, superannuation, insurance, and financial advice.
Find her on her website or LinkedIn.
This article was reviewed by our Content Producer Isabella Shoard before it was published as part of our fact-checking process.