While recession can potentially yield some of the best deals for investors to make big bucks in the equity market, it can also prompt investors to make bad calls and take impulsive financial decisions. Australia is into its worst recession in decades amidst COVID-19 pandemic. It therefore appears crucial for investors to remain cautious of some common investing mistakes to hold up better during the recession-driven volatility.
In March 2020, the COVID-19 pandemic brought an abrupt end to the longest share market bull run in the history, inducing massive market sell-offs. While the Australian benchmark index has rebounded by ~36% since March dip, several stocks of fundamentally sound companies are still trading at bargain prices.
Investors monitoring the equity market landscape for investment opportunities during the current recession have a golden chance to beef up their portfolio. The stocks of high-grade entities available at discounted prices can be carefully evaluated. The key to success is to refrain from committing some common investing mistakes, as discussed below:
Do Not Convert All Investments into Cash
While hoarding money in cash appears to be the safest bet to wade through recession-induced volatility, converting all investments in cash seems to be a common mistake. Investors can lose the 'Tap-the-dip' opportunity offered by market downturn while stuffing all their money under the mattress in fear and panic.
Instead of turning entire investments into cash, investors can probably keep about three to six months' worth of living expenses in a cash account to cope up with the financial uncertainties. Besides, investors can build a recession-proof portfolio while rebalancing their existing investments to seek solace in the market instability.
It is all about maintaining the appropriate balance of cash reserves and investments, while keeping a close eye to not miss out on potential gains from the market rebound.
Dodge Blind Cloning While Picking Stocks
Although cloning the ideas of great investors can help you make stock selections with minimal errors, blind cloning can lead to huge disasters.
Investors often fail to distinguish between their own investment horizon and that of the investor being cloned. They are blinded by cloned investor's success and authority bias. Consequently, this unintelligent and blind cloning costs big bucks to cloners. As an instance, market players seeking lucrative market returns in the near-term may end up losing wealth while cloning Mr Warren Buffett, who keeps long-term investment horizon.
Instead of indulging in blind cloning, investors can comprehend the decisions of renowned investors while investing in the businesses that fall within their circle of competence to mitigate potential losses.
Avoid Behavioural Traps
Investors often fall into behavioural traps during the recession while making their financial moves based on emotional drivers like fear and greed.
Investors acting out of fear generally end up selling out their promising investments during stock market dip to avoid potential losses. Moreover, investors driven by greed usually fuel buying decisions during the recession. They blindly engage in tapping undervalued stocks to become rich as quickly as possible. There is nothing wrong in tapping discounted stocks. At the same time, it appears imperative to successfully evaluate stocks on the basis of judicious fundamental and technical analysis before making an investing move.
To refrain from committing behavioural mistakes, investors can set their emotional drivers aside and avoid modifying their investment strategy in panic. Following a disciplined long-time investment approach appears crucial to capitalise on opportunities in the equity space.
Refrain from Timing the Market
While timing the market bottom during stock market downturn, investors often end up missing the lucrative buying opportunity if the market rebounds. Therefore, it is important to not get entangled in speculating the market dip as it is almost impossible to gauge the market's next move.
Instead, investors can ascertain the desired price they are willing to pay for their favourite stock and make a buying decision based on the price differential between their desired and prevailing stock price. Simply put, investors can buy their preferred stock at a price which is low enough to shield against worst-case market outcomes. Besides, stock technical can also be closely studied to make a robust investment decision.
In place of implementing market-timing tactics, investors can keep a long-term perspective while investing in line with their risk tolerance to survive through the recession-driven market downturn.
Do Not Overlook History
Market participants should not expect the equity market to be down forever as there is significant historical evidence that exhibits sharp revival in the stock market over a longer timeframe. To recall, the 2008-09 Global Financial Crisis was followed by one of the longest bull markets in history, which continued from March 2009 to March 2020.
It is imperative for market players to understand that periodic sharp drops in equity markets are not unfamiliar, rather healthy and normal. Hence, investors should avoid liquidating their promising long-term investments in a sprint to judgement.
Instead of freezing into inaction during the recession, rational investors can stay on course, both financially and psychologically, while relishing the strength of the equity market over the long term.
All in all, one can remember Mr Warren Buffett's famous quote in the current pandemic-stricken environment- "The stock market is designed to transfer money from the active to the patient.
Main Image Source: Shutterstock by Jacob Lund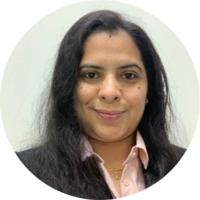 Hina Chowdhary is the Director, Equity Research at Kalkine, and has extensive experience of about 15 years in the area of Research including Equities. At Kalkine, she is responsible for Strategy & Direction for Content Generation. She has earned a Master of Science degree from the renowned Indian Institute of Technology. Hina's work profile entails in-depth analysis for stocks using a diverse set of financial data tools and models in order to provide appropriate investment opportunities and insights on which stocks to buy, sell or hold. She has hands-on experience in developing industry breaking equity news, company-specific investment themes/ ideas, and other equity research related products.
Follow Investor Hub on Facebook and Twitter for regular investment updates.
---
Thanks for visiting Canstar, Australia's biggest financial comparison site*
→ Looking more ways to create wealth? Learn more about Online Share Trading, Exchange Traded Funds and Cryptocurrency.
You can also compare health insurance, credit cards and life insurance and home loans with Canstar.