On July 30, Apple announced a stock split, where Apple investors will receive three additional shares for every one share they own, while the stock price will be divided by four.
A stock split is a relatively common occurrence in the stock market and particularly so for Apple, which has undertaken four previous splits since they went public, including in 1987, 2000, 2005 and 2014. This split will be the fifth.
What do splits actually mean for investors?
Stock splits aren't really a major change for existing investors and they definitely don't change the size of a portfolio.
For instance, stock splits don't change your portfolio value of a stock. If you had 10 Apple shares trading at $400, your portfolio of AAPL is $4000. After the split, assuming all in the company stays the same, you'll have 40 shares priced at $100, so still a portfolio of $4000.
As mentioned, the stock split does add some complexity with dates. For example, if you intend to sell the stock after the split, you'll be selling them at a quarter of the price and you should sell four times as many as you would have done before.
For new or future investors, the price of Apple will be at a lower bar to invest in, making it more accessible to investors with smaller portfolios and also those looking for diversity. However, as most US brokers now offer fractional shares (including Stake), investors can currently invest in any dollar amount of a stock, so this thinking is a little obsolete.
Why are Apple doing a stock split?
There are a number of reasons, but it's mainly about accessibility and making the stock appear attractive to smaller investors. However, some commentators believe that it also positions the stock as a growth stock, as it's got a lower stock price and more upside – this is a positioning piece and an opinion some in the markets have, so take it with a pinch of salt.
What will happen when Apple splits?
Share splits mean that there will be more shares on issue, and the price of the stock will be adjusted by that ratio. It has no underlying change to the value of the company and its operations – just a change to the number of shares on issue and the relative stock price (compared to what it was prior to the split).
The key aspects to the split are the dates (US time) in which things happen, being:
The Record Date (24 August) – if you are a registered shareholder of Apple on the close of trading on August 24, you will receive three additional shares for each share you own.
The Split Date (28 August) – after the close of trade on this date, registered shareholders as at the Record Date are due the split shares.
The Ex Date (31 August) – the first day of trading on the exchange that Apple stock will trade at the split-adjusted price. This price should be a quarter of the price it closed at on the day before, plus or minus any overnight market movements.
These dates are important as buying and selling before and after these dates can have implications for your position in Apple and what price you will be trading at.
How Stake users have been preparing?
While stock splits don't actually change the value of a traders portfolio, investors react to these announcements in different ways.
We looked at the trading behaviour on AAPL by Stake traders, 12 days before and 12 days after the stock split announcement to compare. Here's what we found:
Almost twice as many trades were made in the period after the announcement.
When a hallmark stock like Apple talks to the market, people clearly listen. It's apparent that announcements like this bring increased attention to the stock and this results in increased activity by investors.
Average trade value increased 50% after Apple revealed it would be splitting its stock.
Similar to the above a marked increase in the dollar value of each trade being made. Whether viewed positively or negatively, traders are clearly taking it as a cue to make moves around the stock.
The Buy:Sell Ratio on AAPL decreased once this announcement was made.
This is a slightly more interesting one. While in absolute terms the number of buys of AAPL increased by 92%, the number of sells actually went up 105%. This means that proportionally, more people were selling out of Apple after the split was announced.
Perhaps some investors perceive a lower priced stock to garner increased volatility. Perhaps some perceive a higher valued company as a better investment.
In any regard, there are always many different viewpoints for any market event. But that's what makes the markets so fascinating.
If you're comparing Online Share Trading companies, the comparison table below displays some of the companies available on Canstar's database with links to the company's website. The information displayed is based on an average of 6 trades per month. Please note the table is sorted by Star Rating (highest to lowest) followed by provider name (alphabetical). Use Canstar's Online Share Trading comparison selector to view a wider range of Online Share Trading companies.
---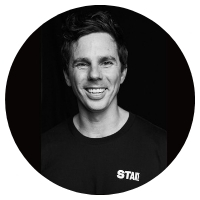 About Matt Leibowitz

Matt launched Stake after returning to Australia from the US, and finding it difficult to continue trading US shares. Having run global trading teams in the most sophisticated financial markets using the most advanced technologies, Matt set out to open up the world's biggest markets to the rest of the globe.