At the onset of a new decade, we review 2019: the companies that weathered and that soared, and the global changes that moved markets.
Between Trade Wars, terror attacks, fears of recession and natural disasters it would be easy to dismiss 2019 and welcome a new decade with open arms and hopes for 'a better year'. Many would argue 2019 was not, however, as bad as the news headlines may have made out and as an article in the Financial Times shrewdly points out, "we deceive ourselves easily, feeling our losses more keenly than our gains, and mistaking the anecdote of events for a trend in the data".
Like any year, 2019 experienced setbacks, but we also saw tremendous growth, including within the ASX200 and All Ords, and experts have remarked Australia's market is expected to continue to be bullish into 2020.
In 2019, the S&P/ASX200 had grown by 20.8%. The first half of the year saw strong and continuous growth across most sectors. Financials had a relatively flat year, despite major scandals, while innovative tech companies like Afterpay experienced strong growth.
2019 marks the third highest year of growth for the ASX in over a decade, behind only 2004 at a fractionally higher 22.7%, and a whopping 30.8% in 2009 following the devastating events of the 2008 Global Financial Crisis, which saw the market drop over 40%.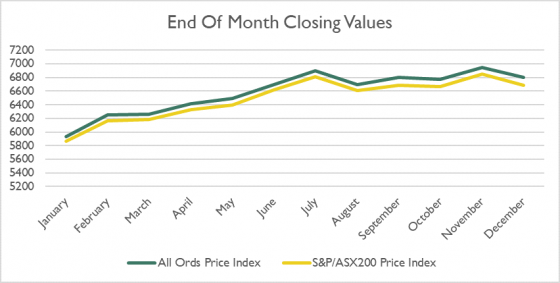 Key Events
2019 saw a number of major local and international events that influenced the share market overall and specific sectors.
A disappointing end to 2019 saw the market open with caution, but begin rallying by the end of January.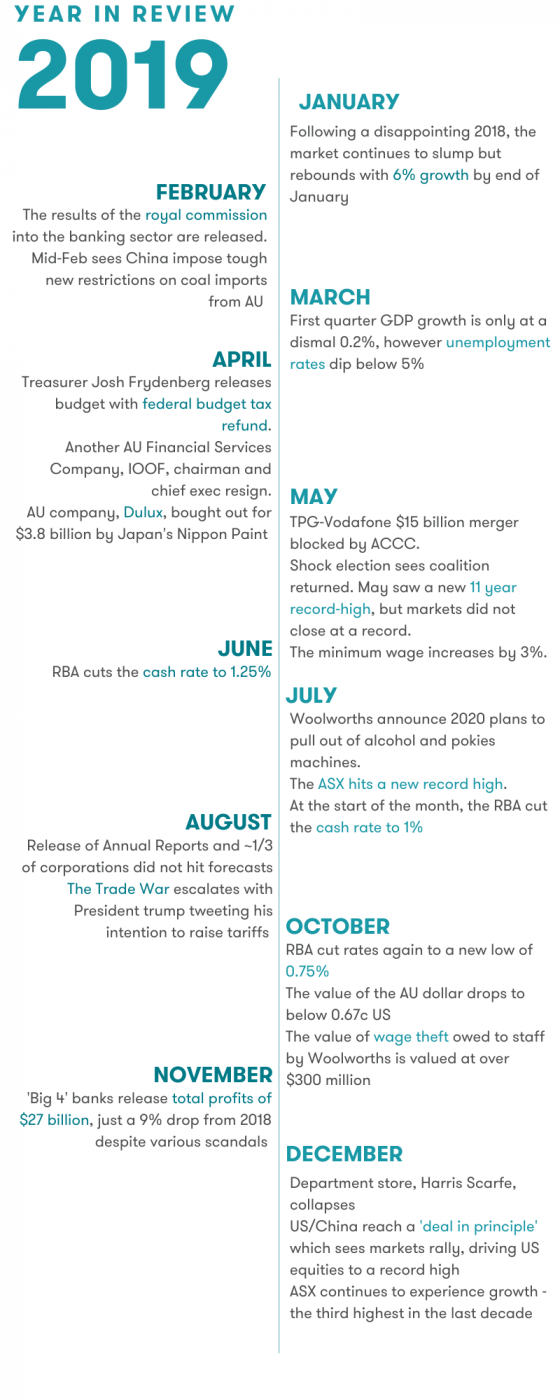 The royal commision into the banking sector, and its scathing results released in February, were initially received with a very 'so what' attitude, but it quickly became apparent this would deal a worse blow to the Financials sector than the first reaction indicated.
Only days after the release of their findings, NAB's Chief Exec and Chairman resigned and AMP confirmed several of their executive staff were facing potential criminal charges. This was just the beginning of a rocky year for Financials.
Financials aside, optimism surrounding the Trade Deal in February was high, and the flow on effects saw the ASX close at 5%.
Despite disappointing GDP growth in the first quarter, March also saw unemployment rates dip to lows not seen in years.
In April yet more heads rolled as a fallout of the royal commission, with IOOFs Chief Exec and Chair also resigning. Conversely, Australia's own Dulux Paint's share prices skyrocketed, as it was bought out by Japanese company, Nippon Paint, for $3.8 billion.
A $15billion merger that would have seen Vodafone and TPG unite was blocked by the ACCC in May. This left many hopeful investors at a loss.
Australians would likely also be aware May saw the coalition returned in a shock election. As Labour had planned to take a tougher stance on banks, the continued position of the Liberal government resulted in renewed hope in the banking sector and a rally of 5%.
The year's earlier optimism towards the Trade Deal waned mid-May, as Trump tweeted his intention to impose further tariffs on Chinese goods.
June saw the first of many RBA rate cuts, with a drop to 1.25%. This was followed in July by yet another cut to 1%. July saw the ASX hit a new record high, closing at 6812. July also saw a record high for Wesfarmers stocks, after they acquired Catch.com.
The Trade War continued to escalate in August. Mid-August the ASX experienced its worst one-day drop since February 2018, dropping $60 billion in market cap. This could be in response to the release of full-year earnings reports by big corporations- a third of which did not hit their forecasts.
However, by September the ASX was once again gaining, closing at 6,688. September saw another Australian company, baby formula producer Bellamy's, taken over by a foreign corporation as it was bought out by a Chinese company for $1.5 billion. This saw share prices jump 67%.
October was one of the few months in 2019 the ASX dropped, closing down 1.17%. The start of the month was marked with a dramatic dip, before steadily regrowing, though not enough to end in a positive position.
The cash rate was dropped to a new low of 0.75% in October, which is where it remained for the rest of the year.
Healthcare giant CSL hit an all-time high in October, with share prices up 7.39%. The infamous Woolworths wage scandal also emerged, with the supermarket giant set to pay $300 million to staff who had been underpaid. This had a minimal dent on their share price though, dropping just 0.7%.
Despite the various scandals the financial sector faced, November saw them release their annual profits which surmounted to $27 billion. This was a drop of just 9% from the previous year. Had the major banks not had to pay an estimated $10 billion in legal and other costs as a fallout from the royal commission, they were expected to surpass their previous profit high of $32 billion.
Despite early December seeing renewed Trade War fears, they were short lived and China and the US reached a 'deal in principle' on December 13, which saw existing tariffs partially rolled back. The results were record highs for the US sharemarket, and while the ASX didn't react quite as optimistically, 2019 still ended on a positive note.
Many companies experienced strong and steady growth in the second-half of the 2019 financial year.
While some peaked around the July period, others continued to grow.
Notable mentions include Afterpay, a 'buy now, pay later' financing option. Afterpay experienced a share price low of $11.36 at the beginning of the year, but has grown strongly and steadily since then, reaching a high of $37.41 at its peak and tracking just below $30 at the time of writing. Afterpay had announced plans to expand into the US in May and now operate in America and the UK, as well as Australia.
Nearmap, an aerial imagery company, was one of the best performing stocks of FY19. However, they have experienced a slow decline from their June high of $4.29 to $2.52 at the week commencing December 23.
Pharmaceutical company, Clinuval, experienced a particularly strong FY19, before dropping slightly and regaining.
Austal, a shipbuilding company, has experienced strong growth throughout the year, following growing demand from the US Navy for their services.
Brisbane-based Technology One also had a strong year, rising swiftly from January to May, before dipping then experiencing a strong rally from November onwards.
It's important to note the Financials sector remained relatively flat this year, with Westpac and ANZ experiencing slight share price decreases and CBA remaining relatively flat.
Blue chip stocks like Amcor, Coles, Wesfarmers, A2 Milk and BHP experienced some minor growth in line with the rest of the ASX.
Experts have predicted geopolitical events will continue to affect markets in 2020, and that emerging economies and sectors will experience strong growth. Keep your eyes peeled for our 2020 insights.
If you're comparing Online Share Trading companies, the comparison table below displays some of the companies available on Canstar's database with links to the company's website. The information displayed is based on an average of 6 trades per month. Please note the table is sorted by Star Rating (highest to lowest) followed by provider name (alphabetical). Use Canstar's Online Share Trading comparison selector to view a wider range of Online Share Trading companies.