Are you looking to invest in international shares like Apple, Tesla and Amazon?
Many Australian investors are looking beyond the ASX and are considering dipping their toes into international markets such as the US, Canada and the UK. According to the ASX Australian Investor Study 2020, 17% of investors are planning to invest on international exchanges in the next 12 months.
This increased interest could perhaps be due to the ongoing market volatility caused by the COVID-19 pandemic, with Aussie investors looking for ways to diversify their portfolios beyond the domestic market. Newer investors may also be looking for ways to potentially get good returns on their money, given the ultra-low interest rates currently available on savings accounts and term deposits. High-profile overseas stocks, including US-based tech giants, may be a particular temptation for some investors.
If you're looking for an Outstanding Value trading platform, Canstar's International Share Trading Star Ratings can help. This year, Canstar Research analysed 18 platforms from 12 providers. After crunching the numbers, Canstar awarded three providers with a 5-Star Rating.
All of the platforms assessed allow investors to trade on international exchanges in at least the US, and offer online share trades in the US.
What difference could a 5-Star International Share Trading platform make?
Canstar assessed platforms based on their price and features. As part of the price score, the research team took into account brokerage costs, foreign exchange costs and ongoing fees. For the features score, the team considered factors such as the research and trade features available.
So, how much could you save by using a 5-Star platform? Canstar Research looked at a hypothetical sample trade to show the total difference in cost between using the average 5-Star platform versus the average of the platforms on our database.
Relative platform costs for buying $10,000* in Apple shares
Brokerage (AUD)
FX Cost (AUD)
Total trade cost (AUD)
5-Star average
$5.77
$58.02
$63.79
Database average
$20.86
$152.84
$173.70
Difference
$15.09
$94.82
$109.91
Source: www.canstar.com.au. Based on products rated in the Canstar 2020 International Share Trading Star Rating (Oct 2020). Calculations based on available funds of USD$10,000 used to purchase stock with a share price of USD$89. Calculations assume currency conversion of AUD to USD. Foreign exchange rates (FX) sampled across 8 time periods between 10/09/2020 and 25/09/2020. FX costs include currency conversion fees, margins/spread, transfer fees and commissions, where applicable. *Assumes price of USD$89 per share based on the average daily closing price of Apple Inc from 01/01/2020 to 20/10/2020.
5-Star Rated international share trading platforms
Canstar has awarded IG Markets, Interactive Brokers Australia and Saxo Capital Markets (Australia) 5-Star Ratings for their international share trading platforms. This is the fourth year in a row that these three providers have received 5-Star Ratings.
IG Markets – International Share Trading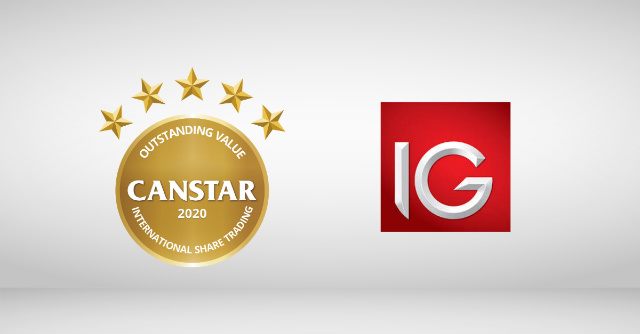 IG Markets continued its strong performance in 2020. IG Markets now offers a $0 brokerage fee for international shares. The platform currently allows you to invest in US, UK, German and Irish shares. The Canstar Research team also highlighted the platform's dynamic data offering. It has live data available for trading on US markets and offers Dynamic Market Depth data (real-time data) and order tracking to investors.
Interactive Brokers Australia – International Share Trading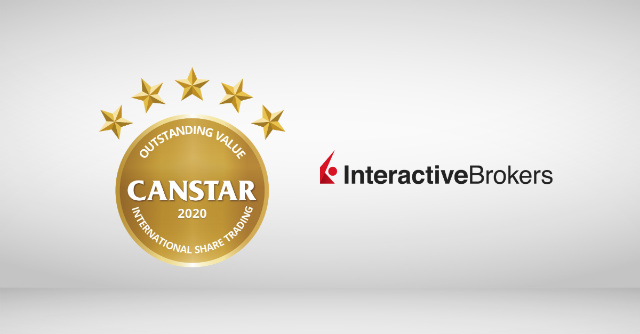 Interactive Brokers also retained its 5-Star Rating in 2020. At the time of writing, Interactive Brokers gives investors access to 33 countries, including the US, Canada and the UK. Canstar Research said it was impressed by the platform's easy account opening process – for example, investors can trade immediately upon opening an account and there is no minimum opening balance. Investors can also take advantage of a free trial to test out the platform.
Saxo Capital Markets (Australia) – International SaxoTrader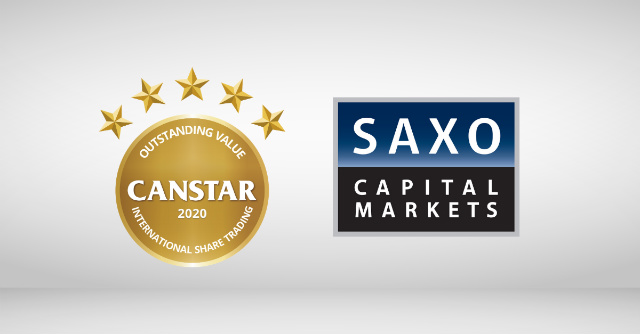 Saxo Capital Markets continued to perform well in 2020, with Canstar Research recognising the platform's wide market access. It currently offers access to 37 international exchanges and allows investors to trade in 11 currencies. Saxo Capital Markets also scored points for its dynamic data offering, including live data for trading on US markets and Dynamic Market Depth data and order tracking. Canstar Research also noted the ease at which you can close an account – for example, Saxo Capital Markets charges no fee for online closure and withdrawals.
Main image source: soul_studio (Shutterstock).