Whether you're moving out of the family home, downsizing for
retirement
, or preparing for that sea change, moving all your worldly possessions to a new location can be a mammoth task. While some people may be fortunate enough to get help from friends and family, another option is to hire a removalist to do the heavy lifting for you.
Before you book the services of a removalist there a few things to consider, including the costs involved as well as insurance to cover your belongings.
Let's unpack these considerations box by box.
What services do removalists offer?
According to online job marketplace, Oneflare, most professional removal companies will offer these standard services for a basic removal job:
Safely loading your belongings onto their truck or van
Transporting your belongings to a new address
Unloading your belongings off the truck
Placing your belongings in the rooms or positions you want them in at your new address
Some companies may also offer some extra services you can request, depending on your needs. These extra services may come at an additional cost.
Providing packing materials (e.g. boxes, bubble wrap, tape, furniture protectors)
Packing and unpacking services
Setting up furniture or appliances (such as connecting up a washing machine or putting together a bed frame)
Storing your belongings for short or long term
Move your belongings interstate
Clean the home you are vacating (or suggest a partnering service provider)
How much do removalists cost?
According to Australian trade services website hipages, you can expect a total cost of anywhere from $300 to $3,500 or from $75 to $300 an hour for a local move (in the same city) in Australia. The exact cost will ultimately depend on the service you use, the amount of belongings you have and the difficulty of your move.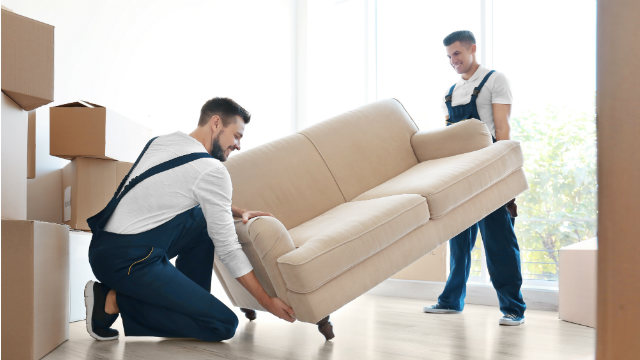 How do they calculate the cost?
Removalists may charge by the hour, half-hour, or in 15-minute increments, hipages said. Some may also charge a flat fee for the entire job based on the details you provide when requesting a quote. To get a quote, they will often ask you questions to gauge some factors that influence the time it will take them and how challenging it will be.
What factors can influence the cost?
The exact cost of hiring a removalist is largely dependent on a few factors, including:
The size of the home you're moving from
Most removal companies will ask you about the size of the property you're moving from when determining your quote (which typically indicates the volume of items that may need moving). For example, a one-bedroom apartment removal job may cost less than a four-bedroom house. This may be because the house with more rooms is likely to hold more furniture and belongings than the smaller apartment and may mean that a bigger truck and more people or time is required to get the job done. The cost of providing these extra resources is then passed on to the customer.
Hipages provided the following breakdown of the removalist costs you may expect to pay as per the size of the move when relocating in the same city:
$125/hr for a one-bedroom apartment, using two movers
$175/hr for a small three-bedroom apartment, using three movers
$245/hr for a large three-bedroom home, using four movers
$315/hr, for a large family home of four or more bedrooms, using five movers
Note: These prices are for a Sydney-based removalist, who are fully insured and require a minimum hourly usage.
The distance of the move
Removalist costs will also vary depending on how far a company is required to travel to transport your items to your new address. Typically, those booking an interstate removalist job can expect to pay higher prices compared with those booking in a move within the same city, as the distance from address to address is often further. For example, according to Oneflare, the average reported cost of a removalist job in New South Wales on their platform, at the time of writing, is between $110 – $950, while an interstate removalist job from New South Wales is $575 – $6,000.
Difficulty of the move
Your removalist may add to the cost of your job to account for any difficulties they may come across during the move, such as stairs, narrow hallways or door frames, lifts, limited parking or large furniture.
Level of service required
If you choose to add extra services or products to your removal job that do not come as standard, such as packing and unpacking services, packing materials, storage facilities, insurance or pet transport, you will likely have to pay an extra fee for this. For example, according to removalist company Moving24, their packing service comes at an additional charge of $250 and packing materials at an extra $100.
Time of the move
The day and time of your move may also affect costs. Oneflare reports that removalist jobs at the start or end of the month tend to be more expensive, so it suggests to book your move for mid-month if you can. It also suggests scheduling your move during non-peak hours, as traffic congestion could add to your cost if you are paying by the hour.
What if I'm moving overseas?
Moving internationally will be a completely different exercise to a local or interstate move, and will likely cost you more, depending on what you plan to take overseas with you. According to hipages, you may expect your quote for an international move to be based on:
Where you are moving to
What type and amount of belongings you plan to ship to your new address
If you are using a "door-to-door" or "door-to-port" service (the latter will require you to pick up your belongings from a particular international port to then take to your new address).
Local customs charges and duties
What are some ways you can reduce removalist costs?
There are a few ways you may be able to help reduce the time and money spent on a removalist job. These may include:
1. Packing your own items and sourcing your own packing materials
Removalists usually charge extra for packing and unpacking services as well as for providing packing materials, such as boxes, padding and tape. If this is the case, packing your own boxes and shopping around to buy or source your own packing materials may help to save you money. Consider asking your friends and family if they have any spare cardboard boxes or check with local supermarkets or other retailers to see if they are willing to give you some of their cardboard boxes. You could also try to make use of items you already have around the house as alternative packing materials, such as using towels or bed sheet as padding for delicate belongings or a washing basket or shoe box to carry smaller items.
2. Reducing the amount of work – moving smaller items yourself and decluttering
If you move smaller items, such as clothing, kitchenware and bedding yourself and leave only the heavier items and large pieces of furniture for the removalists, you could potentially cut down on the size of the truck and number of workers you need for your move, which could save you some dollars.
You can also reduce the number of things to move by decluttering your home. Any unwanted items could be sold or donated, which can bring in some extra money, give your items a new life and also reduce your time packing and unpacking.
3. Preparing large appliances and labelling your boxes
If you are paying your removalist based on time (e.g. by the hour or half-hour), you could help speed up the process of moving large appliances, such as your fridge or washing machine, by emptying, disconnecting and cleaning them prior to the move. Consider also labelling your boxes with what room they will be going to at your new property so you can help removalists to quickly unload and position them correctly at the other end.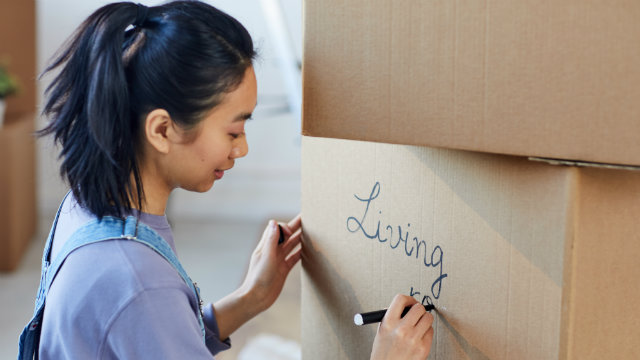 4. Reserving a parking spot close to your home
By finding and reserving a space close to your home for the removal truck to park you can shorten the distance to travel when lugging your belongings from your property to the vehicle. The quicker you and the removalists can get through the process, the cheaper the price may be if you are paying by the hour.
5. Arranging your move during off-peak periods
According to the Australian Furniture Removers Association (AFRA), a high percentage of removals occur during the last week of the month, in summer and holidays periods. Removal companies may raise their prices to match the high demand during these periods, so if you book your move outside of these times you may be able to save on costs.
6. Collecting and comparing quotes from different companies
To help get a sense of a reasonable cost of your move, consider obtaining several quotes from removalists in your area, either over the phone or online. From there you can get a general range, learn more about differences in services offered and be more likely to find a good deal. Also read reviews of the company and ask any questions you have specific to your move, including whether there could be extra costs involved.
Can I insure my items while they are being moved?
While most removalists take care with your possessions when moving them, accidents do happen. As such, consider your insurance options for your belongings should they be damaged or lost during your move.
It is possible that damage to your belongings may not be covered by your contents insurance or the removalist's own cover.
If this is the case, then there are some specialised moving and storage providers that do offer transit or moving insurance. The price of these will depend on a range of factors including the value you place on your belongings and what circumstances you would like covered.
Before buying one of these policies, it is important to check the Product Disclosure Statement (PDS) or contact the provider directly to get a full understanding of the cover inclusions and exclusions.
If you're comparing home and contents insurance policies, the comparison table below displays some of the policies currently available on Canstar's database for an Australian aged under 50, seeking cover in NSW or ACT for a cost to replace building and contents of below $550,000. Please note the table is sorted by Star Rating (highest to lowest), followed by provider name (alphabetical) and features links direct to the providers' websites. Use Canstar's home insurance comparison selector to view a wider range of policies.
Tips on hiring a removalist
If you decide to hire a removalist, research your options carefully and ask family and friends if they have recommendations. Reading online customer reviews from independent websites may also help you to learn more about the standard of service on offer from particular companies.
It may also be a good idea to use a company that is accredited by AFRA. Removalists who have this accreditation are guaranteed to meet certain equipment, premises and staff training standards, and must carry public liability insurance. You can visit AFRA's website to find any of their 350 accredited members.
When requesting a quote, it can be a good idea to ask the removalist company if they will provide the following details in writing:
The estimated total cost for the job including GST
What is included (e.g. packing services, removing particular heavy furniture)
How they charge – time-based or flat fee
How long the move will take
Whether your belongings will fit in one truck and be moved in one load
How many movers will be used
What insurance options are available
If there are any extra costs (e.g. fuel)
Their ABN or industry accreditation
In order to receive the most accurate quote, it's also important to include as much information about your moving job as possible when contacting a removalist company.
Cover image source: Andrey_Popov (Shutterstock)