Are you looking to
buy a home
, investment property or a place to rent? For whatever property stage you're at, chances are there's an app that could fit the bill.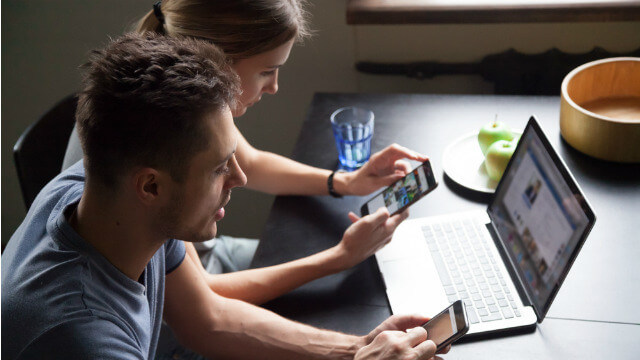 Real estate apps can be a convenient way to help you find your first home, choose an investment property, seek out a place to rent or discover home décor and renovation ideas. Here are 12 of some of the most popular property-related apps you may want to check out (listed in alphabetical order):
Domain
GAVL Live Auctions
Houzz
Magicplan
PropCalc (homesales.com.au)
Property Calculator Australia
Property Value Search (onthehouse.com.au)
Realestate.com.au
Realestateview.com.au
Rent.com.au
RP Data Pro
TenantApp
Does your home loan comparison rate start with a 2?
Take a look at what 100+ lenders are currently offering.
Realestate.com.au and Domain.com.au are two of the most popular real estate websites in the nation, with millions of visitors every month and apps that many Australians turn to when looking for a property. Both house hundreds of thousands of listings and millions of downloads across the Apple and Android platforms.
Depending on your real estate needs, you may want to also try out some of the other real estate apps on our list. We have chosen a wide selection of apps that vary in their offering, ranging from real estate portals to an app that allows you to design floor plans.
Here are short summaries of what the following 12 apps (available on Android and Apple devices) offer:
Domain
Domain, like realestate.com.au, provides a user-friendly app where you can search for homes to buy or rent by location, number of bedrooms, number of bathrooms, number of car parks, land size and other factors. Its extensive listings include houses, apartments, townhouses and land across Australia. You can add upcoming inspections to your phone's calendar or to the app's inspection planner tool. The app also offers price estimates and sale histories of properties. Domain is an ASX-listed company that is majority-owned by Fairfax Media.
Available on Android and Apple devices
GAVL Live Auctions
This app allows buyers to take part in a property auction without having to physically be there. Real estate agents can broadcast their auctions in real-time to thousands of potential buyers around the globe through GAVL. Buyers watching the live-stream can place bids. Auction results are usually published within seconds after the auction finishes. The app, which launched as a Melbourne start-up in 2017, was used by two contestants of Nine Network's The Block in 2018 to attract more bids for their apartment auction in the season finale.
Houzz
Interested in home design and decoration? The Houzz app offers renovation and design ideas, letting you browse millions of home décor photos sorted by style, location or room. You can also find architects, interior decorators and other tradespeople through the app, or virtually try products in your home with the My Room 3D function. This Californian website and app launched in Australia in 2014.
Magicplan
This app generates floor plans from photos taken with your Android and Apple phones and tablets. Its Canadian developer Sensopia says you don't have to move furniture before taking photos. The app produces a floor plan of the room you have taken photos of in several different formats, including PDF, JPG and DXF. A key advantage is that it will produce a floor plan to scale. It is free to download and use, but drawings contain a watermark and you will have to pay to download other floorplans. It is said to be handy in generating comprehensive estimates and quotes for a home renovation and can be a useful tool for real estate agents, craftsmen, firemen, architects, home inspectors, interior designers and more.
PropCalc (homesales.com.au)
Homesales.com.au, launched as a dedicated real estate site in 2009, offers an app that allows people to search for properties around Australia to buy or rent. The main focus of the app is a property calculator to help determine your cash flow and whether it can sustain you should you take out a home loan for the given property. You need to enter the property's details, including its address, whether it's new, whether it's a house or unit, loan details and your income to make the calculation. The app also has a home loan calculator to help you discover the maximum amount you can borrow.
Property Calculator Australia
This app is designed to help you work out how much a home will cost you. It will display the stamp duty, loan balance, deposit required, loan repayments and more based on the details you give it, such as the property's purchase price and the type of home loan you are looking for. It will also take into account lender's mortgage insurance if the deposit is less than 20% of the home value. Property Calculator Australia was launched in 2015 by Australian business Zanidy.
Property Value Search (onthehouse.com.au)
Are you curious about the value of your property or a home you're interested in buying? This app displays available information on a property, including land value and a property profile (number of bedrooms, bathrooms, car parks & land size). It allows you to search by address, suburb or postcode to find estimated property values, sale histories and displays comparable properties for sale or recently sold. It is owned by onthehouse.com.au, which is a subsidiary of property research group CoreLogic.
Realestate.com.au
The Realeastate.com.au app allows you to search for all types of property, including land, apartments and houses across Australia. You can search for property to buy, to rent or ones that have sold and you can find an agent. The available search filters include location, number of bedrooms, bathrooms or car parks, land size and price range. Other features include sales history of properties, ability to save properties into a collection and receive alerts updating you about the status of your saved properties. ASX-listed company REA Group, which is majority-owned by News Corp Australia, owns realestate.com.au.
Realestateview.com.au
This app lets you browse for properties to buy and rent, search for sold properties, look up home values and find an agent across Australia. You can filter your searches by property type, price, number of bedrooms, bathrooms and car parks and create a short list of your favourite properties to keep track of open inspections and auctions. You can also get an estimate of your own home value. It contains heat maps to help people find the median sale and rental prices. Realestateview.com.au was founded in 2001 in Victoria.
Rent.com.au
This app is primarily aimed at matching renters looking a place to live with landlords who have available homes to let. As a tenant, you will need to fill out a 'renter resume' just once and from there you can apply for as many properties as you like. Details required include how many people (including how many children, if any) will live in the property, how many vehicles and pets you have, your weekly rent budget and referee details. You can add your photo as well, set up rental alerts and search for places to rent based on factors such as NBN access and commute times. Rent.com.au was established in 2007 by property and new media entrepreneur Mark Woschnak and listed on the Australian share market in 2015.
RP Data Pro
RP Data Pro's app, owned by property analytics group CoreLogic, gives you access to a range of property data, including sales history, ownership details, valuation and rental estimates. It has multiple search options such as address, name or parcel search. You can also use the app to access CoreLogic's market insights. It is only available to paying RP Data Professional subscribers.
TenantApp
Looking for a place to rent? TenantApp allows you to search for what's on the rental market across Australia. You can filter your search based on price range, type of property and location and check the progress of any applications from within the app. The app also allows you to create a shortlist, inquire about a listing or book an inspection into your calendar. The app was founded by Brisbane-based property software company InspectRealEstate.
Compare Home Loans on Canstar's database
If you're currently considering a home loan, the comparison table below displays some of the variable rate home loans on our database with links to lenders' websites that are available for first home buyers. This table is sorted by Star Rating (highest to lowest), followed by comparison rate (lowest-highest). Products shown are principal and interest home loans available for a loan amount of $350K in NSW with an LVR of 80% of the property value.
Before committing to a particular home loan product, check upfront with your lender and read the applicable loan documentation to confirm whether the terms of the loan meet your needs and repayment capacity. Use Canstar's home loan selector to view a wider range of home loan products.