Hiring a removal service can often be the easiest way to move into a new home.
Moving from your current home to your new home is often a very exciting day – and a very stressful one! Whether it's moving out of home or downsizing for retirement, most of us will spend several days packing up all of our stuff and discovering lots of memorabilia that we'd completely forgotten about.
Why would you use a removalist?
It's a mammoth task to move all of your worldly possessions to a new location. Unless you have plenty of willing friends whom you can pay in pizza and beer, then a good option might be to hire a removal service. Removalist companies specialise in packing your things, transporting them and unloading them as quickly and as safely as possible, providing a thoroughly professional solution for a day that otherwise causes headaches.
Is hiring a removalist the right move for your family? Find out below.
Compare Home and Contents Insurance
How much do removalists cost?
The cost of hiring a removalist is largely dependent on your individual situation. The two main factors are the size of your current house (which informs how much stuff you have), and the locations of both your current and new homes – there's a big difference between interstate and international!
Other factors also influence your removalist costs, such as difficulty of access to both premises, how busy the time of year is, and how difficult it is to transport your items.
For a local move (i.e. within the same city), Home Improvement Pages recommends you set aside anywhere from $300 to $3,500. For an interstate move, removalist costs can be several thousand dollars more than this.
A good piece of advice is to negotiate a total fee for the move based on the aforementioned factors, rather than an hourly rate. If the entire moving day takes 9 hours rather than 7, for instance, you could be left paying several hundred dollars more than you expected. If moving interstate, there are also some rather complex minimum pay rates for freight services that you'll have to account for.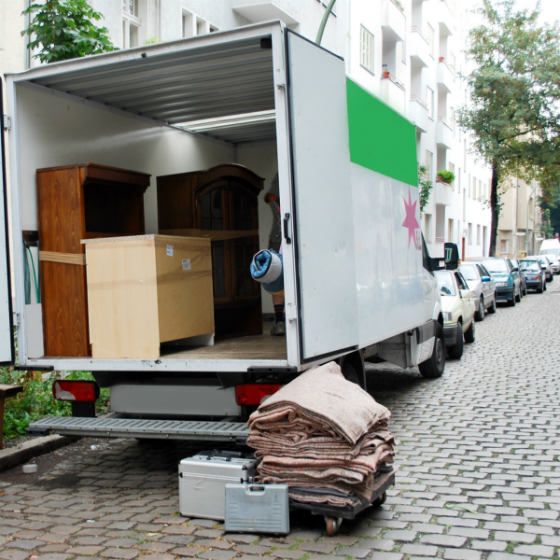 Is hiring a removalist a good idea?
Hiring a removalist is just like using any other professional service – you'll definitely pay more, but it comes with a swathe of benefits including a guarantee that the job will be done well.
Many removal services are members of the Australian Furniture Removers Association (AFRA), which regulates the industry and advises Government departments on policy. AFRA-accredited businesses are guaranteed to meet certain equipment, premises and staff training standards, so you'll know you're hiring a professional operation. They are also required to carry public liability and transit insurance to protect your belongings during the move, meaning you can rest easy in case something gets lost or damaged.
Removalists will also provide a full service from start to finish, and supply plenty of things which would be a pain for you to get if you moved by yourself. These can include plenty of boxes and packing tape, carrying heavy furniture to and fro, packing and unpacking efficiently, and off-site storage for your belongings if it doesn't all fit in your new home.
Generally speaking, the bigger your move, the better off you'll be by hiring a professional moving service. It's one thing to rope in a few mates to help you move into a studio apartment; it's quite another to try and move a family of four into a home on the other side of town.
All in all, removalists offer a valuable professional service that will reduce the stress of moving your family into a new home. While their services won't come cheaply, it's certainly worth it if you value speed and ease during your move.
To ensure your peace of mind in your current home, check out Canstar's home and contents insurance ratings.
Compare Home and Contents Insurance