It's every kid's dream to have their own magical space to play, away from parents, chores and any hint of the mundane and unadventurous. Lucky for two-year-old April, her mum has a wicked sense of style and her grandfather is a pretty skillful handyman.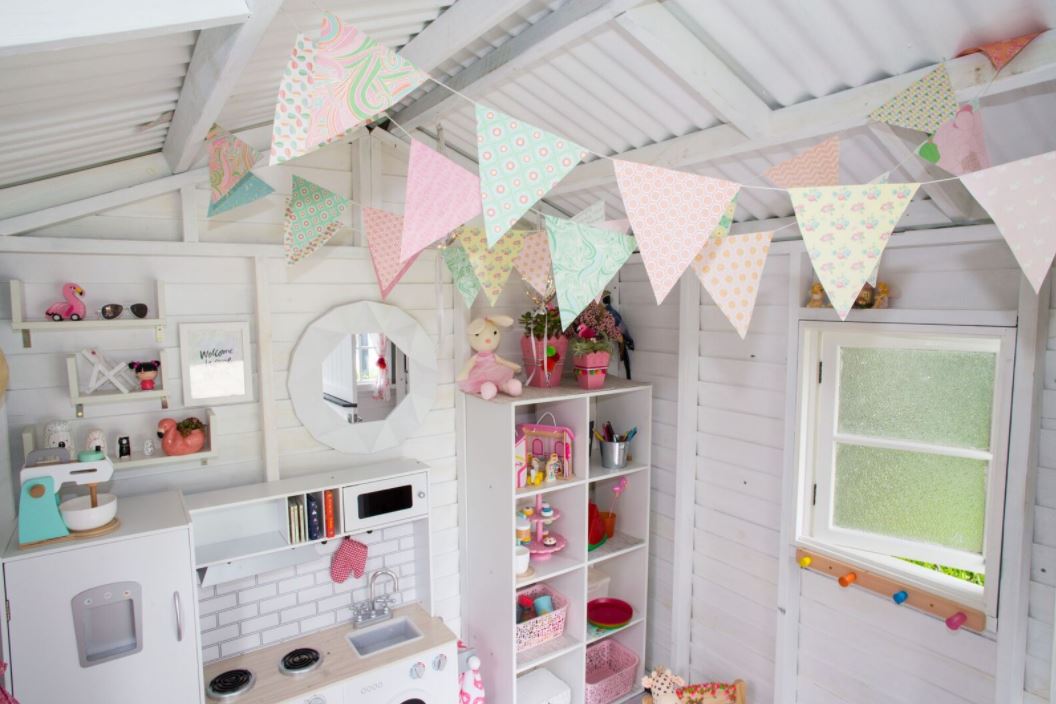 Cute printed flags adorn April's cubby house (Source: Natacha Murphy).
Last year Brisbane stylist and director of Brisbane Fashion Month Laura Churchill went on a mission to design and build (with the help of some talented family members) a lovely cubby house for her daughter April. And not your typical riff-raff assembly of a few shabby pieces of timber wedged between a precarious tree branch, mind you, but a tip-top little house fit for a lady. Read on to see Canstar's exclusive reveal of one the most luxe cubby houses in Brisbane.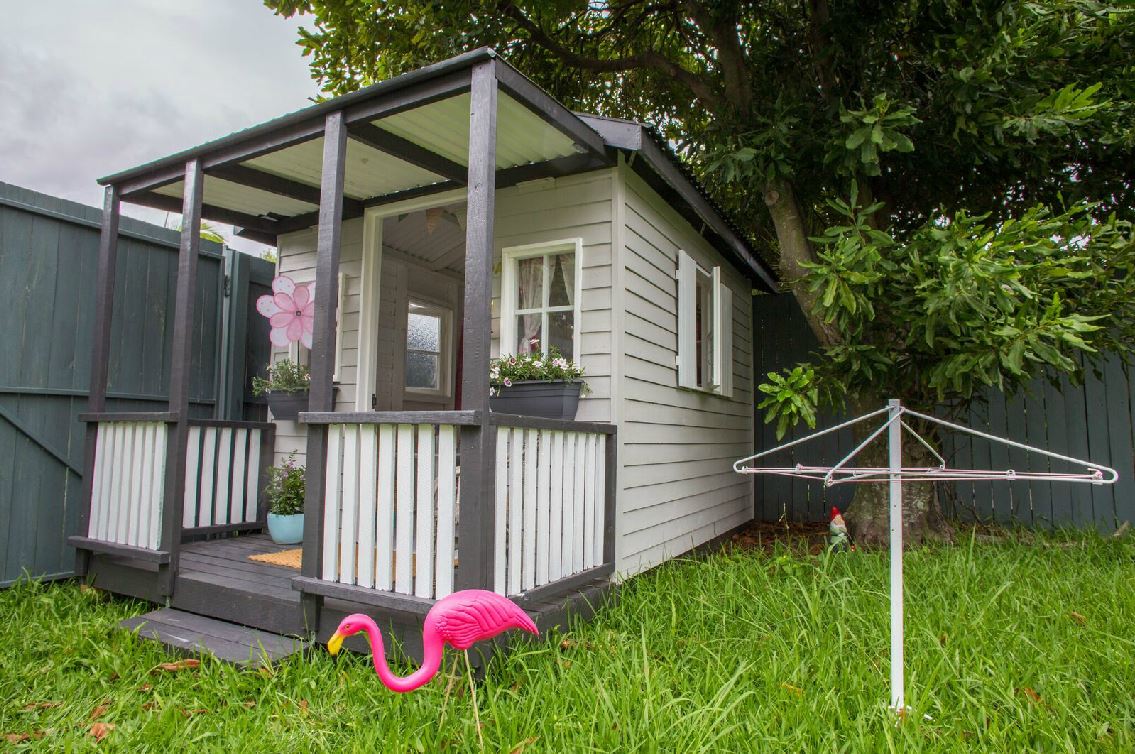 April's cubby house even features a mini clothes line that used to be Laura's when she was a little girl (Source: Natacha Murphy).
Laura's father, a retired teacher, was tasked with the construction job which involved several weeks of hard work and passionate engineering – a labour of love, you could say.
He and Laura gathered an array of recycled materials, including one of the more sentimental finds – the casement windows – originally from April's grandmother's renovated house. The shell of the cubby was designed by grandpa before being transported and assembled at its new home under the shade of a big macadamia tree.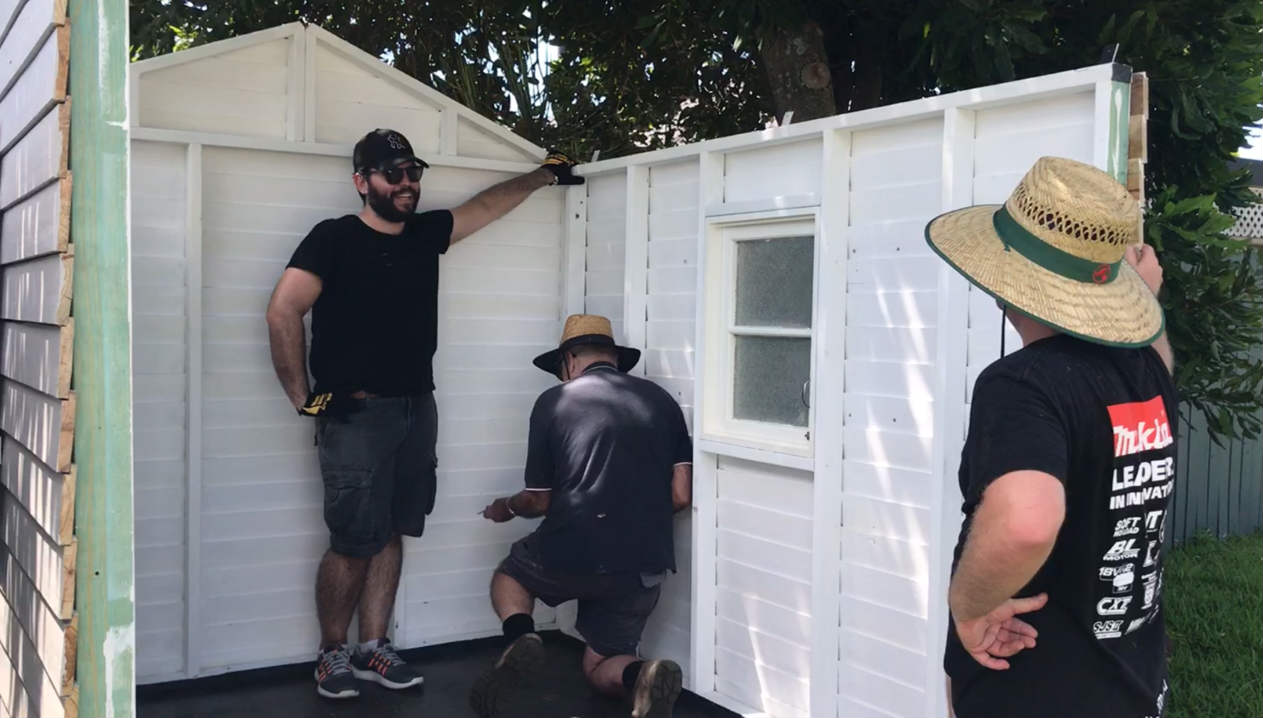 The boys assembling April's cubby house in the backyard (Source: Laura Churchill).
Now affectionately known by April as 'April's house', the cubby is her much-loved hang out for all the activities a child could imagine. The toddler is fond of brewing a cup of imaginary coffee for her guests and taking a fresh batch of play cookies out of the oven.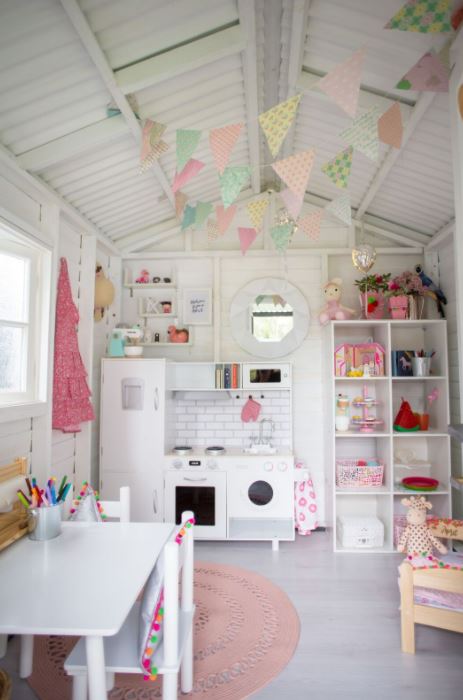 April's kitchen is fitted out with her very own oven, stove top and sink (Source: Natacha Murphy).
How to design a cubby house on a budget
Laura wanted to pull off the perfect cubby house by adding a personalised touch while maintaining a reasonable spending budget. She took some style inspiration from her daughter's love of flamingos and pom poms, setting out a colour scheme of orange, hot pink and green.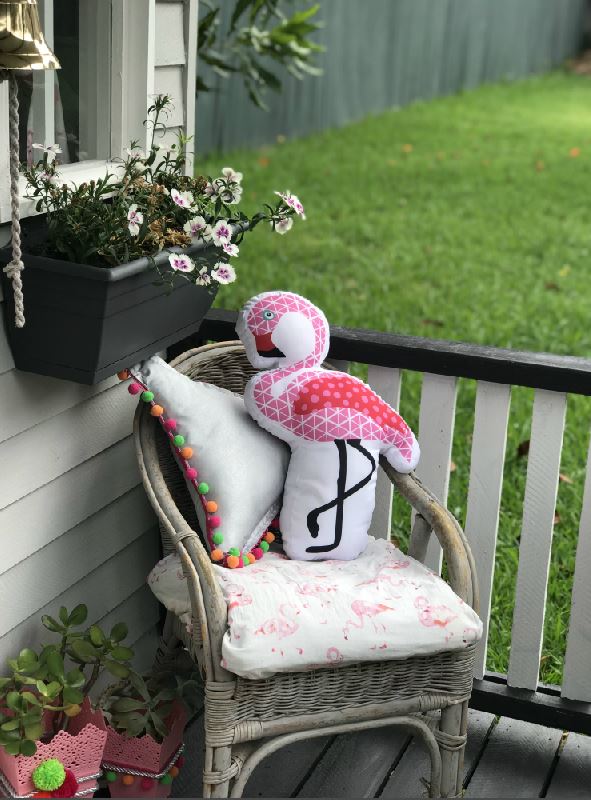 The front deck features the infamous pink flamingo cushion on a wicker chair found by April's grandmother (Source: Laura Churchill).
From there, Laura went on the hunt for the perfect additions to the cubby. A lot of the bits and pieces came from Ikea and Kmart, while she also hit gold on eBay and at shops like Lincraft, Freedom and Bunnings.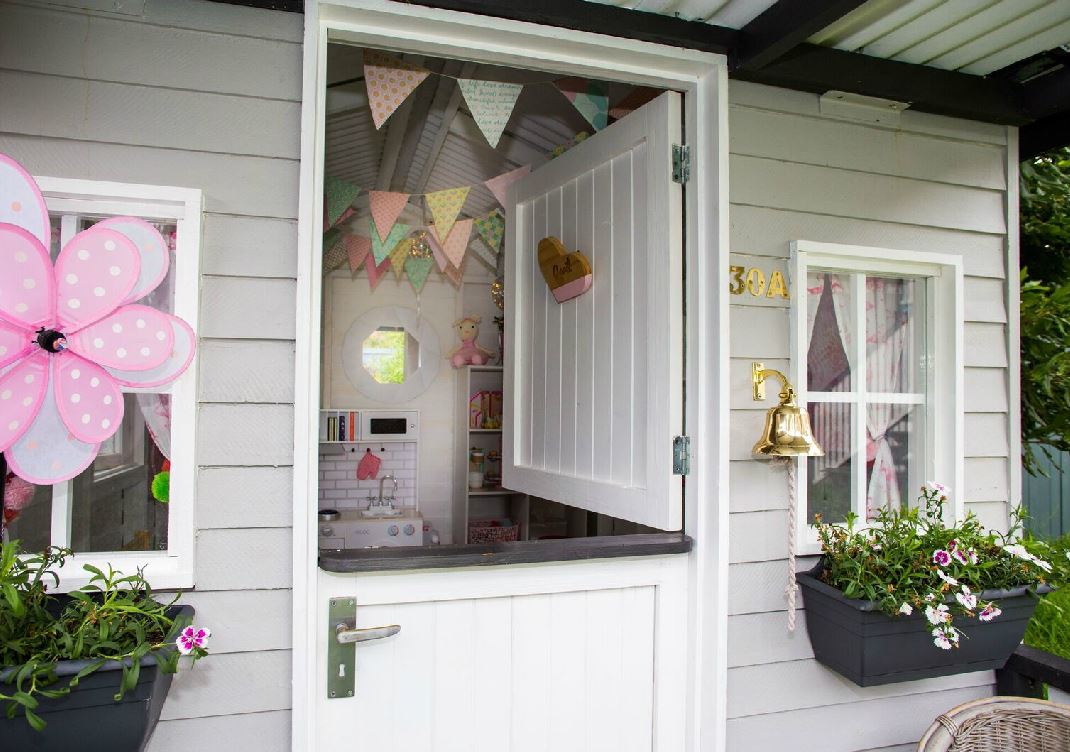 April loves the brass door bell ($28), house numbers and potted plants Laura found from Bunnings (Source: Natacha Murphy).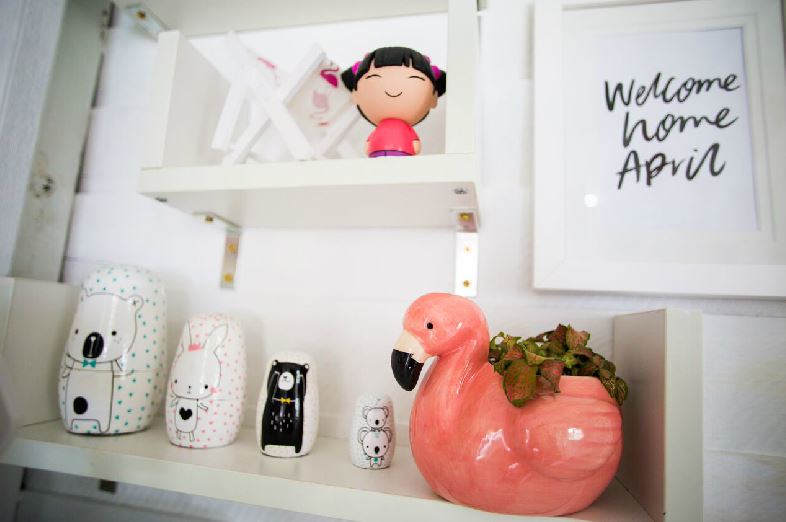 Laura had a professional calligrapher pen the 'Welcome home April' sign (Source: Natacha Murphy).
Laura kept a running tab of items she spotted in store or online and was able to easily review her options before deciding on a purchase. Handmaking quite a few elements also helped keep costs down, while making it feel really personal.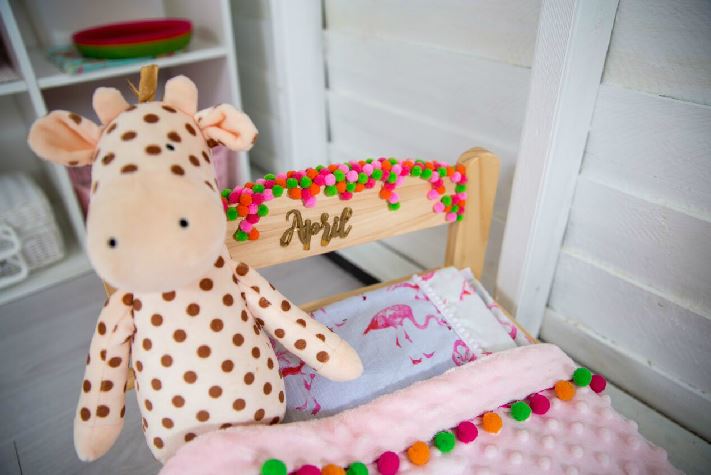 April's cubby house even features a tiny bed from Ikea ($24.99) with flamingo sheets, of course (Source: Natacha Murphy).
Despite making her own curtains and sewing pompom fringing around a silver cushion, Laura still considered building the kitchen flat pack ($165) to be the trickiest part by far.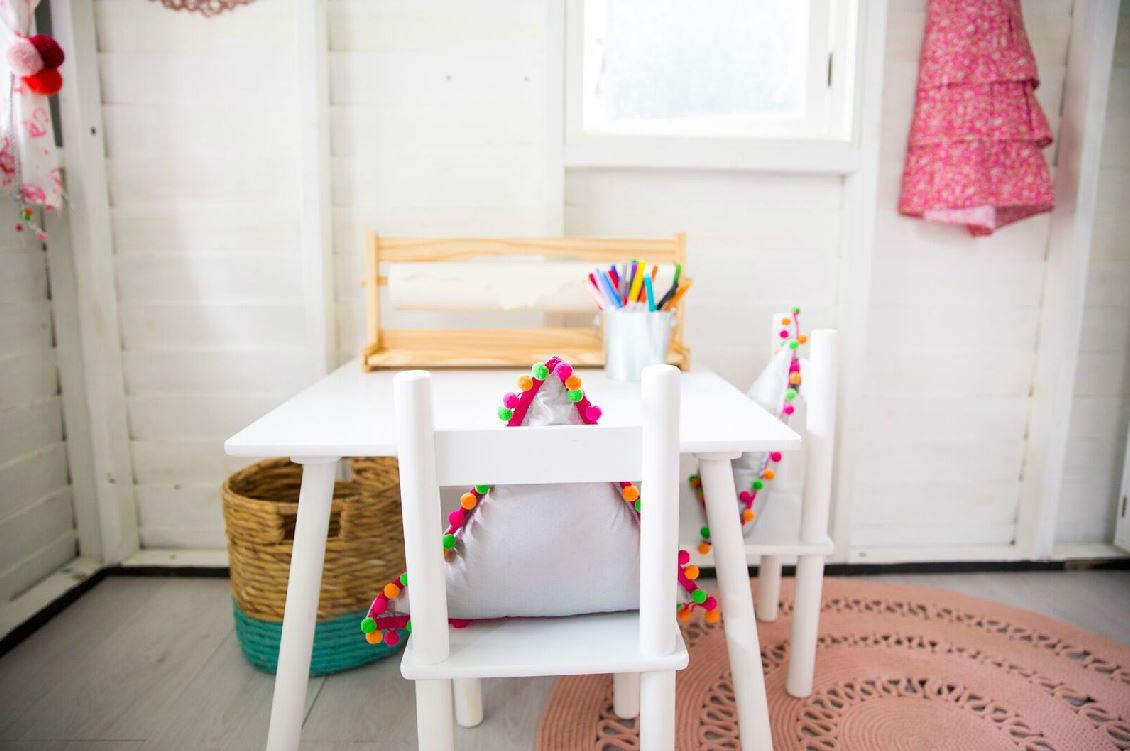 How you could get the look for less
Interior stylist Kristina Van Rooyen did some digging and found a few great items inspired by Laura's interior design to create a similar look. Check out where to find these gems below.
Please note: prices on items listed are current at the time of writing.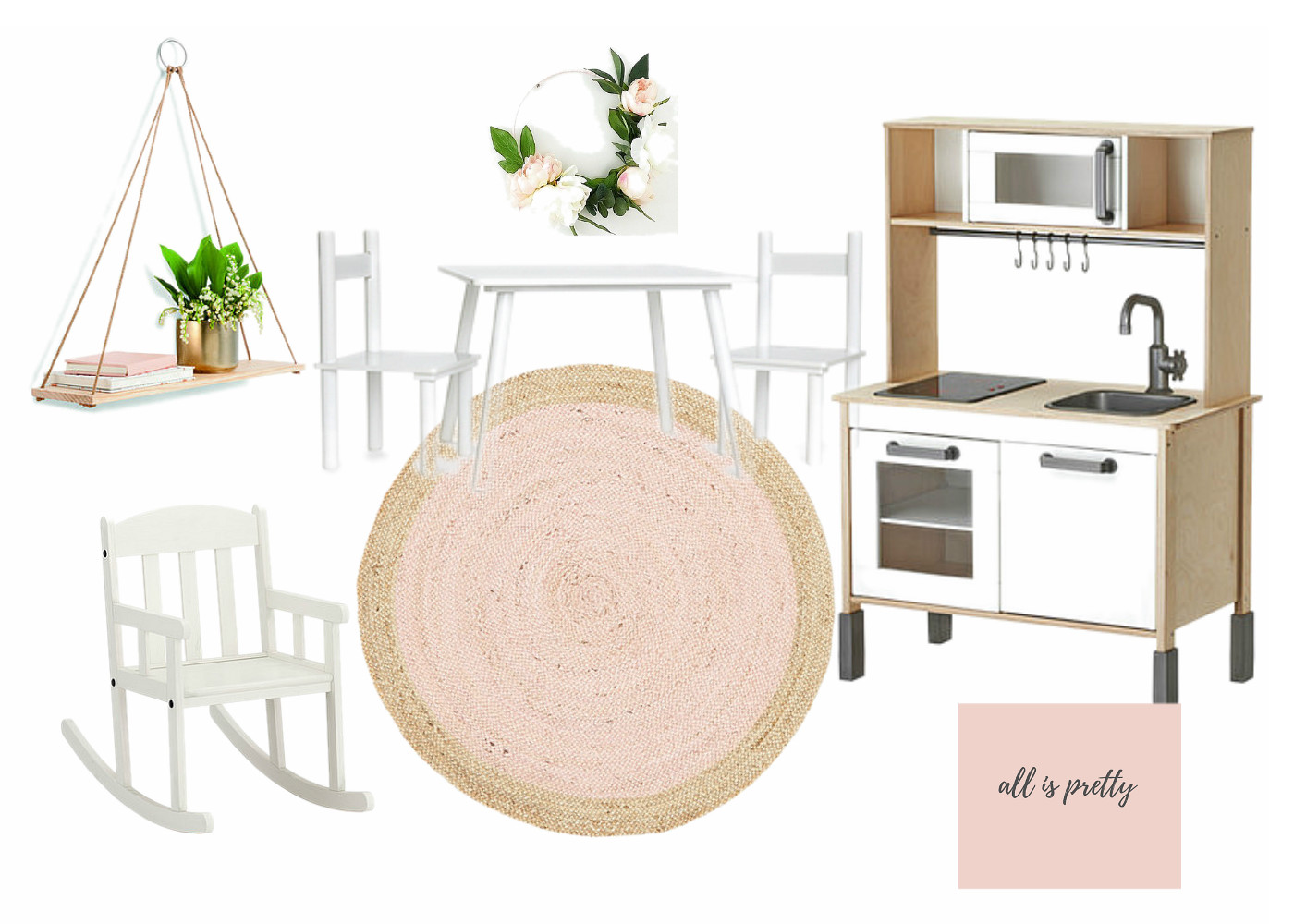 Kristina Van Rooyen's mood board (inspired by Laura's design).
Kitchen set – Ikea $129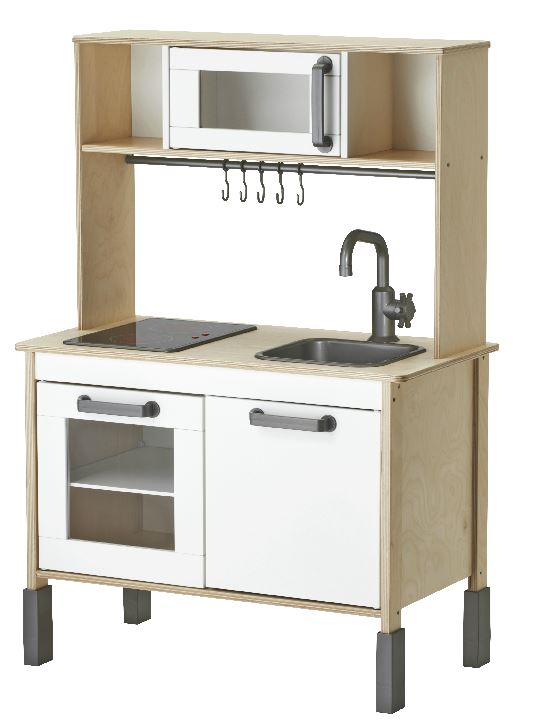 Many kids love playing 'grown up' in the kitchen. If you want to set them up with their very own mini-kitchen, check out this set.
Rocking chair – Ikea $49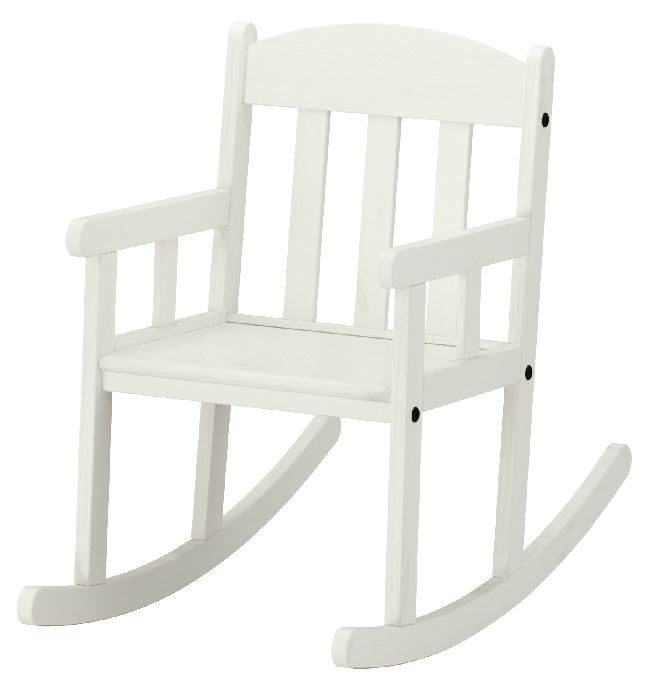 Jute natural pink rug – Temple & Webster $64.95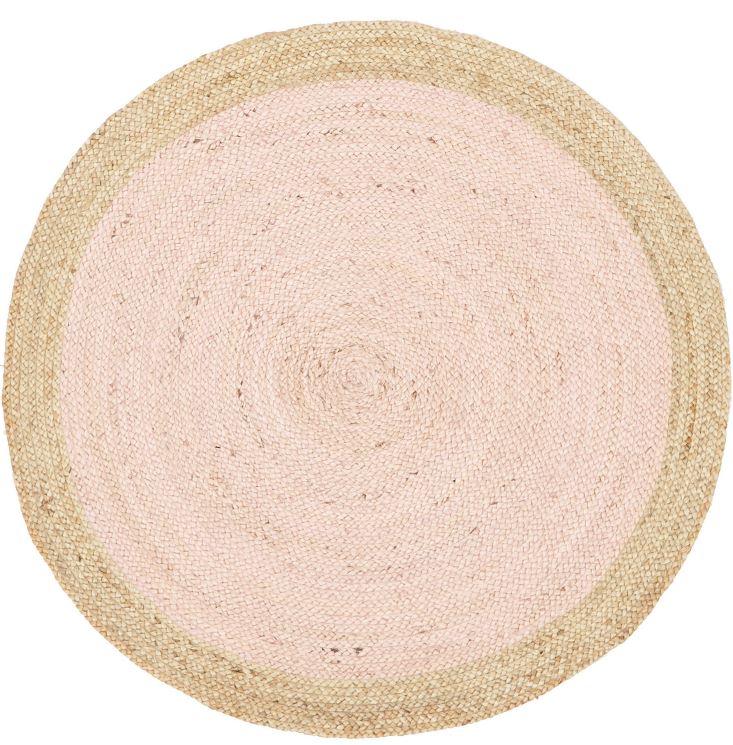 A round rug can be a great addition to a kid's cubby house, under a little set of table and chairs. You can find this pink rug online at Temple & Webster.
Table and chair set – Kmart $29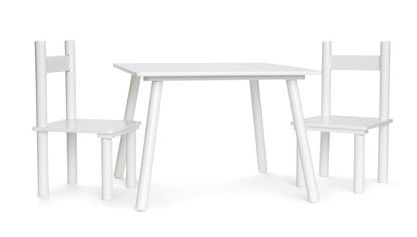 A little table and chairs set is a great spot to have an 'imaginary' cup of tea with teddy. Kmart stocks these.
Hanging wall shelf – Kmart $5

Simple, but elegant and useful. Kmart might be able to help you hang your child's favourite books and toys.
Pink Bunting Flags – Ebay $13.50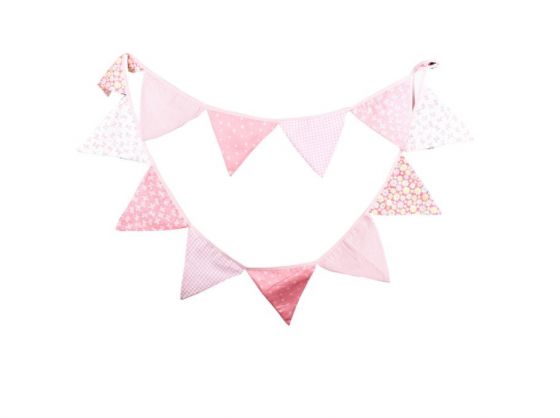 These pink flags from Ebay are a great cost-effective way to add a bit of colour to the ceiling of a cubby house and adds festive cheer all year round.
Benefits of a child's cubby house
Child psychologist and Director of Developing Minds Kirrilie Smout said having a cubby house like April's could have numerous benefits for children.
"A 'space' for children, like a cubby house, can help them learn to be more independent, help them practice being apart from Mum and Dad for short periods of time and fulfil their growing needs for privacy," said Ms Smout.

April checking on her imaginary freshly baked goods (Source: Laura Churchill).
"They can often come back to being with their parents feeling refreshed and relaxed after having time by themselves.
"It's not uncommon for adults to look back on their cubby as an important and precious part of their childhood."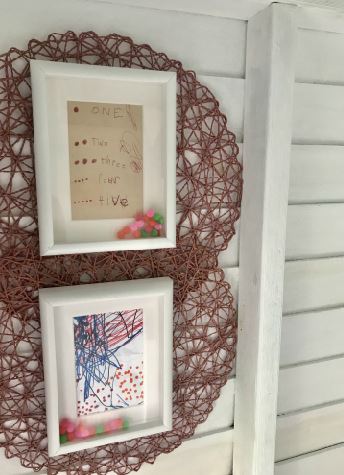 Laura thought mother and daughter drawings would be a cute addition. Laura's (top) was drawn when she was a little girl (Source: Laura Churchill).
Ms Smout also said cubby houses could prompt "imaginative play" which could help children develop important cognitive skills.
"We also know that playing outside is great for children's physical and emotional health – if a cubby house gets children into nature, this is a great bonus," she said.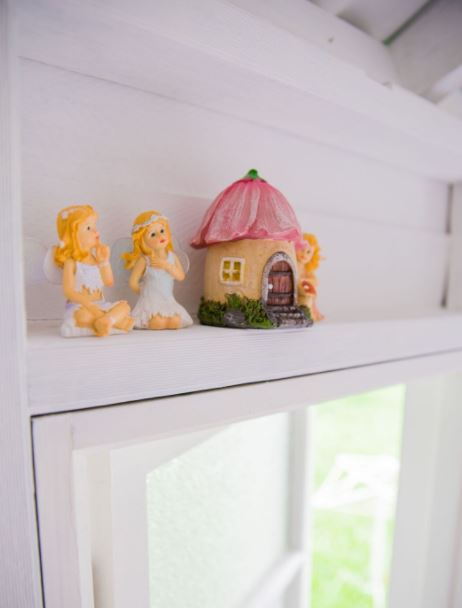 What girl's cubby would be complete without a few fairies? (Source: Laura Churchill).
The table below displays a snapshot of home & contents insurance products with direct links to providers' websites, sorted by Star Ratings (highest to lowest) then by provider name. These results are based on a policy holder under 50 years old in New South Wales and ACT for building & contents worth less than $550,000.