We reveal the home insurers with the most satisfied customers in various Australian states this year, as well as what policyholders in each state value the most when it comes to their home insurance policies.
In the face of a more recent crisis – the COVID-19 pandemic – some home insurers have been taking steps to support customers who've been financially affected, by offering discounts and other forms of relief. But which home insurers had the most satisfied customers overall in 2020?
Our Customer Satisfaction Awards are designed to complement our Star Ratings in helping customers make better financial decisions by reflecting how happy consumers are with their insurers and other financial product providers.
For this year's home insurance Customer Satisfaction Awards, Canstar surveyed 5,295 policyholders in February 2020 to determine their satisfaction with several aspects of either their combined home and contents policy or standalone home or contents insurance, including:
Customer service

Value for money

Communication

Comprehensiveness of cover

Cost (i.e. premiums)
The Awards are state-based, meaning that rather than naming one overall winner, we name a winning provider in various states.
What's driving home insurance customer satisfaction in 2020?
Customer service and value for money were the two most important drivers of satisfaction for those surveyed in every state, bar one. In Western Australia, customer service was the biggest factor but communication was a close second.
While value for money was consistently a significant driver of satisfaction, consumers generally viewed cost as the least important driver, which Canstar Finance Expert Steve Mickenbecker described as a "surprising" result.
"Consumers have put less weight on their actual premiums, and more weight on value for money. With all of our winners performing strongly across value for money and the service aspects of their product, it's clear they recognise how important these factors are," he said.
"The recent bushfires will have reminded consumers that what really matters when it comes to insurance is what happens when you claim.
"It's pleasing that one of the major drivers of satisfaction is customer service, because a large component of that is to do with the service you receive at claims time," Mr Mickenbecker said.
The table below displays the primary driver of satisfaction for each state assessed.
| | |
| --- | --- |
| State | Primary driver of satisfaction |
| New South Wales (NSW) | Customer service and value for money (tied at 28%) |
| Queensland (QLD) | Customer service (33%) |
| South Australia (SA) | Value for money (32%) |
| Victoria (VIC) | Value for money (29%) |
| Western Australia (WA) | Customer service (29%) |
Satisfaction tended to increase with age across the board, with older consumers generally being more satisfied than younger consumers. Premiums remain a sore spot for consumers, with the lowest satisfaction score of all the variables in every state. Conversely, communication was valued highly as a driver of satisfaction across the board.
The winners of this year's Most Satisfied Customers – Home Insurer Awards
This year's winning providers are all returning winners from our inaugural Award last year. Read on to find out more about this year's winners and consumer sentiment in the states they won in.
New South Wales, Queensland, and Victoria – Youi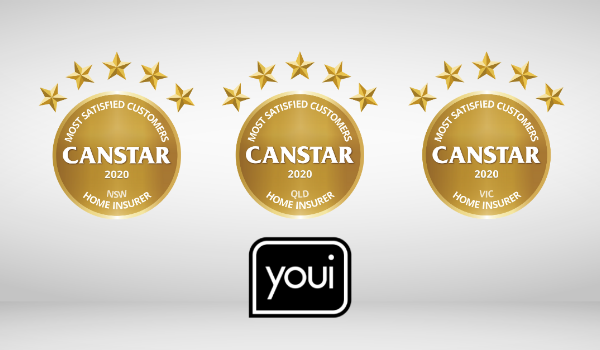 Queensland-based insurer Youi has won the Most Satisfied Customers – Home Insurer Award in New South Wales, Victoria, and for the second year running in its home state.
Of the states where Youi came out on top, respondents in Queensland were the most satisfied across all variables. New South Wales and Victorian customers had lower overall satisfaction scores than other states, according to the survey.
South Australia – RAA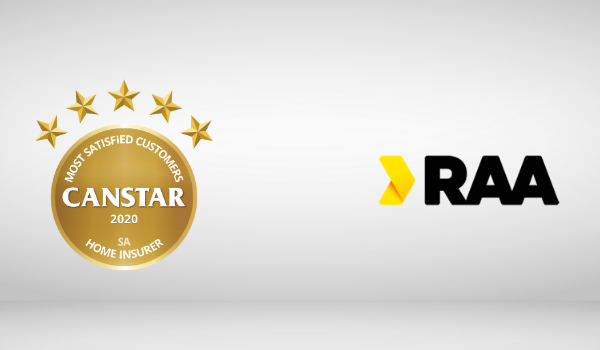 South Australian insurer RAA (also known as the Royal Automobile Association of South Australia) has retained its Award in the state in 2020. Founded over a century ago, RAA scored highly among its customers in all areas, with customer service proving to be the aspect they were most satisfied with.
This year, customers across the board in South Australia valued comprehensiveness of cover more than any other state, with it proving to be a key driver of satisfaction.
Western Australia – RAC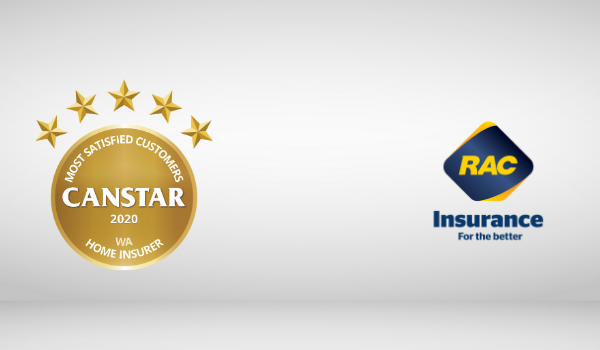 Another repeat winner from last year, RAC has claimed the Award for Most Satisfied Customers – Home Insurer in Western Australia. RAC (also known as the Royal Automobile Club of WA) says it has been servicing the wider WA community for over 110 years and that it covers the largest geographical area of any automotive club in the world.
RAC's win was driven by a number of trends in Western Australia, with the state's consumers valuing communication more than those in any other state. Additionally, WA was one of the two most satisfied states overall this year, along with QLD.