A number of changes to health insurance kicked in from 1 April, 2019 across the country. The Federal Government has rolled out reforms in an attempt to make it easier for Australians to choose a health insurance policy, including the new tiered system of hospital cover, which will become mandatory as of 1 April, 2020.
Under the changes, health insurers will also be able to offer certain discounts for young adults. Here is a breakdown of who may be eligible for the new discounts and how much money you could potentially save each year.
Who can get the health insurance discount?
Health insurers have the option to offer discounts on hospital insurance to young adults from 1 April, 2019. If you are aged 18 to 29 years old and have your own health insurance policy, you could be eligible to receive a discount off your premiums. The discounts vary and will depend on your age at the time of first purchasing the policy.
Under the new rules, health insurers could offer premium discounts on hospital cover of 2% for each year that a person is aged under 30 when they first purchase health insurance, to a maximum of 10% for 18 to 25-year-olds. The discount will gradually reduce as you age.
The table below shows the breakdown of the age-based discounts on offer for different ages:
Allowable Age-Based Discounts for Health Insurance by Age
Person's age at discount assessment date
Percentage discount that insurer may offer
18-25
10%
26
8%
27
6%
28
4%
29
2%
30
0%
Source: Australian Government, Department of Health. 17 February 2019.
Once you have an age-based discount, that discount will apply in full until you turn 41 if you stay on the same health insurance policy. The discount will gradually phase out by 2% each year after your 40th birthday until there is no discount applied.
It's important to note that it is up to your insurer to choose whether it will provide discounts on a particular insurance product. If it does, the discount must be offered on the same basis to all eligible holders of that insurance.
It is also up to the insurer to choose whether age-based discounts will be honoured if you transfer between discounted products and funds. Consumers will be able to confirm if the discount will still apply before making a transfer, and any concerns can be referred to the Private Health Insurance Ombudsman.
Which health insurers will offer age-based discounts?
Canstar's health insurance database shows a number of insurers have indicated they may offer age-based discounts for policy holders aged 18 to 29 on select policies under the reforms. Listed in alphabetical order, those insurers include:
AAMI
CBHS Health Fund
Kogan
Suncorp Insurance
Will there be health insurance discounts for students?
If you are an adult student within the age limits eligible for a health insurance premium discount, you could be given a discount if you have your own policy or a policy with your partner or family.
Depending on the health insurance fund your parents are with, you could be covered as a child or student dependent under their policy. This typically applies to people aged under 25 who are single and studying full-time. However, it's important to note that being a dependent under your parents' health insurance policy means you would not be able to apply for age-based discounts even if you are in the eligible age bracket of 18 to 29.
To be eligible for the discount, you need to have your own policy. The discount will be calculated based on the date you first purchase a policy in your own name. If you have a policy with your partner or family, you may find you could all qualify for different age discounts. In that instance, the insurer would calculate the applicable discount as being the average of the discount applied to all adults on the hospital cover. For example, if you have a 10% discount and your partner has no discount, the discount applied to the policy would be 5% overall.
How much money could I save with the health insurance discount?
After crunching the numbers, Canstar's Research team found the biggest savings opportunities are available to those aged 18 to 25 years old where the 10% premium discount applies.
Based on Canstar's 2019 health insurance research, the average cost of a policy each year for an 18 to 25-year-old is $1,536.67. With the 10% discount applied, a person that age could save $153.67 in the first year and $1,981.39 over 10 years compared to someone else of the same age with the same premiums whose insurer decided not to offer the discount and assuming an average premium increase of 5.53% per year (based on the average premium rise from Canstar's 2019 health insurance research). On the other hand, a 29-year old paying the average premium for their age group would save around $400 compared to someone not receiving the discount over 10 years, assuming the same annual premium increase.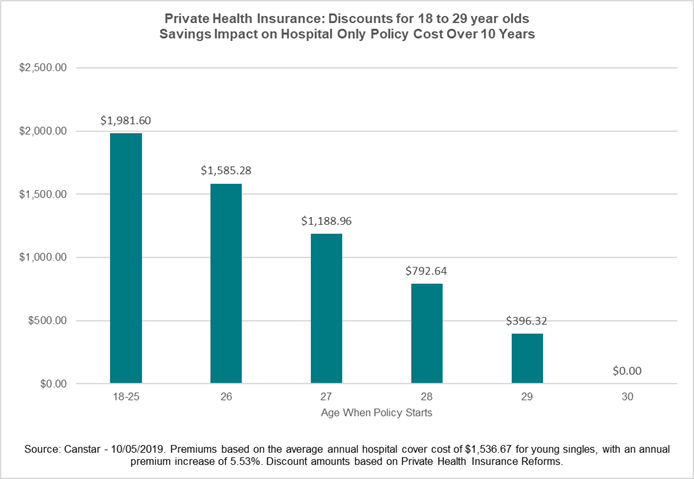 As the graph above shows, the savings potential reduces the closer you get to 30 years old before taking out a qualifying policy.
Why are these health insurance reforms happening?
The Federal Government says it has introduced these reforms across the health insurance industry to help people understand what type of cover they are getting for their money. The Government has claimed age-based discounts will improve the affordability of health insurance for young people and increase their access to private hospital services.
One common consumer complaint about the industry has been rising premiums, which have seen some policyholders reduce or cancel their level of cover for financial reasons. This has contributed to an increase in the number of Australians with inadequate cover or without private health altogether.
In June 2016, the Turnbull Government proposed a major revamp of Australia's private health insurance system, including age-based discounts in an attempt to encourage more young people to opt for cover.
What else is included in the health insurance reforms?
Besides introducing age-based discounts for health insurance premiums, the Government's plan also involves categorising hospital insurance products into four main tiers (Gold, Silver, Bronze and Basic), making cover for some natural therapies unavailable on extras policies and giving the Private Health Insurance Ombudsman more power to investigate complaints about insurers.
Among the changes, consumers will also be able to choose to pay higher excesses to ultimately lower the premiums they pay for private health insurance. The maximum excesses for hospital claims will increase from $500 to $750 for singles and from $1,000 to $1,500 for couples and families.
According to the Government, the higher excesses could save singles up to $200 and families up to $350. The maximum excess limit has not changed before now for almost 20 years. It is hoped this change will put downward pressure on premium price increases.
The changes will also enable insurers to offer more travel and accommodation benefits under their hospital policies for people who have to travel long distances for treatment. A measure to improve access to mental health treatment came into effect on 1 April, 2018.
Image Source: nd3000 (Shutterstock)