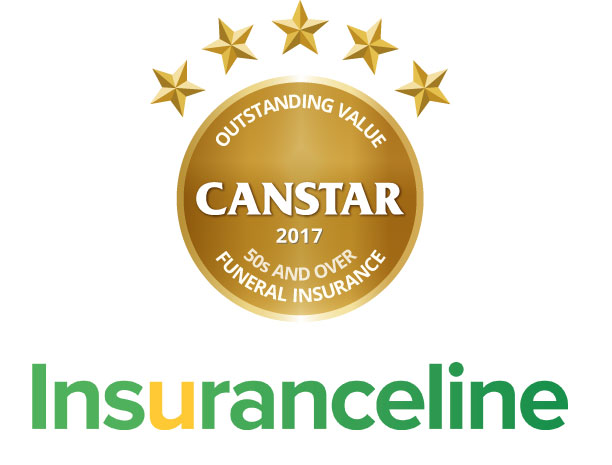 Canstar is pleased to congratulate Insuranceline on winning the 2017 Award for Outstanding Value Funeral Insurance. Here's why they won.
Insuranceline wins 2017 Canstar Funeral Insurance Award
Insuranceline has maintained the award for the third year running, achieving 5-star ratings in a total of 10 profiles across all age groups. Their best performing profiles were the late 50s, late 60s, and early 70s profiles, where their policies for male smokers and male non-smokers achieved 5-star ratings.
Its top product, Funeral Insurance Advantage Cover, represents value for money with competitive premiums charged and features offered.
Here are some feature highlights of this product:
Premiums are refunded if death is caused by something other than accidental death within the first 12 months.
Cover for death as a result of illness is available after the first 12 months; however, this can be reduced if you are replacing a policy from another provider.
Accidental death cover is standard where the maximum benefit is $15,000.
Additional death cover of up to $50,000 for accidental death can be purchased.
Temporary premium waiver is available for up to 3 months during financial hardship.
Accidental injury cover up to the amount of $50,000 is an optional benefit.
Children's insurance cover up to the amount of $15,000 is an optional benefit.
Age cap on premiums applies, so once you reach 90 years of age, you remain covered for free with no more premiums to pay.
The inclusions mentioned represent a selection of what is covered. Additional conditions may apply to different features. Canstar is not making any suggestion or recommendation to you about this product. Please ensure that you read the product disclosure statement (PDS) to determine all the current policy options and inclusions for the product you are considering.
Compare Insuranceline Funeral Insurance
Considering Insuranceline Funeral Insurance? See our comparison table below for a snapshot of their current market offerings. Please note that this table has been formulated based on a male over 70 years of age, and is a non-smoker. To compare more funeral insurance products, please click here.
About Insuranceline Funeral Insurance
Insuranceline was founded in 1999 and since then, has provided direct insurance cover for over 750,000 Australians (as at 2014). Insuranceline advertises that they offer flexible and affordable funeral insurance, life insurance, income protection, trauma products, and pet insurance for everyday Australians.
The company is operated entirely in Australia, with headquarters in Victoria, so you know you'll speak to a local if you need customer service at any time.
Insuranceline's insurance policies are underwritten by TAL, Australia's largest life insurance specialist. With 150 years of history and more than 4 million Australian customers, TAL paid out over $1 billion in claims in 2015.