Almost every family has its tale of woe concerning lost inheritance. It doesn?t need to be that way according to a new book by lawyer Paul Brennan "Hang on to it girl… The Wily Woman's Guide to Wills" about women and how they can protect their family?s inheritance or at least not lose out themselves.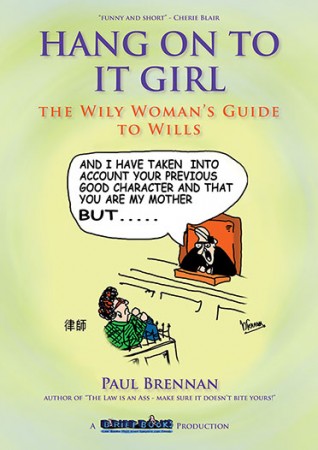 A Sunshine Coast-based lawyer, Hang On To It Girl – the Wily Woman's Guide to Wills is Mr Brennan's 10th book – all of them humorous – after decades of experience as a solicitor. His library includes titles such as "101 reasons to kill all the lawyers", "A legal guide to dying (Baby Boomer edition)" and "The 10 greatest legal mistakes in business – and how to avoid them). We caught up with Mr Brennan for a quick Q&A on his newest release.
Q: What are some of the more common types of lost inheritance issues that you see?
A: There are two very common situations:
Situation 1: Lonely widower marries and then dies leaving money to his step wife who then dies and leaves it all to the children of her first marriage. The children of his first marriage lose out.
Situation 2: A lonely mother leaves all her money to a kind carer or neighbour. Children say that the carer/neighbour is not so kind and allege undue influence on their confused mother.
Q: Do you recommend that families openly talk about estate planning so that there are (hopefully) no nasty shocks down the track, or is it better to keep the contents of a will confidential?
A: It may be best to avoid open family discussions as the members of your family can have competing interests. It could make matters worse. It is your family. You know where the money is and where the problems are. Sort it out before you go. Your departure should not trigger WWIII in your family however tempting that may seem.
Q: Where should people keep their Will? Should all family members hold a copy?
A: Don?t give out copies to your family. Surely they can wait. Leave the original with your lawyer and have a soft copy yourself.
Q: Are there any sure-fire ways to avoid future family disputes?
A: In situation 1 (above) your Dad should be encouraged to get a dog instead.
In situation 2 call your mother once a week.
Alternatively, speak to your lawyer. One relative?s lost inheritance is another's gain. It is a matter of not being on the losing team.
Lawyers have been successfully dealing with these issues on behalf of their clients for centuries, in some cases literally.
Q: Why do you think inheritances are such a tinderbox topic between families? Is it just about the money?
A: When family members say it is not about the money, it is often about the money and there is more of it about. Having said that even where there is no money families can still fight over war medals and other personal effects but they are less ready to go to court without money being involved.
Q: This is you tenth book! Of the ten, can you nominate one or two favourites?
Other articles you might like