Why late credit card payments make a black mark on your credit report, and how to avoid making late credit card payments
Does a late credit card payment look bad on my credit report?
Yes. One major factor that contributes to your credit report is your repayment history. Every time you are late in paying the minimum repayment required each month, this puts a black mark on your credit report.
There are two types of late payments that affect your credit report, according to credit reporting body Veda:
Late payment: Payment was more than 14 days late past the due date. Late payments are classed as "repayment information" and they stay on your credit report for up to 2 years.
Consumer credit default: Payment was more than 60 days overdue and the due amount was $150 or more (Privacy Act 1988). Defaults stay on your credit report for up to 5 years.
Serious credit infringement: Payment was more than 60 days overdue for $150 or more, and lender has sent a written notice to your last known address but you have not contacted them or paid the debt. Lender waits 6 months after sending notice, then lists infringement on credit report. Infringements stay on your credit report for up to 7 years.
Both late payments and credit defaults have a negative effect on your credit rating, but defaults are possibly worse, because details of the overdue debt are not removed from your credit report even after they are paid. This can drastically lower your credit rating in the short-term and continues to have some effect as long as it remains on your credit report.
Before listing a default on your credit report, your credit card lender must send you a written notice asking you to repay the overdue debt and warning you that if you don't pay it now, they will list the default on your credit report.
Making one late payment on its own is not enough to ruin your credit card – if you repay it and make your repayments on time from then on. But a number of late payments on your credit report is a sign of significant financial stress, so it will make lenders reluctant to lend you a loan or a credit card in the future.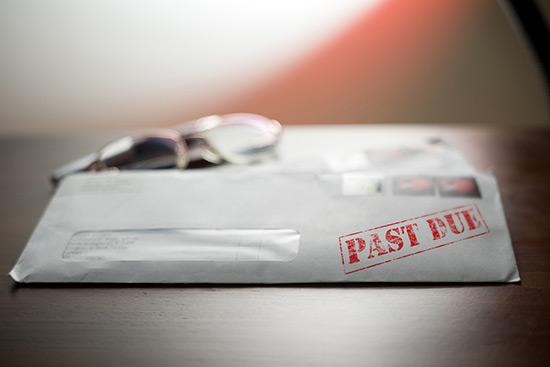 It's not just late payments on your credit card that matter, either. If you make a credit default overdue by 60 days or more with your telcos (your phone or internet bill) or your utilities (water, electricity, and gas), this can also be listed on credit report.
Keep in mind that late payments are just one thing that affect your credit rating and show up on your credit report. Find out how to check your credit report here, and follow our tips for improving your credit rating here.
What if there was an error on the bill?
Any debt that you don't pay is going to present a problem in your credit report. It is usually better to simply pay the bill and ask for a refund of the amount you are disputing from the company charging you the bill (e.g. your credit card provider or utilities provider).
What to do if you cannot afford to pay a credit card bill
If you cannot make the minimum repayment on your credit card bill, don't just let the due date slip by and try to forget about it. It's important that you get in touch with your credit provider right away and tell them you are experiencing financial hardship. If you talk to them before you miss a payment, you might be able to avoid having an overdue debt added to your credit report.
Find out what their procedure is to help you as a borrower to repay your debt. Credit lenders are required to offer you a reasonable repayment plan that takes into account your other expenses such as rent or mortgage repayments, groceries, fuel or public transport, and utilities bills.
It's always a good idea to ask for free help when you are struggling. Talk to a free financial counsellor through Financial Counselling Australia. Don't be fooled by debt help that is not free, such as debt solution services.
Does a late credit card payment affect my balance transfer?
Yes. If you have a balance transfer, making a late payment can result in the termination of the promotional balance transfer offer. So you lose out on the 0% interest rate that attracted you to the balance transfer in the first place, which is replaced by a stunningly high interest rate (the revert rate).
As with any other credit card, making a late payment on a balance transfer puts a black mark on your credit report and will lower your credit rating.
When you make every monthly payment on time and repay the entire balance of your balance transfer before the promotional period ends, you demonstrate your willingness and ability to repay a credit card. This positively affects your credit rating and looks good on your credit report.
Compare Balance Transfer Credit Cards
How to pay off your credit card on time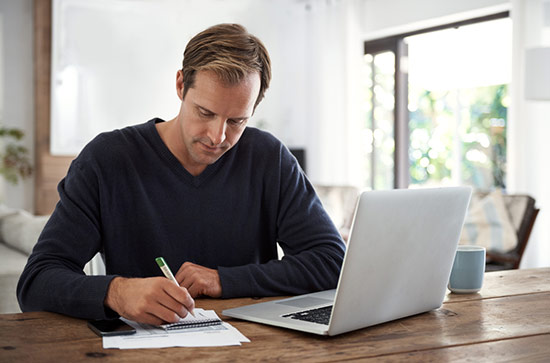 First, if you are already in debt and that is why you are finding it difficult to pay your credit card bill each month, follow our 7-step guide to getting out of credit card debt:
Work out how much debt you are actually in.
Pay all expenses from your debit account only.
Pay your most important expenses first (rent, groceries, credit card bill, fuel or public transport, electricity bill, phone bill).
Do a written budget. (See our guide to writing a budget here.)
Put your outstanding debt on a balance transfer credit card.
Set up a repayment plan.
Ask for financial help.
Always pay more than the minimum repayment to repay your credit card debt asap. Check out our 5 tips to pay off your credit card faster here.
If you're on a credit card with a high interest rate and you haven't made your payments on time, chances are you are paying a lot more than you need to in interest charges. Consider switching credit cards to a Low Rate or Balance Transfer card (and pay off your debt). Once you've repaid your entire credit card debit, you might simply close the account. Studies show Australians prefer the safety of using debit cards, anyway.
Learn more about Credit Cards