If you often fly with Cathay Pacific, or a partnering airline such as Qantas, or use an eligible rewards credit card with American Express, you might be interested in finding out more about Cathay Pacific's frequent flyer program. We look at how you can earn and redeem points with Cathy Pacific, the rewards available and whether loyalty programs are generally worth it for consumers.
How to earn frequent flyer points with Cathay Pacific
Cathay Pacific is a Hong Kong-based airline that offers a frequent flyer program called the Marco Polo Club which allows members to earn club points and reach different tier-level statuses. Travelling with Cathay Pacific may also enable you to earn Asia Miles, which is another travel and lifestyle rewards program owned by Cathay Pacific.
Marco Polo Club
The Marco Polo Club is the loyalty program offered by Cathay Pacific and Cathay Dragon, which is a regional airline within the Cathay Pacific group. Members can earn club points by flying in eligible fares with Cathay Pacific, Cathay Dragon or Oneworld alliance partner airlines. The number of club points earned per flight is calculated based on the airline, cabin, fare class and distance travelled.
The four tiers of the club are Green, Silver, Gold and Diamond. The program offers a range of rewards and benefits depending on the level of your membership.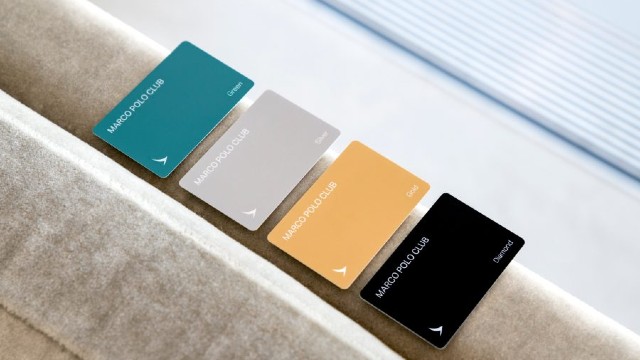 Here's a general outline of the requirements and benefits for each tier:
Green Tier
Requires an enrolment fee of USD100 to join the club, and 20 club points or a fee of USD100 each year to renew your membership.
Some of the benefits of Green Tier, include:
Extra legroom and baggage

The use of Premium Economy counters for check-in

Priority boarding

Extra checked baggage may be purchased with Asia Miles for eligible flights

Access to participating airport lounges

Reaching 200 club points provides you with Green mid-tier benefits which is one Business Club lounge pass.
Silver Tier:
Requires standard membership plus 300 club points to qualify.
In addition to Green tier benefits, this tier level includes:
Advanced seat reservation for you and a companion

Preferred seating on Air New Zealand-operated flights

The use of Business Class counters for checking in

Additional baggage allowances

Access to Cathay Pacific, Cathay Dragon Business and Air New Zealand Business Class lounges

Reaching 450 club points allows Silver mid-tier benefits which is two Business Class lounge passes
Gold Tier:
This tier requires standard membership plus 600 club points to qualify.
The Gold mid-tier benefits are:
A guaranteed Economy Class seat when booking

Additional luggage allowances for most flights

Members may bring a guest to the Cathay Pacific lounge or partner airline lounges when travelling together on an eligible flight

Members arriving in Frankfurt on a Cathay Pacific or Cathay Dragon flight may use the arrival lounge

Access to Air New Zealand Business lounges.
The mid-tier benefits are two Business Class Lounge passes when you reach 800 club points and four bookable upgrades when you reach 1,000 club points.
Diamond Tier:
This tier level requires 1,200 club points to qualify.
Some benefits of this tier-level include:
Guaranteed Economy, Premium Economy or Business Class seats when booking

The use of the First or Business Class counters when checking in

Additional baggage allowances

Access to the Cathay Pacific First class, and the Cathay Pacific and Dragon Business lounges when flying with Cathay Pacific or Dragon or with a partnering airline.

Members may bring two guests to the Cathay Pacific lounge when they fly with Cathay Pacific or Cathay Dragon.

Members may bring one guest to partner airport lounges.

Access to Air New Zealand Business Class lounges

Available mid-tier benefits are two First or Business Class lounge passes at 1,400 club points, four bookable upgrades at 1,600 club points and a complimentary companion Gold membership at 1,800 club points.
Your membership automatically resets to zero every 12 months or at the beginning of each membership year; this occurs upon renewal, upgrade or downgrade.
How do Asia Miles work?
Cathay Pacific's Asia Miles is a travel and lifestyle rewards program that allows you to earn points through:
travel expenses such as flights and accommodation

purchases with an Asia Miles credit card

shopping with retail partners

dining from Asia Miles affiliated dining outlets.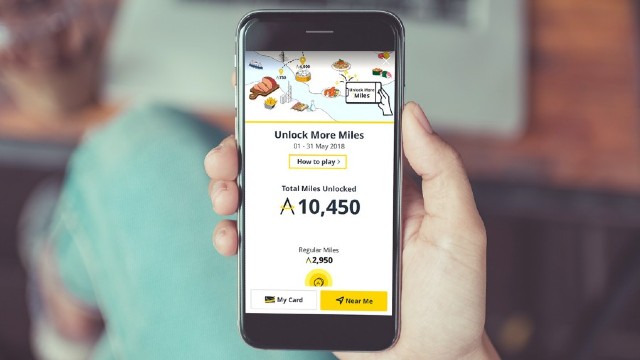 How to earn Asia Miles through flights
The number of Asia Miles that you earn per flight depends on the cabin class, the type of fare and the distance flown.
For example, according to the Asia Miles website, a one-way flight with Cathay Pacific departing to or from Hong may earn you the following number of Asia Miles:
| | | | | |
| --- | --- | --- | --- | --- |
| | Distance Zone in miles | Sample destinations | Asia Miles Earned – Economy | Asia Miles Earned – First Class |
| Ultra-Short | 1 – 750 miles | Kaosiung, Manila, Taipei | 330 | 1,140 |
| Short | 751 – 2,750 miles | Bangkok, Mumbai, Shanghai, Singapore, Tokyo | 1,000 | 3,500 |
| Medium | 2,751 – 3,700 miles | Cairns, Dubai | 1,850 | 6,480 |
| Medium-Long | 3,701 – 5,000 miles | Bahrain, Melbourne, Sydney, Tel Aviv | 2,300 | 8,050 |
| Long | 5,001 – 7,500 miles | Johannesburg, London, Los Angeles, Paris, Vancouver | 3,330 | 11,640 |
| Ultra-Long | 7501+ miles | Boston, Chicago, New York, Toronto | 4,340 | 15,230 |

You may also claim miles up to six weeks after the departure date of your flight if the Asia Miles are not automatically added to your account.
How to earn Asia Miles through travel
Asia Miles members can earn points by making travel purchases, such as hotels and transport, through a participating partner. Some travel partners include Booking.com, Hotels.com and Expedia.
How to earn Asia Miles with a credit card
You can earn Asia Miles when you make eligible purchases with a Cathay Pacific branded or partner credit card. For example, spending with an American Express Cathay Pacific Elite Credit card automatically converts to Asia Miles each month with no handling fee. The point conversion is two Asia Miles per HKD6 spent on online flight bookings with Cathay Pacific and 2 Asia Miles per HKD5 for inflight purchases, 1 Asia Mile per HKD6 for local spending in Hong Kong and 1.5 Asia Miles for every HKD5 spent in a foreign currency.
Cathay Pacific and Asia Miles branded credit cards that earn Asia Miles include:
American Express Cathay Pacific Elite Credit Card

American Express Cathay Pacific Credit Card

Standard Chartered Asia Miles MasterCard

American Express Cathay Pacific Elite Corporate Card

American Express Cathay Pacific Corporate Card
Other partner credit cards include:
Standard Chartered Bank

BOC Credit Card

Bank of Communications

China Construction Bank (Asia) Corporation Limited

DBS

Fubon Bank (Hong Kong)

Shanghai Commercial Bank

The Bank of East Asia

CMB Wing Lung Bank

OCBC Wing Hang
How to use your Cathay Pacific frequent flyer points
Marco Polo club points are used to unlock tier levels and increase the benefits of your Marco Polo membership. Asia Miles can be redeemed on a variety of flights, accommodation, car rental, travel experiences and lifestyle awards from participating companies.

Redeeming Asia Miles
Members can redeem their Asia Miles on Standard, Choice or Tailored flight awards. A Standard award can be redeemed on flights with all airline partners for seats that are Premium Economy or above. A Choice award is available for Cathay Pacific and Cathay Dragon flights only, for seat reservations in Premium Economy and above. A Tailored Award is available for Cathay Pacific and Cathay Dragon only and can be used to reserve a seat in all cabin classes. All seats are subject to availability and bookings can be made up to 353 days prior for a Standard award and 360 days prior for Choice and Tailored awards flight.
Air Miles can also be redeemed on seat upgrades, extra baggage allowances, seats with more leg room and companion tickets for another person for First or Business class tickets.
Members can redeem Asia Miles on a variety of hotels, travel experiences, car rentals and tickets for concerts and events, Cathay Pacific says. Asia Miles can also be converted to points for other partnering loyalty programs. These partners are Esso, MoneyBack and Plus!.
Asia Miles can be redeemed on charity packages or can be donated to Asia Miles charity partners around the world. For example, you can use your Asia Miles to offset the carbon emissions from your flight or make a lump sum contribution to reduce your personal carbon footprint.
What to look out for in a frequent flyer program
Frequent flyer programs are booming in Australia. According to consumer watchdog, the ACCC, the Qantas Frequent Flyer program currently has just under 13 million members, which is the equivalent of over half of Australia's population. Velocity Frequent Flyer, the second-most popular scheme, has about 9.8 million members.
But despite their popularity, loyalty programs, such as those offered by Cathay Pacific, are not without their critics. For example, they recently came under fire from the ACCC who warned that consumers have little control over how their personal information and data can be used. It called for a raft of changes to how these programs work and are regulated, such as improving consumer communication and tightening privacy laws.
That said, if you are careful about how you use it, a frequent flyer program may offer benefits you otherwise wouldn't have access to.
To help you to make the most from your membership, here are a few factors worth considering when picking out a frequent flyer program, and indeed deciding whether to join one at all, including:
Annual fee

– membership of some frequent flyer programs is free of charge whereas others will charge a fee for joining. For example, Cathay Pacific charges a USD100 fee for joining the Marco Polo Club in addition to an annual membership fee if you don't earn 20 club points each year, at the time of writing. However, there are sometimes promo codes available that will allow you to join frequent flyer programs for free.

Partner airlines

– watch out for which airlines are eligible for point earning. Most programs will allow you to also earn points when you fly with a variety of partner airlines. For example, Cathay Pacific allows you to earn and redeem Air Miles with a number of partner airlines, including Qantas, Air New Zealand and British Airways.

Other program partners

– programs also typically partner with hotel companies, car rentals, retail companies and more. For example, you can currently earn Air Miles by making purchases with a cooperating credit card from partners such as American Express and Standard Chartered.

Points expiry

– don't forget that points may have an expiry date. For example, Marco Polo Club points expire every twelve months, while Asia Miles are redeemable for three years.
Additionally, if you're considering taking out a frequent flyer credit card to help boost your points, pay attention to the interest rate, fees and the other conditions that come with the card, in addition to the points-earning rate. You can compare some of your options with Canstar.
Header Image Source: Cathay Pacific