There are many ways to travel from Melbourne to Adelaide, but driving along one of the world's most scenic coastal routes and through some of Australia's most popular national parks is by far my favourite.
Encounter natural beauty, native Australian wildlife, cosy seaside towns and the stunning, cliff-hugging Great Ocean Road as you set off on an adventurous road trip between Melbourne and Adelaide.
Here are my five personal favourite stops along the way that I don't think you should miss:
Torquay
Melbourne to Torquay: 104 km (65 miles) – Approx 1 1/2 hrs
Great Otway National Park
Torquay to Great Otway National Park: 128 km (79 miles) – Approx 2 hrs
12 Apostles
Great Otway National Park to the 12 Apostles: 62 km (39 miles) – Approx 1 hr
Grampians National Park
12 Apostles to Grampians National Park: 163 km (101 miles) – Approx 2 hrs
Mount Gambier
Grampians National Park to Mount Gambier: 160 km (99 miles) – Approx 2 hrs
From Mount Gambier you will need to travel another 434 kilometres (or 269 miles) to reach Adelaide, which is around 5 hours on the road.
How Does Your Car Insurance Compare?
Take a look to see if your policy provides value for money when stacked up against 50+ providers.
Total distance and cost
The total distance from Melbourne to Adelaide via this route is approximately 961 kilometres, which is around 12-14 hours. Based on the average fuel consumption for a passenger vehicle and the fuel price of $1.38/litre, this trip would cost approximately $143 in petrol.
Added to this is also the potential costs for accommodation, food, drinks and activities along the way.
1. Dive into Australia's surf culture in Torquay
Leave the hustle and bustle of Melbourne behind and drive about 1 hour and 30 minutes to reach the coastal town of Torquay.
Known for its incredible surfable beaches like Bells Beach and Jan Juc Beach, Torquay is a major surf hotspot in Australia and world famous for the annual Rip Curl Pro surf competition.
Things to do in Torquay
When you're all beached out, there are still plenty of things to do in Torquay. It may be no surprise, however, that surf culture is ingrained in every corner of the town.
As the birthplace of iconic surf brands Rip Curl and Quicksilver, Torquay presents visitors with an opportunity to browse its variety of outlet stores for some deals on all things surf and beachwear. Alternatively, head to the Australian National Surfing Museum that hosts spectacular surf footage, and learn more about Australian beach culture and surfing heritage.
The town of Torquay also marks the beginning of the National Heritage-listed, 243-kilometre Great Ocean Road, with its iconic cliffs and limestone rock formations.
2. Get off the beaten path at Great Otway National Park
About 25 minutes from Torquay you will also pass Aireys Inlet where fans of popular 90s television program Round the Twist can take a walk down memory lane by visiting the Split Point Lighthouse. Further along, the rugged coastline and sandy beaches of the Great Otway National Park stretch all the way from Torquay to Princetown, encompassing the first half of the Great Ocean Road.
Get ready for iconic coastal walks with stunning vistas, glorious waterfalls and dense rainforest. If you want to get off the beaten path from the standard route along the Great Ocean Road, you will find a variety of easy through to challenging 4WD tracks within this green hinterland.
A view worth visiting in Great Otway National Park
One of the highlights of Great Otway National Park for me was visiting the Cape Otway Lighthouse. As the oldest working lighthouse in Victoria, it's an amazing vantage point for whale watching during the winter and early spring months.
Even if you visit in summer, you won't regret climbing atop the lighthouse where you can take in the views over the coast and listen to the fascinating history of the ships that were wrecked along this hazardous coastline. The small café at the bottom will serve you a cup of hot goodness and may just be what you need after a visit to the breezy observation deck.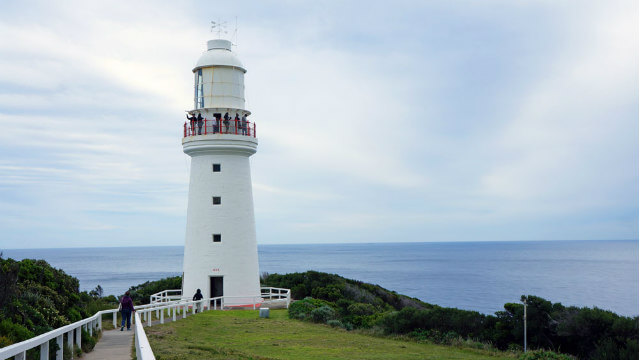 3. Marvel at the 12 Apostles
A visit to the 12 Apostles is often considered a 'must-see' for those driving the Great Ocean Road, and for good reason. Today, there are only eight limestone rocks remaining on the coastline following the erosion and subsequent collapse of a ninth one in 2005. Nevertheless, the sight of the Apostles is magnificent and the most famous landmark along the Great Ocean Road.
You can choose to get a glimpse from the official viewing platform or find the entrance to the Gibson Steps for a less crowded and different perspective of these impressive limestone formations as you climb down 86 steps to the beach. To increase your chances of beating the crowds of tour buses from Melbourne, you may want to visit either in the early morning or at sunset, which both make for a beautiful glowing backdrop.
Other natural hotspots to visit near the 12 Apostles
There are several other spots that I think are well worth visiting in the area. The offshore natural arch formation of London Arch (formerly London Bridge prior to its partial collapse in 1990), the picture-perfect clear waters of the Loch Ard Gorge and finally Grotto and Bay of Islands are all easily accessible within a short distance of the coastline.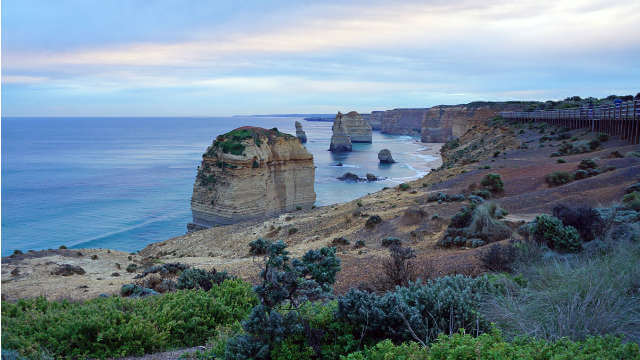 4. Experience nature at its best in the Grampians National Park
Once you resume your drive to Adelaide, you can continue along the coastline or take the inland route passing through the Grampians National Park. Here, rugged mountain ranges provide spectacular scenic lookouts, possible multi-day hikes and the opportunity to potentially spot wildlife from reptiles to koalas, wallabies and other Australian mammals.
Places to visit in the Grampians National Park
You could visit the iconic MacKenzie Falls or climb up to the highest point in the Grampians at Mount William. It offers spectacular 360-degree views over mountain ranges and flat farmland in the distance, which are a great reward for making it through the steep 45-minute walk up to the summit.
You may be surprised to find that the Grampians are also home to a wealth of Aboriginal rock art sites. Come spring, you could be in for a real treat as the wildflowers throughout the park turn into a vivid blooming garden.

5. Soak in the beauty of Mount Gambier
Crossing over the border into South Australia, the city of Mount Gambier can be a highly unexpected surprise to find after already having so many highlights on this trip.
On my last trip I ventured into the small city centre where I spotted a café that looked like my kind of jam. Presto Eatery greeted me with sunflowers and big umbrellas outside the heritage shopfront and a fresh salad bar, the smell of coffee and a small range of funky boutique shopping inside. I was in love already.
Unique sights to visit in Mount Gambier
After lunch, there are two hotspots that I think are worth your time in Mount Gambier. The first is the Blue Lake – a volcanic crater that is now a colour-changing lake. I haven't seen such bright shades of dark blue like this anywhere in the world before. If you fancy, go for a walk around the lake as there is a trail looping around the top.
Mount Gambier is also home to a special garden. Umpherston Sinkhole, also dubbed The Sunken Garden, was once a limestone cave until the roof collapsed, creating a natural sinkhole. Notable local settler James Umpherston then turned the sinkhole into a garden and started nurturing it from 1886. Today, anyone can roam the garden to marvel at the flowers and sculptures. Come night time, the garden is popular among the local possums, which you can feed with fresh fruit.
From Mount Gambier it is around a four-hour drive to Adelaide on the highway. You can also take the scenic route via the seaside town of Robe and visit some of the salt lakes in Coorong National Park.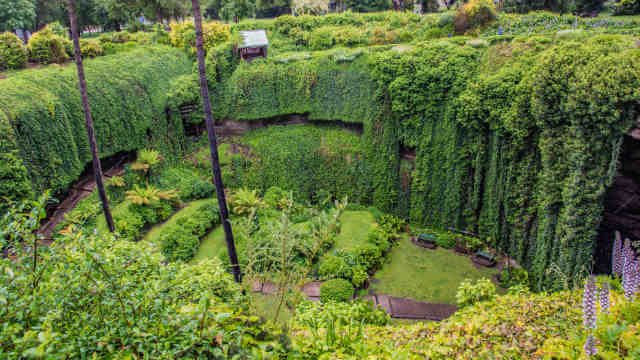 About Carolin Pilligrath
Carolin Pilligrath is the founder and face behind Breathing Travel, a blog for eternal traveller souls. Born and raised in Germany, she left her home country in 2014 and has travelled to over 30 countries. She has now built a home base in her favourite country on earth, Australia. You can find her on Instagram.
Cover image source: Carolin Pilligrath