The Economy of Shopping Small Report from American Express has shown that Aussies like to support small businesses, and communities benefit from small businesses thriving. How you can encourage your community to Shop Small.
How everyday consumers feel about local small businesses
Australian consumers like small businesses, and they love being able to support them. According to the report:
42% of Australians say they would continue to support a small, family-run business, even if prices increased by 10% compared to cheaper competitors. (In contrast, only 26% said they would support an online-only business if it raised its prices.)
Two-thirds of consumers (67%) said they would miss their local small business if they were forced to close.
62% said their local shopping village and small businesses add to the good looks and charm of their local area.
54% felt very attached to their local shopping village.
Those who support local businesses are 15% more likely to Shop Small instead of shopping online.
How business owners feel about their communities
Australian small business owners love their communities, and they deliberately build their businesses in a way that can benefit the communities they live and work in.
75% said there was a high level of interaction between their business and the local community.
59% said the pull of "serving the community" was a major reason why they set up their business in the first place.
79% said they defined the success of their business as whether they were having a positive economic and social impact on their community.
A smile makes all the difference! 99% of small business owners say they always welcome their customers with a smile – something that many large businesses do not achieve. On top of that, 94% always personally thank their customers, and 92% know the names of their regulars.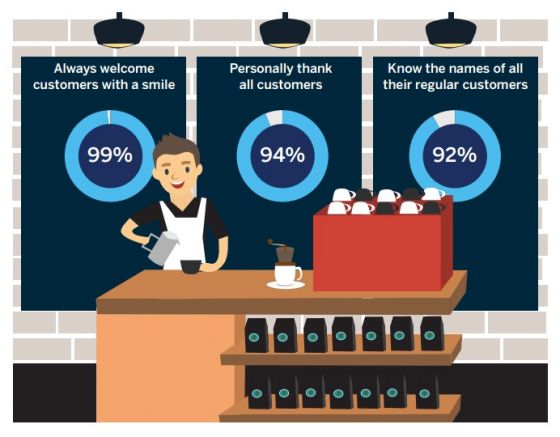 Source: Shopping Small Report
But there are certainly some challenges facing small business owners in Australia. The things business owners worry the most about are the increasing costs and overheads of running their small business (82%); the economic climate in Australia (76%); and the future cash flow of their business (74%).
Thankfully, small business owners can combat these money worries by encouraging more of their local community to Shop Small. You can also compare business financial products on the Canstar website, to make sure the costs of doing your business banking are as low as possible.
How communities benefit from small businesses
92% of businesses said the local community benefits from their business.
73% of small businesses give back to the community through sponsorships for local community programs, and charitable donations to local charities.
44% of small business owners said their business is the heart of their community, and 42% said it is a place locals come to socialise.
52% said their business adds to the cultural diversity of the community.
Encouraging your community to Shop Small in November
In November 2015, American Express is joining consumers and companies alike to join their Shop Small campaign, and championing the "small heroes" of their community. American Express will give a $10 statement credit to Card Members (cardholders) up to 10 times in November if they register their card and spend $20 or more at participating businesses.
Ways to encourage your community to Shopping Small
Register your business as a Shop Small retailer (https://shopsmallaustralia.com/Merchants) or print off the customisable, free promotional materials from American Express on the website.
Participate in the promotion as an American Express Card Member with your business credit card: visit shopsmallaustralia.com
Put a sign in your shopfront window asking people to Shop Small in November.
Post on your Facebook and Twitter about #ShopSmall or what your business will be doing on Small Business Saturday. If you're stuck for ideas, post this video to your Facebook wall: American Express CEO Kenneth Chenault talking about small businesses creating more jobs.
Print a bookmark listing some of the benefits of Shopping Small and thanking customers for choosing your small business, and staple a bookmark to each customer's receipt.
Hold a #ShopSmall in-store selfie competition and get customers to post their selfies onto your business's Facebook or Instagram page.
Source: American Express Australia