Coles Little Shop mini collectables are back from today. While many families have embraced the popular campaign, one economist warns how these types of incentivised shopping schemes can impact a person's spending behaviour.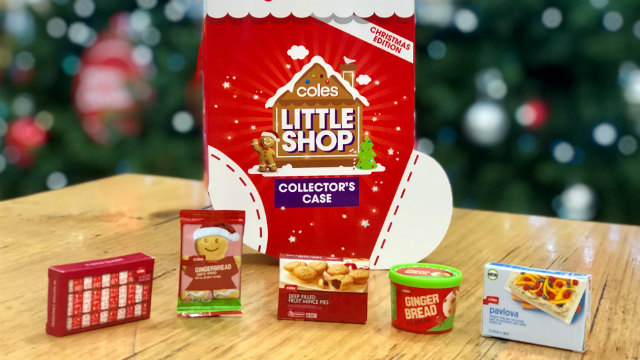 There are five new Coles Little Shop collectable items launching ahead of Christmas that represent mini versions of Coles-branded mince pies, a pavlova slab, bonbons, a gingerbread biscuit and a limited-edition gingerbread ice cream.
A Coles spokesperson said customers would receive one free Coles Little Shop Christmas mini collectable for every $30 spent in store from 7 December until stock runs out, and a bonus collectable would be available on weekends when shoppers buy any News Corp newspaper.
Customers will also be able to buy a limited number of special-edition Christmas stocking collector cases for $4, which can be used to store their Coles Little Shop collectables.
Frontier Economics Economist Anna Wilson told Canstar one of the goals of the Little Shop campaign was likely to get shoppers to switch their loyalty to Coles.
She said targeting children with items representative of toys was a highly effective way to influence families and their spending patterns.
"Targeting kids to encourage parents' purchasing behaviour is really effective, otherwise they (supermarkets) wouldn't put lollies at the front of the counter," Ms Wilson said.
"Parents value their own happiness, but they value their children's happiness equally – if not higher – than their own."
She said the campaign may encourage bigger shops sooner than people would otherwise have bargained for.
"When they might have only gone and got bread and milk, now they may go in and get bread, milk, flour, eggs, frozen peas and coffee," she said.
Ms Wilson warned families to avoid getting carried away by these types of campaigns that can encourage additional spending outside of their usual budget.
"If you find yourself suddenly buying things you wouldn't have otherwise, this could become a problem," she said.
"That's where having a shopping list and sticking with it becomes particularly important."
Ms Wilson said giving out a 'free' gift would also be effective for the supermarket because people tend to value free items more than they do an equivalent future discount, as is available through card schemes like Flybuys at Coles and Woolworths Rewards.
Canstar's Group Executive of Financial Services Steve Mickenbecker said when it came to rewards, whether they're flight rewards or collectable items, it's important consumers remembered their household budget.
"Never spend more just to earn a reward," Mr Mickenbecker said.
"In the long run, you could end up paying more than the rewards are worth in higher credit card bills."
Coles launched its original Little Shop campaign in July, with the release of 30 mini versions of popular grocery items including Vegemite, Milo and Weet-Bix.
In October – prior to the demerger of Coles from Wesfarmers – the announcement of the supermarket's first quarter retail sales made specific mention of how sales were "driven by the highly successful Coles Little Shop campaign".
Coles recorded sales for the first quarter as being up 5.8% on last quarter to more than $7.6 billion.
Coles' re-launch of its Little Shop campaign came hot on the heels of the buildable cardboard characters in rival Woolworths' Christmas Pop-Outs.