Agricultural production has always played a significant role in Australia?s economic and cultural heritage and agribusiness currently contributes approximately $34 billion per annum to Australia?s GDP.
From livestock to crops to cottage industries, agribusiness is a widely diverse sector which faces many, often unpredictable, challenges. As a sector it also faces immense future opportunity as a major player in agricultural exports.
Each year CANSTAR undertake a review of the agribusiness offerings available from our financial institutions. This year, we congratulate ANZ on winning the Best Value Australia Agribusiness award; we invited Tania Motton, ANZ General Manager Regional Business Banking, to share her views on some of the main challenges, opportunities and requirements faced by Australian agribusiness customers today.
Q: What are some of the main challenges facing the Australian agribusiness sector currently?
"The nature of farm performance is that it is variable and the agriculture industry can be challenging, with farm businesses facing constraints around issues such as succession planning, farm turnover, and access to capital.
But while short term conditions can be tough, Australian agribusinesses are well placed to take advantage of opportunities in the longer term.
The ?Asian Century? is a rare chance for Australia to reinvigorate its agriculture sector, and we want to work together with industry to overcome some of the hurdles that currently exist, so Australian agribusinesses can make the most of the food boom."
Q: What do you see as some of the main current opportunities for the sector overall?
"As outlined in the recent ANZ insight report, ?Greener Pastures: The Global Soft Commodity Opportunity for Australia and New Zealand?, we have the land, the water, the skills and the geographic proximity to benefit from huge middle class populations emerging in Asia with sophisticated tastes and rising incomes. With targeted actions, Australia stands to capture up to $1.7 trillion in agricultural exports by 2050.
One of the key issues discussed in the report is attracting skilled labour to agriculture.
Today?s leading farmers are high-tech and innovative – farm machinery relies on GPS and they use sophisticated financial, marketing and risk management tools. But too often, farming is not perceived in this way. This needs to change if we are to attract smart, business-minded people back into agriculture, particularly among the younger generation.
The report also discusses that an annual capital gap of $9 billion already exists today.
ANZ is committed to making a significant contribution to the economic development and wellbeing of the rural sector."
Q: In terms of finance, what are some of the key financial products that the agribusiness sector requires?
"ANZ offers an extensive range of financial products to Agribusiness customers. Most importantly though, is the deep understanding and knowledge of our clients, industries and businesses which allows us to tailor financial solutions to their specific needs.
For example, given the variable nature of farm performance, revolving agri lines of credit enable farmers to structure their borrowing in line with seasonal cash flow. We understand that ?averages? don?t always occur in a given year and having structures in place to help our customers deal with volatility in commodity prices and seasonal variations is vital.
Having the right business equipment, vehicles and plant machinery is also crucial for the growth of a farm business. Financing these assets presents an opportunity for a banking solution that is customised to suit a customer?s individual business needs.
Customers often choose Asset Finance when they are looking for a medium-term funding solution for their asset base, as opposed to outright ownership, because it provides an opportunity to preserve precious working capital for short term needs and structure repayments to match anticipated future cash flow, taking into consideration the expected working life and depreciation rate and access potential tax benefits.
ANZ also offers access to finance that can be secured by livestock or other agri-specific assets, to provide cost effective top-up finance options for amounts less than $50k."
Q: How does ANZ add value for the agri-sector?
"The CANSTAR best value Australia agribusiness award acknowledges not only ANZ?s strong product suite but the valuable contribution we make to the agribusiness industry through our expertise and market insights."¨ANZ?s super regional strategy puts us in a unique position to help foster opportunities for our Agribusiness customers as they seek to play a prominent role in satisfying growing food demand, particularly from the Asia region.
Relationships are an important part of identifying the right channels in Asia and our customers can benefit from our extensive network across Australia, New Zealand and the Asia Pacific region. For example, a business relationship in China requires strong partnerships, as well as an understanding of the culture, including the need for permits and approvals. Having people around you who have a solid understanding of what is required will help Australian agribusinesses avoid stumbling points and get the business operating sooner.
And locally, supporting regional communities is a key part of our ?Banking on Australia? program. An example is the ?Seeds of Renewal? program, which we launched in 2003. Since then, ANZ has provided more than $3 million in grants to 635 regional communities across Australia.
It comes down to playing an active role in the communities in which we live and work. Our team offers specialist skills and live in the communities they serve, so they have an intimate knowledge of our customers? needs, the unique challenges they face and the financial solutions that will assist them."
Q: Agri really is a specialized field – what attracted you personally to the sector?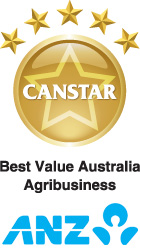 "The attraction for me was not just agri but in fact regional Australia. I grew up in country Victoria and was acutely aware of the impact dairy had on our local community.
Running ANZ's regional business requires a keen interest and understanding of the impact agribusiness has on regional economies. For ANZ to be successful in our super regional strategy, we must have a strong domestic franchise and regional Australia is a core part of that."