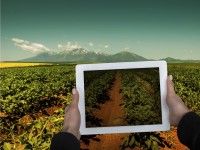 According to Commonwealth Bank's May 2014 agri-insights report, there is optimism in the agri-sector, with many farmers intending to invest across the board. Interestingly, there is little appetite from farmers in increasing their land holdings over the next twelve months – but 14% of farmers intend to focus their investment in farm technology and innovation. So what does that actually mean?
"The future of farming will rely on innovative ideas and new technology to address changing needs," says Geoff Wearne, Executive General Manager Regional and Agribusiness Banking, Commonwealth Bank. "The industry is constantly looking for ways to improve productivity and production, particularly in Australia where we have higher labour costs, limited water resources and volatile climatic conditions."
In the agri-insights report, farmers across all states indicated strong interest in increasing their investment in technology and innovation over the coming year. Farmers in South Australia were the most enthusiastic, at 19%, with all other states expressing double-digit interest (NSW was lowest, ar 12%). In terms of specific types of technology, Mr Wearne noted that remote monitoring of water was consistently mentioned across different state and farm types as an area of specific interest. "In the field, we?re seeing farmers invest in a broad range of technology and innovation, from gene marking and apps to help calibrate equipment to automated udder cleaners that are improving dairy operation hygiene," he says. "Farmers are also investing in equipment technology like better air-seeders, boom-sprays and harvesters fitted with the latest precision ag technology. This is increasing labour efficiency and boosting cropping productivity. For some, use of this equipment can mean two weeks less spent in the tractor, saving on time, labour, fuel and other inputs."
Mr Wearne points out that Commonwealth Bank is also using technology to help make it easier for agribusinesses to manage their operations. "This includes solutions like our SmartSign electronic document delivery and acceptance program, that allows farmers to access equipment finance quickly and simply with all documentation managed online, and our in branch video conferencing facilities which allow them to talk face to face with various Bank experts."
The agri insights publication can be downloaded here.