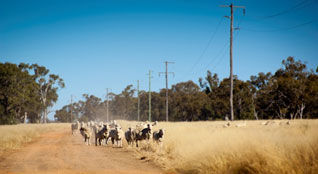 "The Australian Bureau of Agricultural Research Economics and Science (ABARES) estimates that total farm debt (for broad-acre only farms – farms with paddocks larger than 4,000 square metres – not including dairy) as at 30 June 2013 averages $476,000.[3] For the dairy industry ABARES estimates that average farm debt as of 30 June 2012 is $701,500."'

Federal budget review 2013 – 14 index
In April this year the federal government announced a "Farm Finance" initiative to support and assist farmers with high levels of debt and help improve their ongoing financial resilience. There are four measures to the package, as follows:
Short-term assistance in the form of concessional loans for productivity enhancement projects or debt restructuring. Up to $420.0 million over two years in concessional loans will be provided to eligible primary production businesses. This equates to $30.0 million per annum for two years to each state and the Northern Territory (NT) for the provision of concessional loans to eligible primary production businesses. These loans will be administered by the relevant state or territory delivery agency and are subject to State agreement of the federal offer. You can read more here.
Funding for additional fulltime counsellors with the Rural Financial Counselling Service. Around $5.9 million of additional funding will be provided over the next two years to fund around 17 additional full-time rural financial counsellors throughout Australia. According to the Minister for Agriculture, Fisheries and Forestry, Joel Fitzgibbon, the new counsellors will focus on regions and industries experiencing debt stress and where natural disasters have had a heavy impact on farm businesses. You can find out more here.
Increasing the non-primary production income threshold for Farm Management Deposits (FMDs) from $65 000 to $100 000, and allowing consolidation of existing FMD accounts. FMDs are a tax-effective form of deposit account that allow primary producers to set aside pre-tax income in "good" years, to help smooth out both seasonal and unexpected fluctuations. According to the Department of Agriculture, Fisheries and Forestry (DAFF), total holdings in the Farm Management Deposits (FMD) Scheme as at 30 June 2013 were at an all-time high of $3.72 billion. You can read more about FMDs here.
Establishing a nationally consistent approach to farm debt mediation. Farm debt mediation is a structured negotiation process between a farmer and their bank in order to discuss a farm?s current financial situation and reach agreement on their business arrangements. Currently mediation services and approach vary from state to state, however it is felt that a nationally consistent approach would provide the best outcome. You can read more here.