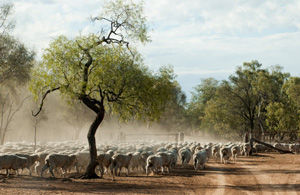 A recent report by the Australian Bureau of Agricultural and Resource Economics and Sciences (ABARES): Review of Selected Regulatory Burdens on Agriculture and Forestry Businesses calculates that rural businesses are highly regulated in comparison to some other industries, being governed by around 90 Acts administered by the Australian Government Department of Agriculture, as well as those common to all businesses. The report identifies areas of unnecessarily burdensome regulation which, if improved, could raise productivity in Australia?s rural industries. The following are some of the areas that were highlighted as ripe for action and comments are taken directly from the report:
Environment Protection and Biodiversity Conservation Act
In protecting and managing significant Australian environmental assets, the Australian Government has a role in assessing activities likely to have a significant impact on such assets through the EPBC Act process. If a proposed action (including on private land) is likely to have a ?significant impact?, the action must be referred to the Australian Government environment minister to determine whether approval is required under the EPBC Act.
The report considers that there is a lack of clarity about what constitutes a ?significant impact?. "Although additional advice to stakeholders on the definition of ?significant impact? under the Environment Protection and Biodiversity Conservation Act 1999 (Cth) and the term?s application in general situations has been published since 2007, there appears scope to further improve the provision and uptake of facilities to advise applicants on specific proposed actions," says the report.
Many agricultural enterprises have been a haven for backpacker and other temporary labour over the years. The report highlights inconsistent taxation of non-resident and resident workers as an issue of potentially excessive red tape. "Research directed at understanding the likely costs and benefits of reducing the Pay As You Go tax rate for non-residents to the rate applied to resident workers in the horticultural industry may be useful for underpinning policies designed to alleviate workforce shortages," says the report.
Work Health and Safety – Inconsistent Regulation Between Jurisdictions
The report also suggests that there may be scope for the Australian Government to improve the consistency of work health and safety regulation between states and territories. State and territory governments are responsible for WHS regulation in their respective jurisdictions, however more consistency among states would help to reduce the regulatory burden on businesses.
The report also considered that a number of state and territory issues – such as genetically modified crops, water property rights, chemicals of security concern and food regulation – could benefit from a nationally consistent approach. The report can be read in full here.