Bank of Melbourne Home Loans
Bank of Melbourne is a provider of home loans, personal loans, credit cards, bank accounts, investment products, and superannuation funds.
"For the makers. We are Melbourne made." (Bank of Melbourne)
Loan Options: What Bank of Melbourne home loans offer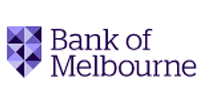 The inclusions below represent a selection of the features available with a Standard Variable Rate home loan of $350,000 for an owner-occupier. CANSTAR is not making any suggestion or recommendation to you about this product. Please see our comparison tables for more details and information about products on offer from this provider and the other providers on our database.
Compare Home Loans with CANSTAR 
Additional conditions may apply to different features. Please ensure that you read the product disclosure statement to determine all the current loan terms and conditions for the product you are considering.
Bank of Melbourne Standard Variable Home Loan Features
Advantage Package option available – includes discounted rates and fees on home loan, credit card, and transaction account.
Offset account available.
Redraw facility available.
Split loan facility available; maximum 4 splits allowed; split loan application fee may apply.
Mortgage is portable.
Repayments may be made weekly, fortnightly, or monthly.
Additional repayments allowed .
Lump sum repayments allowed.
Repayment holiday of 3 to 12 months allowed during leave from the workforce (if you have previously made additional repayments in advance).
Interest only repayments available for up to 5 years for Owner Occupiers or 15 years for Residential Investment.
Minimum loan amount $10,000 – up to unlimited maximum loan amount.
Family guarantee option available.
Source: Bank of Melbourne
About Bank of Melbourne
Bank of Melbourne was founded in 1989 and has 106 branches exclusively in the state of Victoria. In 2015, Bank of Melbourne was recognised for the second time as the Regional Bank of the Year at the Financial Review Smart Investor Blue Ribbon Awards.
The Bank of Melbourne supports the community groups their customers choose, by providing The Local Project grants to the deserving community projects that win the most votes. You can also apply for a community grant through the Neighbourhood Fund. Bank of Melbourne also sponsors the Sleep at the G fundraising event for Melbourne City Mission, to combat homelessness in Victoria.
Check out their Melbourne Made ad campaign that celebrates the Victorian people and businesses who bank with them:
Source: Bank of Melbourne
The Bank of Melbourne's parent company, Westpac, is also committed to sustainability and protecting our environment, with their 2016 Interim Sustainability Report listing measures such as:
Carbon neutral as of 2013 and maintaining that status.
Halved their electricity usage in commercial and retail sites from 2015 levels.
Halved their total greenhouse gas emissions in commercial and retail sites from 2015 levels.
More than $6.3 billion lent per year to the CleanTech and environmental services sector.
More than $1.05 billion lent to the social and affordable housing sector.
Compare Home Loans with CANSTAR  
CANSTAR provides an information service. It is not a credit provider, and in giving you information about credit products CANSTAR is not making any suggestion or recommendation to you about a particular credit product.
If you decide to apply for a credit card you will deal directly with the financial institution, and not with CANSTAR. Rates and product information should be confirmed with the relevant financial institution. For more information, read our detailed disclosure, important notes, and additional information.
Read the Comparison Rate Warning when comparing interest rates on home loans.
Written by: TJ Ryan