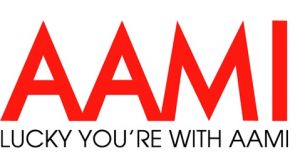 AAMI is a provider of car insurance, CTP/Greenslip insurance, home insurance, landlord insurance, travel insurance, life insurance, income protection insurance, and business insurance.
"Lucky you're with AAMI."
Policy Options: What AAMI car insurance covers
The inclusions below represent a selection of what is covered. Additional conditions may apply to different features. CANSTAR is not making any suggestion or recommendation to you about this product.  Please ensure that you read the product disclosure statement to determine all the current policy options and inclusions for the product you are considering.
Comprehensive
Liability cover for damage to other people's vehicles and property up to $20 million.
Cover for accidental loss or damage to your car caused by natural events such as hail, storm, flood, and fire, up to the agreed value
Theft of your car, up to the agreed value.
New-for-old replacement if your car is stolen or written off within its first 2 years.
2-wheel trailer attached to your car is covered for accidental damage or loss up to $1,000.
Optional cover for emergency roadside assistance for less than $7/month.
$100 discount for buying insurance online (at the time of writing).
Third Party Car Insurance
Liability cover for damage to other people's vehicles and property up to $20 million.
No cover for damage to your car if it's your fault.
No cover for damage to your car caused by hail, storm and flood.
Optional cover for your car for fire and theft up to $10,000.
$20 discount for buying insurance online (at the time of writing).
CTP (Compulsory Third Party) / Green Slip
Liability cover for the driver for injuries caused to other people.
Offered by AAMI in NSW and ACT only.
Required by law in all states and territories.
Policy Benefits: Why choose AAMI
Online quotes: Get a quote online in 4 minutes, and save up to $100 on your premium (at the time of writing).
Claims process: AAMI has an online claims process and you can contact them 24/7 by phone, online, email, on your smartphone using the AAMI Access App, or even on Facebook or Twitter.
Learner drivers: Learner drivers are covered even if not listed on the policy, if a licensed driver is in the front passenger seat. An extra excess of $400 applies if learner driver is driving at the time of an accident.
Additional drivers: Policy is still valid if the driver in the accident is not a nominated driver listed on the policy. Additional drivers are covered if they are listed on the policy. Excesses apply to young or inexperienced drivers: $400 if listed on policy, $1,400 if not listed.
Off-road driving: You are covered for off-road driving if you take reasonable precautions to keep the car safe, and you tell your insurer before using your vehicle in a competition.
Repairs: Emergency repairs are available from AAMI. AAMI will manage the entire quote and repair process for you, with a lifetime guarantee on repairs. If you prefer to handle things yourself, you can request a quote from your own repairer. If you choose this option, you must also get a second quote from an AAMI-authorised repairer, and the AAMI assessor will choose the quote that is the most complete and most competitive.
About AAMI
Founded in 1969, AAMI is one of Australia's oldest and largest insurance providers.
AAMI is the trusted insurer of around 1.9 million Australian drivers. Download the AAMI Safer Driver App to track your own driving record and see if you can earn 60 points and win free Roadside Assist with your AAMI comprehensive car insurance policy.
At their founding, AAMI pledged to provide a real person to answer every quote or claims phone call, and they still do today. Their customer service team is available 24/7 with no push-button menus or voice recordings. AAMI proudly advertises that they regularly receive customer satisfaction ratings of 90% for their call centre.
The original "AAMI Girl" was the Swedish model Carin Sinfors, who first appeared in an ad on TV for AAMI way back in 1979.
AAMI's slogan, "Lucky you're with AAMI", was first introduced in 1985 – over 30 years ago!
These days, many people know AAMI by their TV ads for the safer driver discount, including "What about me? I never claim" and the Rhonda series.
How AAMI supports the community
Learn to drive: Running their Skilled Drivers course for drivers under 25 to learn safe driving techniques. Has created 85,000 safer drivers since starting in 1982.
PARTY Program: Educated 2,500 young drivers about the devastating consequences of reckless driving since 2008 through the Prevent Alcohol and Risk Related Trauma in Youth (P.A.R.T.Y) program.
SES: Long-standing partner of the Victoria State Emergency Service (SES) since 2002. AAMI has contributed over $4.5 million towards equipment and tools to support their brave rescue work.
Melbourne Cup: Sponsoring the first day of the Melbourne Cup Carnival, the AAMI Victoria Derby Day since 1991.
Compare Car Insurance with CANSTAR
 Written by: TJ Ryan