After researching and rating 45 financial institutions that provide a combination of products and services for young Australians,
Canstar
has revealed the winners of the Junior and Youth Banking Awards for 2018.
The release of the 2018 Junior and Youth Banking Awards aims to help young Australians in their pursuit of outstanding value financial products and services that encourage financial literacy.
Recognising both banks and customer-owned institutions in the research, Canstar is pleased to congratulate Commonwealth Bank for winning 2018 Bank of the Year for Junior and Youth Banking, as well as Hume Bank who took out the title for 2018 Customer Owned Bank – Junior and Youth Banking.
Commonwealth Bank: Bank of the Year – Junior Banking and Bank of the Year – Youth Banking 2018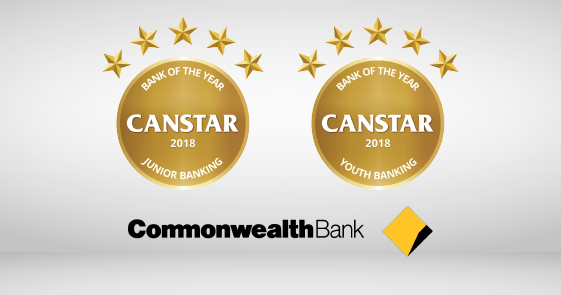 The Commonwealth Bank retained its award eight consecutive years, having achieved leading scores in Canstar's research and ratings.
Canstar Research found Commonwealth Bank outperformed its peers in the educational factors considered in the ratings methodology. The bank held regular workshops for students across Australia with topics tailored to both primary and secondary audiences. In addition to this support, Canstar Research was impressed by the curriculum content and lesson plans provided to schools on areas such as banking, budgeting, loans, saving, spending and superannuation.
The CommBank Youth app was considered a stand-out feature offered by the bank for its ability to help children under 14 manage aspects of their finances such as their pocket money and work towards savings goals. It also gave access to parental account controls to see their child's account alongside their own in the CommBank app, which won Canstar's Online Banking Award for nine consecutive years.
Commonwealth Bank's large national presence with an extensive branch network meant it was accessible to many consumers and earned the top score for branch and ATM coverage. Canstar Research highlighted the benefits of a physical branch for many Australian children, such as being able to personally deposit pocket money into their first savings account.
Hume Bank: Customer Owned Bank of the Year – Junior Banking and Customer Owned Bank of the Year – Youth Banking 2018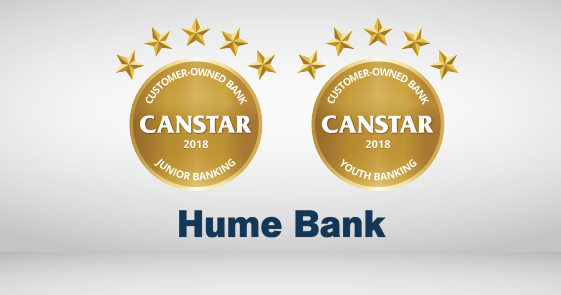 Hume Bank remained the winner of the Customer Owned Junior and Youth Banking awards for the seventh consecutive year after demonstrating market-leading education and one of the top school banking programs.
Standing out from their competitors in the customer-owned banking space, Canstar Research found Hume Bank pulled ahead of its peers in the educational components considered in rating these awards. Hume held workshops throughout the year for primary and secondary students, and also provided curriculum content and lesson plans for schools on topics such as banking, loans, budgeting, superannuation, saving and spending.
Offering one of the top school banking programs according to Canstar's research and ratings, Hume Bank was awarded points for allowing children to make account enquiries and deposits at participating schools. This offering means children and youths had the convenience of being able to deposit their pocket money or part-time wages and manage their accounts at school, rather than having to find a branch out of school hours.
What to look for in Junior and Youth Banking products
Canstar Group Manger of Research and Ratings Mitch Watson said there were a few things worth keeping in mind when selecting a junior or youth banking product, including the fees linked to the savings or transaction account.
"I'd always recommend parents and kids take a good look at the youth transaction accounts with no account keeping or typical transaction fees, such as those offered by our award winners," he said.
Mr Watson also said the interest rates available on junior savings accounts were important to consider.
"It is important parents are aware of the bonus conditions and ensure their kids are meeting these where possible to achieve the best return on their savings."
How are Canstar's Junior and Youth Banking Awards calculated?
In rating junior banking products, Canstar considered institutions with a suitable savings account that could be used by a consumer under 12 years old. To be eligible for the youth banking awards, institutions needed to have a suitable savings account and transaction account that could be used by a consumer aged between 13 and 17 years old.
Canstar Research awarded points for price and features of savings and transaction products, and also considered institutional investment in education, parental material, workshops and school banking. Canstar took into consideration the time and energy institutions spent on these aspects of junior and youth banking by assessing them against a range of criteria.
To learn more about Canstar's research and rating of financial institutions for the 2018 Junior and Youth Banking Awards, read the methodology.