The Australian dollar has continued to soar, reaching a 4 month high against US dollar weakness.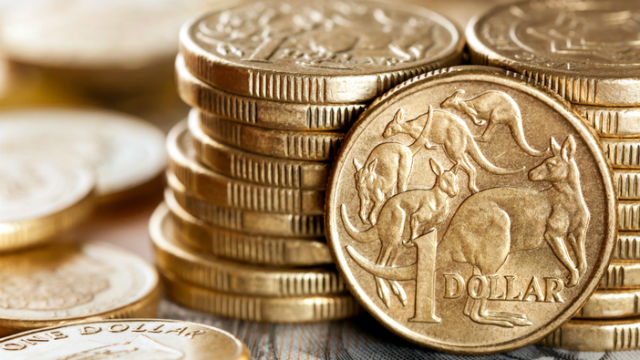 Overnight the Aussie dollar hit 77 US cents with help from recent gains in commodity prices and strong Chinese trade numbers.
It is the highest level the dollar has reached since 21 March 2017.
An announcement from US Federal Reserve Chair Janet Yellen yesterday signalled that US interest rate rises could be gradual, which sent the Aussie dollar up.
Westpac strategist Martina Song told Business Insider Australia that the Aussie dollar will struggle to maintain these heights.
"AUD/USD technically remains in an uptrend since early May and is testing recent highs," said Ms Song.
"It should struggle around 0.7750 though, a level which has capped."
Stubborn AUD sits in the way of good economic growth
In his Switzer Daily column, Peter Switzer says the stubborn Aussie dollar stands in the way of good economic growth.
Agreeing with former RBA board member John Edwards, Mr Switzer says the high dollar will keep the Reserve Bank (RBA) from raising interest rates in line with the US Federal Reserve (if they were to raise rates).
He says if Federal Reserve raises rates earlier than expect, our dollar would fall quickly and it would be a "real shot in the arm" for economic growth.
Despite reaching the end of the mining investment boom, Switzer identifies government spending on infrastructure as an area of the economy that could boost growth.
Booming tourism and education exporters could do better
The tourism and education sectors, both important exporters for Australia, could help economic growth according to Switzer.
A report by Deloitte found that in the past year Chinese visitors to Australia spend a record $8.3 billion, up 45% from 2015.
The report also predicts that by 2020 we will see $13 billion of growth in private visits as well as direct investment in tourism businesses.
According to an Economic Insights report from Commsec today, a record 1,519,100 tourists came to Australia from Greater China over the past year.
The numbers of US tourists also continue to soar, with 750,200 over the past year – up 15.7%.
While this is promising news, Switzer says these sectors would benefit even more from a lower dollar.
"Pray for a lower dollar, though I'm not sure your prayers will be answered for over a year," he said.