It's good news for the Australian tourism industry this week – international tourists are officially staying longer and spending more money.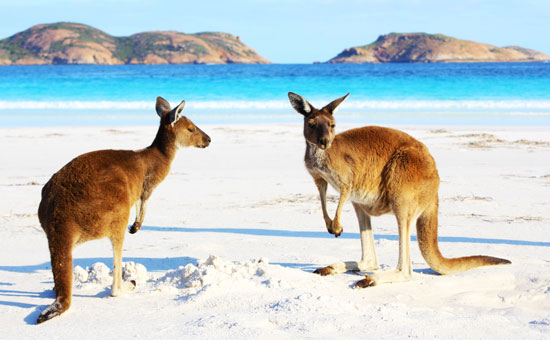 Tourism Research Australia has released the results of the International Visitors in Australia survey for the year ending March 2017.
The results show that during over the past year, tourists from across the globe spent a record $39.8 billion during the 262 million nights they stayed in Australia – an increase of 5% year-on-year.
The total number of visitors to Australia reached 7.7 million (up by 9%), with Asia leading the way for growth in visitor arrivals from China, Japan, Malaysia, Korea, India, Indonesia, Taiwan, and Thailand.
The US market also reported strong visitor growth during the year, with more Americans heading Down Under (up by 14%).
The biggest spenders to visit Australia were China, the US, the UK, New Zealand and Japan, with these countries collectively spending a total of $21.3 billion – over half of the total spend for the year (53%).
Although the Chinese holiday spend has increased by a whopping $1.8 billion in the last 7 years, the March 2017 quarter showed the first drop in both spending and holiday visitation (down 4%) since 2010.
Tourism Research Australia says this was "due to a drop in group tours", and despite the drop, China is still the dominant holiday market.

International tourists loving Regional Australia
The results from the International Visitors in Australia survey show tourists are venturing out of the capital cities, with record growth recorded in tourism to regional Australia.
Minister for Trade, Tourism and Investment, Steven Ciobo, says the Coalition will continue to drive this growth through the Regional Tourism Infrastructure Investment Action Strategy.
"Regional Australia is enjoying a boom, with a 29% increase in both international tourists and spending over the last three years," said Mr Ciobo.
"The Turnbull Government's investment in regional Australia is seeing international visitors grow 6 times faster than it did under Labor," he added.
In Tourism Research Australia's survey, it was found that visitors from the USA in particular like to visit regional areas, with 34% of nights and 33% of spend in non-capital city regions.
In comparison, visitors from China only recorded 18% of nights and 20% of spend in regional areas.
Money spent and number of tourists visiting each State
Tourism Research Australia found the number of visitors aged over 15 years old, and what they spent, in each Australian state.
NSW came in first place for the most popular destination, with over 3.9 million visitors who spent $9.8 billion.
Check out the breakdown of international visitors to other states below:
QLD: 2,583,000 visitors who spent $5.2 billion
NSW: 3,913,000 visitors who spent $9.8 billion
ACT: 214,000 visitors who spent $522 million
VIC: 2,707,000 visitors who spent $7.3 billion
TAS: 250,000 visitors who spent $424 million
SA: 436,000 visitors who spent $1.1 billion
WA: 954,000 visitors who spent $2.5 billion
NT: 298,000 visitors who spent $460 million
Source: Tourism Research Australia
*Total number of visitors by state is greater than total number of visitors for Australia (7.7 million), because some visitors visited multiple states.
Related article: What Travellers Need To Know About Medical Tourism