If you are heading off on a long-dreamed-of holiday, it can be a comfort to know that you – and the money you have invested in the trip – will have some protection in the case of unplanned misadventure. That's why it can be important to have a quality travel insurance policy safely tucked away with your passport.
Canstar's team of expert researchers have spent the past few months using a unique, sophisticated methodology to compare 263 policies from 88 eligible providers, across five consumer profiles for travel to 10 destination regions, as well as on cruises. The team then combined the Star Ratings they gave to particular providers' policies across each of these profiles, in order to calculate the overall travel insurance Award winners for 2019. This year, Canstar has recognised a total of five insurers with a highly coveted Outstanding Value Award, in the categories of international, domestic and cruise travel, as well as announcing the winner of a specific Award for seniors' travel.
How does Canstar assess travel insurance?
The recipients' first hurdle was to pass a set of minimum standards that made them eligible to be among the companies rated.
"There are certain criteria all policies must meet before they are considered for an award or star rating with Canstar," Canstar's Group Manager of Research and Ratings Mitch Watson said.
"For example, they must have a minimum medical cover of $5 million, including repatriation (emergency transportation back to Australia) for international policies. They must also cover cancellation of the trip, luggage and personal effects."
Mr Watson said while price was one way to separate policies, it often did not tell the whole story, especially for customer service aspects such as what it was like to make a claim. That's why the team applied a methodology that compared both cost and features, to better reflect how travellers thought about buying travel insurance.
"When we conduct our ratings, we weight price and features equally in our equations in all profiles except for seniors," Mr Watson explained. "This is because travelers are typically not likely to just take cost into consideration when taking out a policy. They want to know that they will be covered for certain misadventures – that's the whole point of insurance.
"In senior profiles, we assign even greater consideration to features."
How much does quality travel insurance cost?
Mr Watson said quality travel insurance was not necessarily the most expensive, judging by the results of this year's Canstar Star Ratings and Awards. Across all consumer profiles and quotes collected on Canstar's database of Australian products, the average 5-Star product was found to be around 40% cheaper than the market average.
The market average for a family's travel insurance quote, for instance, was around $230 compared to the 5-Star average quote of around $136. Likewise, the market average across all quotes for a single senior was around $260 compared to around $148 when looking only at 5-Star Rated products.
5-Star Average vs. Market Average Premiums
Profile
Market Average
5 Star Average
Difference

Couple

$217.17

$135.68

$81.49

Family

$229.18

$136.38

$92.80

Senior Single

$259.68

$147.91

$111.77

Mature Single

$151.64

$88.19

$63.45

Single

$118.38

$72.37

$46.01

Prepared by Canstar. Averages across all destinations, travel durations and lead times for the specified profile types. Prices correct as of 17 August, 2019
The cost of travel insurance varies according to how, when and where you choose to travel, and it's typically more expensive the longer the time is between your travel insurance purchase and your trip, Mr Watson said, adding that your destination can also have a large influence.
"Usually this is about how expensive medical care is in your destination country. For example, the US is the most expensive place to buy travel insurance for, and that's largely due to the costs associated with healthcare there," he said. "If a country has a reciprocal healthcare agreement with Australia, the cost is likely to be lower.
"Of course, there are some destinations for which you generally just cannot get travel insurance. These are the places where there are 'Do Not Travel' warnings in place. As some regions have some countries that are riskier than others, it is always important to ensure that a policy you are considering will cover you for your destination country."
To find out more about how our Travel Insurance Star Ratings and Awards are calculated, check out Canstar Research's methodology here.
2019 Travel Insurance Star Ratings and Awards
The winners of our 2019 Travel Insurance Awards are listed below in alphabetical order.
HIF: Outstanding Value Domestic Travel Insurance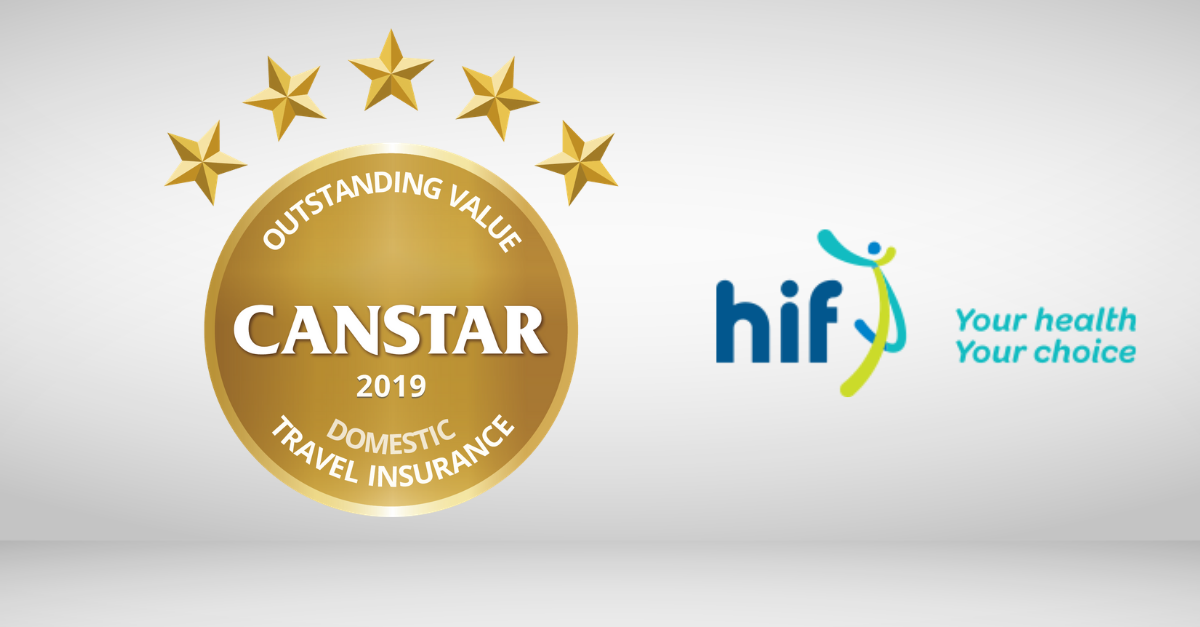 HIF was recognised as offering Outstanding Value, taking out an Award for its domestic travel insurance policy.
Canstar Research was impressed by HIF's extremely competitive premiums in all domestic profiles. Against the market average of all domestic profiles, HIF was approximately 45% cheaper. HIF allows claims to be lodged up to 60 days after returning from a trip and provides extensive cover for domestic travel.
Holiday Rescue: Outstanding Value International and Cruise Travel Insurance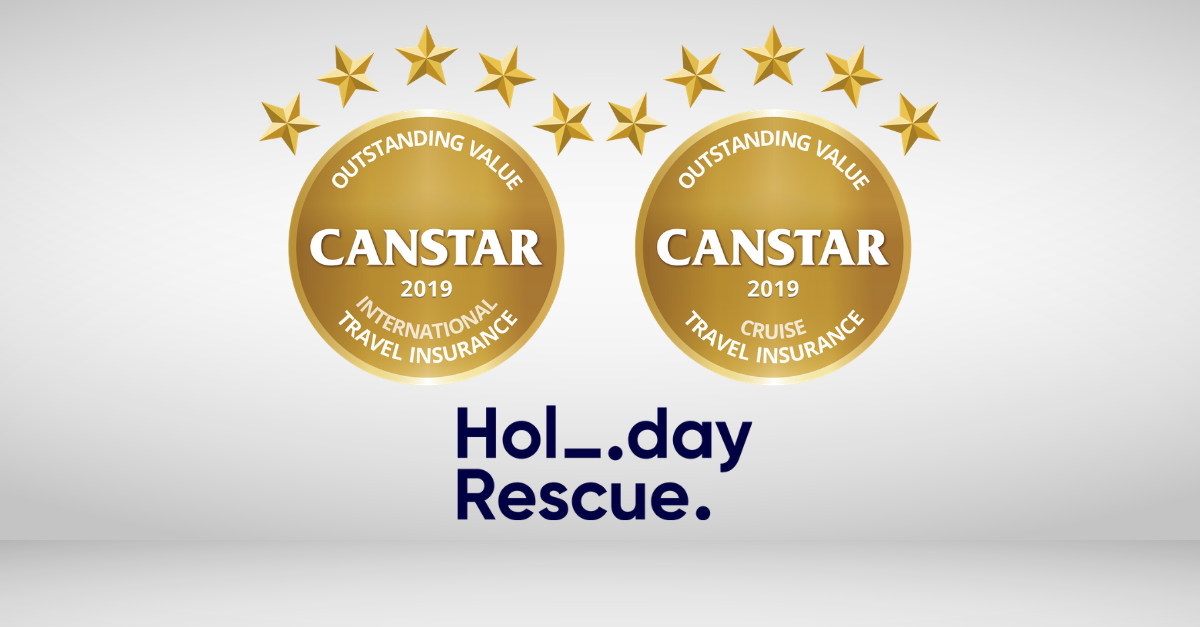 Holiday Rescue was recognised as offering Outstanding Value, taking out an Award for their insurance policies for international and cruise travellers.
Holiday Rescue offers two levels of cover – "Essentials", for the budget-conscious traveller, and a "Comprehensive" policy, for those looking for greater peace of mind. Canstar awarded their "Comprehensive" policy a 5-Star Rating in the majority of consumer profiles. (The "Essentials" policy did not qualify for the star ratings process, as it does not include cover for luggage and personal effects.)
InsureandGo: Outstanding Value Domestic Travel Insurance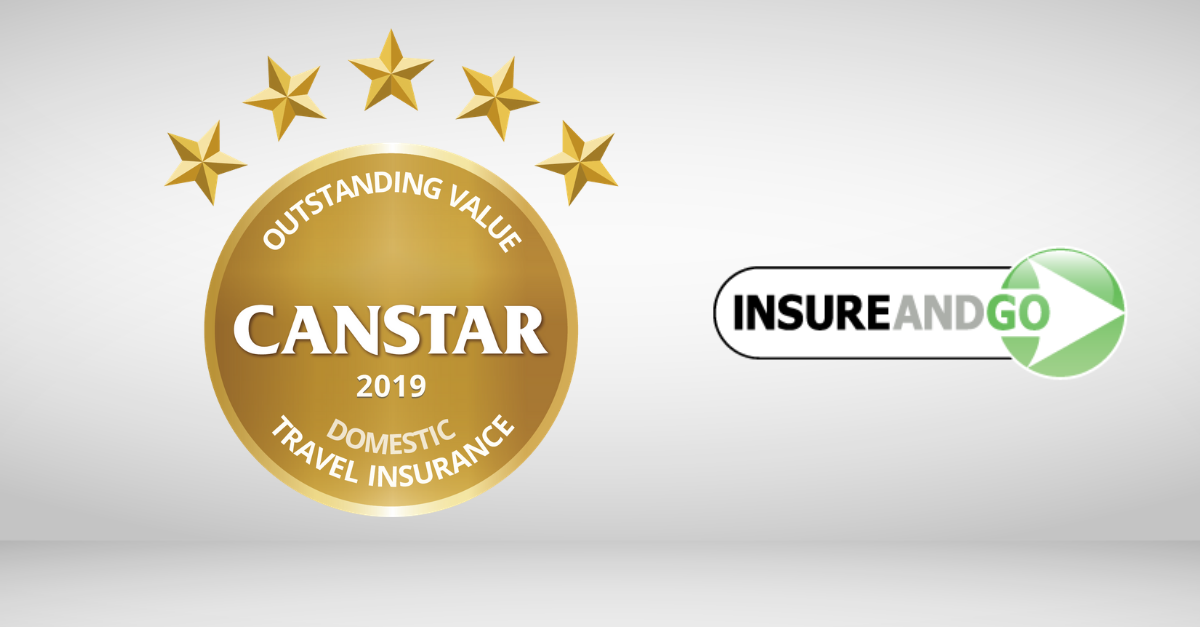 InsureandGo was recognised as offering Outstanding Value, taking out an Award for its domestic travel insurance policy.
Canstar Research was impressed with InsureandGo's feature offering for its Gold Domestic policy, including cancellation cover up to $25,000, rental vehicle excess waiver cover for up to $7,500, baggage cover up to $8,000 and 24-hour emergency assistance.
Tick Travel Insurance: Outstanding Value International, Seniors and Cruise Travel Insurance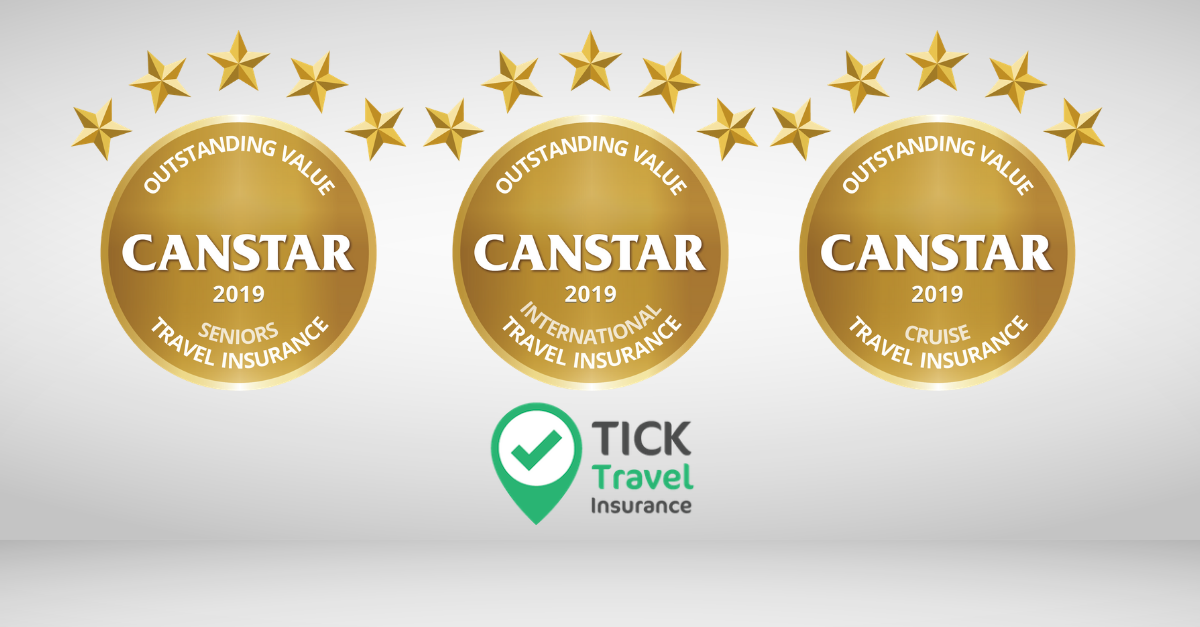 Tick Travel Insurance was recognised as offering Outstanding Value, taking out an Award for its insurance policies for international, senior, and cruise travellers.
Tick Travel Insurance offers three levels of cover for travellers – with a Budget, Standard and Top level of cover – giving consumers plenty of choice when it comes to choosing the right policy for them. Canstar Research found that their budget policy provides a modest level of cover with very competitive premiums, while even their higher levels of cover were often able to perform favourably against the market on price. Ultimately, insurance is about buying peace of mind, and Canstar Research found that Tick Travel's options allowed consumers the opportunity to compare their policies and decide which level of cover they need and, importantly, what fits within their budget.
World2Cover:
Outstanding Value International and Seniors Travel Insurance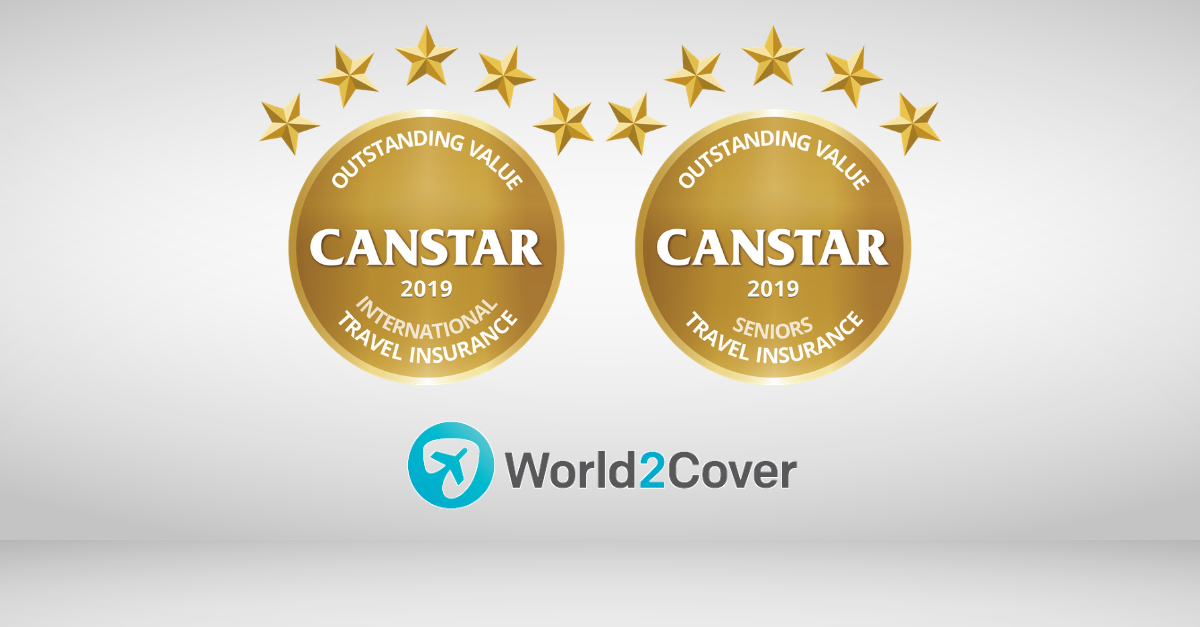 World2Cover was recognised as offering Outstanding Value, taking out an Award for its international and seniors travel insurance policies.
The company had outstanding performance in terms of both price and features, Canstar Research found, with premiums around 30% lower than the market average across international regions (14 and 21-day travel periods). Canstar Research was also impressed with the stand-out features for its Top Cover policy, including unlimited repatriation and evacuation expenses, as well as $4,000 reimbursement towards travel agent cancellation fees on a single policy. For seniors, premiums were on average around 35% cheaper than the market average across the travel profiles assessed.