Want a family getaway on a budget, but don't want to spend it huddled together, shivering in a tent in the middle of winter? You'll want to head north, towards the equator.
Here are our top picks for cheap family holidays within Australia or for a short (translation: cheap) flight to our nearest neighbours:
1. Whitsunday Islands camping, QLD
Up in tropical North Queensland you can enjoy average winter temperatures of 24-25 degrees Celsius – perfectly reasonable for camping! The Whitsunday Islands have a range of camp sites that offer secluded beaches and easy access to coral reefs.
https://youtu.be/OdN8yW6PNTQ
2. Darwin, NT
The climate in the 'Top End' is much more tolerable in Winter with max temperatures in the low 30s and a lower level of humidity. This presents a great time to visit the Northern Territory's unique capital city, Darwin.
Just a 5-minute walk from the CBD is Aquascene, a wild fish-feeding sanctuary where the whole family can hand-feed fish. After this you can take your plane-crazy kids to see Darwin's Aviation Museum, one of Australia's most important plane museums. It features a B-54 bomber on loan from the United States Air Force, which is one of only two living outside America. You can watch rare footage of Darwin's first air raid and check out the 19 other impressive aircraft on display. The sunset markets at Mindil beach offer the perfect way to end the day, with delicious food, colourful arts, fire shows, live music and a beautiful sunset to boot.
3. Broome, WA
Broome's temperature is in the mid-30s in July. Now that's a winter we could get behind. Take a tour into the Kimberley for an experience your kids will never forget. Visit Cygnet Bay Pearl Farm, Australia's oldest still-operating pearl farm, to learn about the history of pearl farming in Broome. You can also go fishing, take a bush tucker tour, or visit 12 Mile Bird Park. You can even take a camel safari with your family from $45 per person.

Need to save up for a trip?
4. New Caledonia
New Caledonia is one of the few places in the world where you can wear a beret on the beach and not feel out of place. It sounds like a place reserved for the rich and famous, but it's relatively affordable for a family if you budget carefully and shop around for the best flights and accommodation.

Explore the beautiful waters of New Caledonia
5. Vanuatu
Like its neighbour Fiji, Vanuatu is popular for snorkelling and scuba-diving, adventure activities, volcano tours. It also boasts cultural highlights including the death-defying Pentecost Island Land Diving or naghol, an ancient form of bungy jumping that uses vines instead of elastic ropes.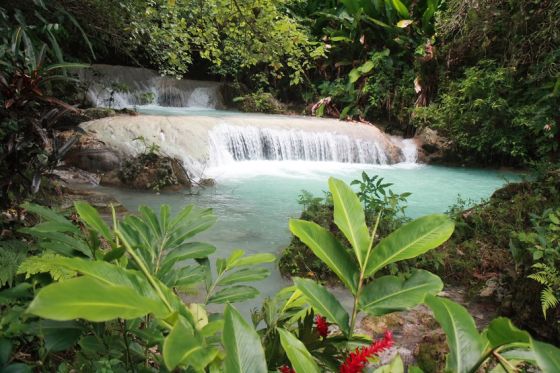 The natural beauty found in Vanuatu
6. Tonga
Tonga is the only island chain in the world to earn the name "the Friendly Isles". Tonga is actually made up of over 170 islands and is the South Pacific?s only kingdom. If you?re there between June and November, you can go swimming with migrating humpback whales. You can also go sailing or diving. Tonga has a curious history; its former king, George Tupou V, was a lover of all things English and used to dress in elaborate military uniforms and drive around in a black London cab.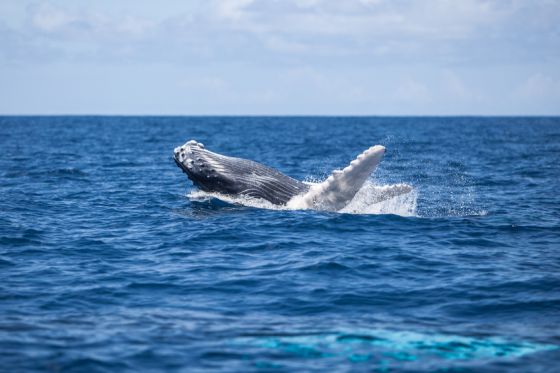 Whales are one of Tonga's many attractions
7. Samoa
Since the international date line was moved in 2011, Samoa is now the first country on earth to see the rising sun. It has everything from beaches to waterfalls to rainforests, and you can take your kids to the home of Robert Louis Stevenson, the author of Treasure Island.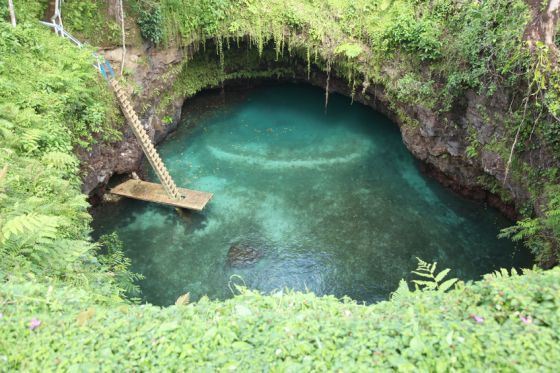 The Tu Sua Trench in Samoa.
Compare travel insurance policies for your family
To see which travel insurance policies were given a 5-star rating for families, use our Find and Compare search tool by selecting 'Family' in the 'How many people' dropdown box.
As for the rest of your trip, check out Canstar Blue to see which domestic airlines, hire cars, hotels, and online accommodation booking services Australians were most satisfied with. Good luck with your search for the perfect winter budget holiday!