Known by some as the heart of Australia, Uluru is more than just a rock in the Northern Territory. The monolith has become a popular site for tourism and, perhaps more significantly, it is a place of great cultural importance to Australia's First Nations people, and the local Pitjanjara Anangu people in particular, forming an integral part of
their history.
A UNESCO World Heritage-listed site, Uluru's popularity is not in question, with more than 300,000 visitors heading to the site each year from around the world. In 2019, there was an influx of tourists before a climbing ban came into effect in October. It was reported by Uluru-Kata Tjuta National Park management that up to 1,000 people were visiting the rock every day in the lead up to the ban.
Given Uluru's cultural significance, it may help those planning a visit to the area to understand a bit more about the site and what times of year could be most suitable.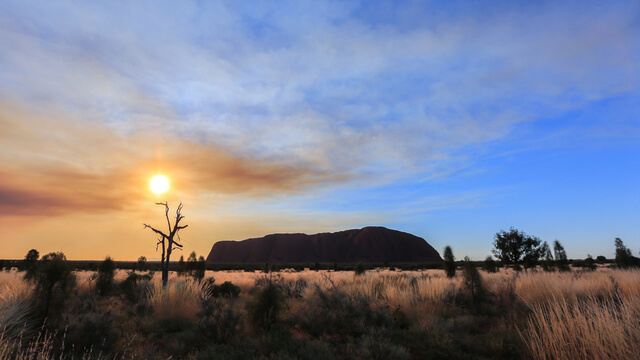 From the day we begin school, if not earlier, Uluru's history and cultural importance is taught to Australians. The traditional owners of Uluru-Kata Tjuta park (where Uluru is found) and the surrounding land, the Anangu, consider the rock to be an important ancestor of the region. According to the Anangu, the monolith was created at the beginning of time by ancestral beings, and the park's administrators say that Aboriginal people have lived in the area for at least 30,000 years.
The rock itself stands 348m high and is nearly 10km to walk around. However, most of Uluru is underground as it extends 2.5km below the surface.
Why was Climbing banned at Uluru?

The Uluru-Kata Tjuta National Park Board of Management unanimously decided to close the climb from 26 October 2019. The closure coincided with the 34th anniversary of Uluru's return to the traditional owners.
Signs asking people, on behalf of the Anangu, to reconsider the climb had been up since 1992, but an official closure finally took place for several reasons, including:
Cultural: To its Aboriginal owners, Uluru is a sacred site and links them to their spirit ancestors who they believe shaped the land. Under Tjukurpa (Anangu law and culture), climbing of Uluru was not generally permitted.

Safety: Many accidents, including fatal ones occurred when climbing was permitted. According to the Australian Government, it is estimated at least 35 people have died while many others have had to be rescued due to injuries such as broken bones, or heat exhaustion and dehydration.

Environmental: Since the 1950s, erosion has occurred from the millions of feet that have walked up Uluru. Human waste was also left on the rock at times.
The weather is a key factor to consider before planning your trip, as it may affect your experience and what you need to pack. Uluru is known for its extremely hot summer, with temperatures in January reaching a long-term average of 38.5C, according to the Australian Bureau of Meteorology.
We're getting very close! It's not hard to see why this was your 2nd favourite photo for 2018. #Uluru has been hit with some wild weather this year, including a supercell that passed right over it!
Photo: Kartikeya Sharma (via FB) #NTaustralia pic.twitter.com/DS3hVRQiFk

— Northern Territory – Australia (@NT_Australia) December 30, 2018
The scorching heat of summer is well known, but visitors may be less aware of how cold it can get in winter. The daytime temperature can be reasonable, but as soon as night hits, it can drop to below 0C.
However, when it comes to the local seasons at Uluru, the Anangu don't go by Western dates. They instead break down the year into five periods, according to Parks Australia.
Piriyakutu/piriya piriya (usually August to September)
Uluru typically experiences a warm, steady wind from the north and west at this time of year, while the average maximum temperature hits 22.6C in August and 26.4C in September. Temperatures can fall below 10C at night during both months.
Mai wiyaringkupai/kuli (around December)
This is considered one of the hottest seasons, with an average maximum temperature of 37.5C and little to no rain. Storm clouds are quite prominent and lightning strikes can cause fires in the region.
Itjanu/inuntji (usually January to March)
These three months typically offer little respite from the hot weather with an average maximum of no lower than 35C. After the dry season that precedes it, overcast clouds can begin to appear, with rain finally falling in the area. That said, according to Uluru Travel, only an average of 31cm of rain falls in the area every year, making it rare to experience a downpour whilst on holiday there.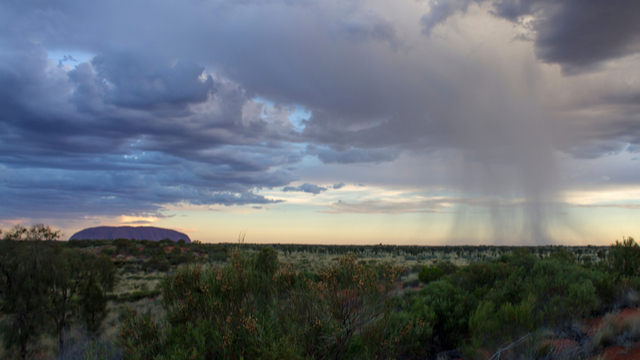 Wanitjunkupai (usually April and May)
During this season, colder weather starts to roll in, with westerly winds bringing in clouds around April, but typically no rainfall. The above 30C temperatures end and a chilly change is felt leading to an average minimum of 12.6C in April and 7.9C in May.
Wari (usually May, June and July)
The coldest season starts with frost and mist/dew occurring each morning. There is little to no rain but, you may need to thinking about staying warm, as the average minimum does not go above 8C. During the colder months, packing items such as a beanie, scarf, gloves, warm jumpers and track pants could make your trip that bit more comfortable.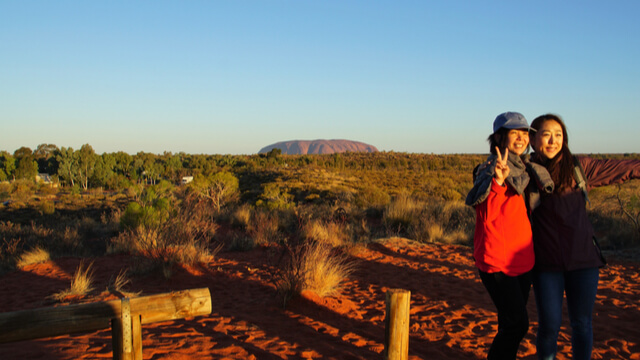 Experiences in Uluru at different times of year
Visiting Uluru probably isn't the only thing your travels will include. Checking out what else is on offer at various times in the year could help you keep your holiday itinerary busy and camera roll full of memories.
Tours of Uluru
A tour of Uluru is a popular cultural experience, as you typically not only learn about the rock itself, but also the Anangu people and their traditions. On a guided tour, you may view ancient rock art, learn about the Creation stories that are associated with Tjukurpa and gain an understanding of why Uluru is such a significant location. There are a variety of tour companies operating in the area offering experiences for different kinds of visitors.
Cost: Price varies with each company and the type of tour being offered.
3:30am wake-up call for the spectacular sunrise tour of #Uluru – easy to see why this has been a place of great spirit and refuge for millennia. It's 11:00 and approaching 45 degrees now, so like all other Outback animals I'll be retreating to a cool, dark place to sleep all day! pic.twitter.com/R0YZZH4Ke5

— Chris Delanoy (@SkyHighYYC) January 3, 2019
More tours, and free options, are available through Ayers Rock Resort.
Bruce Munro's Field of Light:
The Field of Light is a large art installation created by British artist Bruce Munro. The 50,000 solar-powered bulbs illuminate the night, creating a glowing spectacle across an area bigger than seven football fields.
When: Until December 2020
Bookings can be made through Ayers Rock Resort, as the location of the installation is remote and only accessible through a tour. Voyages Indigenous Tourism Australia strongly recommends booking in advance as spaces are limited.
Tjungu Festival
Meaning "meeting together" in the Anangu language, the Tjungu Festival celebrates Aboriginal culture. The festival features traditional and contemporary indigenous musicians and bands, markets showcasing Indigenous artists, fashion parades and traditional food. It also showcases an AFL match, the Tjungu Cup, featuring local Mutitjulu and Yulura football teams.
Cost: Free, but costs apply to certain events and activities.
Australian Outback Marathon
Describing itself as a once-in-a-lifetime experience, the Australian Outback Marathon offers runners views of Uluru and Kata Tjuta. The event features several distances, including the full marathon (18+ years), half marathon (15+ years), 11km and 6km fun runs (which are open to all ages).
Cost: An entry-only option is not available, so participants must book one of the itinerary packages through the official marathon website to enter the race. Prices vary depending on your preferences.
Cheapest time to travel to Uluru?
The lowest prices for an Uluru visit tend to coincide with the summer months. This is when temperatures can become unbearable, causing tourism numbers to drop and some accommodation operators to lower their prices as a result. According to Skyscanner, flights are usually at their cheapest between December and February.
To give you an idea of cost, these are the average fares for the summer months for adult economy return flights from Sydney to Connellan (Uluru's local airport) listed on Skyscanner between Jan 2017 and Jan 2018:
$768 return for December
$740 return for January
$654 return for February
Though August and September are considered the preferable months to travel to Uluru due to the weather, according to Experience Oz, prices do tend to rise during this being peak season. For example, return flights from Sydney to Connellan average at $810 in August, while in September they average at $891.
Regardless of when you travel to the area, bear in mind that you may need to budget for the cost of entry to Uluru-Kata Tjuta National Park, as fees apply to individuals and some vehicles, although at the time of writing entry is free for children under four. Prices vary depending on how long you intend to stay and whether you are travelling as part of a family, but a planned price hike could see the cost of a visit go up by more than 50% from November 2020. If you are visiting with a tour company, check whether the cost of entry to the park is included in the cost of your itinerary.
Travel insurance for Uluru
Accidents can happen anywhere, even when you are travelling domestically. As Australians are typically either covered by Medicare or private health insurance for most emergency medical incidents, the Australian Government Smart Traveller recommends domestic travel insurance to protect against risks such as holiday cancellation, baggage loss or incurring car hire excess fees.
Cover image: leodaphne (Shutterstock)