Half of young Australians choose the bank their parents use, bringing a whole new meaning to the phrase 'bank of mum and dad,' a new survey has found.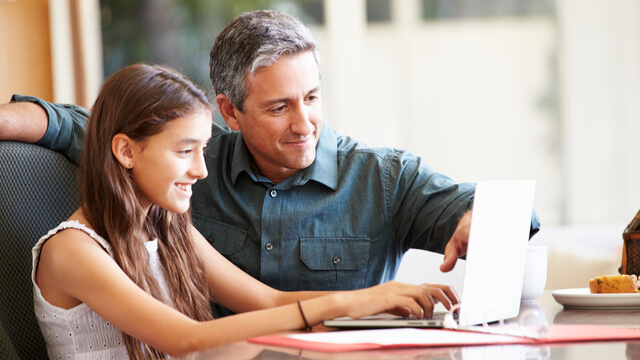 The survey, carried out by Credit Union Australia (CUA), found that 50% of Australians between the ages of 18 and 24 opt for the institution that their parents bank with, while almost the same percentage of Aussies (46%) overall felt their upbringing did not make them financially savvy.
The results shine a light on the role parents play in informing their children about money. They suggest that in many cases, Aussie kids are shielded from discussions about family finances.
Almost half of those asked said they never heard their parents talk openly about money, while nearly two-thirds said their parents kept money troubles from them.
When it comes to parents' influence on their children's future banking choices, Professor John Dawes from the University of South Australia's School of Marketing said it's not surprising that kids inherit some of their parents' money habits.
"Research has found that children tend to use brands their parents use. Things like toothpaste, and it's merely that they've been exposed to it and they're familiar with it," he said.
Professor Dawes explained that the same principles apply to financial literacy and decision making, and that this kind of parental influence often starts with a child's first bank account around the age of 15. Convenience and familiarity are often the key factors which influence financial choices, he said.
"If you're a parent and you bank with a certain institution, you will probably suggest it [to your children] simply because you know how the bank works. You're familiar with it and know where the branches are."
Canstar's Group Executive of Financial Services, Steve Mickenbecker, said parents should consider helping their children to choose a bank that's suitable for them rather than simply suggesting their own.
"If parents were more savvy, they would say 'don't necessarily go with the bank I'm with. Let's have a look at and see if there is a better bank for you to go to. What products are you after? What options are out there? Because I know better now than when I started banking.'"
Mr Mickenbecker said fees and interest rates were two key factors to consider when deciding on a suitable bank account.
"What will differentiate the account is the cost, so you may want to look for an account that's virtually free for transactions and which doesn't have a big monthly fee," he said.
"When saving, you want to look for a savings account with a reasonable interest rate."
According to the CUA survey, 18% of Australians overall said they chose the first bank they came across.
Professor Dawes said in many cases consumers make choices that satisfy them, rather than thinking about what decision would be in their best interest.
"They can probably get better deals by doing research," he said.
Other popular reasons for choosing a bank included its good reputation (18%), competitive rates (13%), range of products (12%) and partner recommendations (7%).
The financial empowerment survey also found:
64% of Australians save 10% or less of their income each month.

One in four distrust their bank. For over 80% of those, it's because of the fall-out from the banking royal commission, or because they think banks only care about profit.

44% of Australians engage in 'mindless buy now, pay later spending'.

40% of all 18-24 year olds and 25% of 25-34 year olds admit to being clueless about their monthly expenses.

'Being good with money' ranked number four in a list of the top 10 attributes people look for in a potential partner.