As girls start to become women, what do you get them for Christmas?
Christmas is right around the corner and your young girls have turned into teenage young women. (It happens so fast!) So what do you get them for a gift they won't think is hopelessly uncool?
Forget about the nail polish kits and the Hello Kitty undies – here are our hot tips for gift ideas for teenage girls this Christmas:
Pricey gifts for teenage girls
For every teen girl obsessed with Instagram (so, all of them), there is now an answer to printing and scrapbooking Polaroids of their awesome snaps. The Fujifilm Instax Mini 8 is the Polaroid for the modern gal ($89 from Big W), or the Smartphone Instant Photo Lab is an option for printing straight from her smartphone ($240). (For a cheap DIY version of the printed Insta-snaps concept, see below!)
For active teen girls who love the sun and surf, get a 1.5 hour stand-up paddle board lesson for her and a friend at St Kilda or a beach near you ($90 for 2 people from Red Balloon).
Portable speakers were a popular gift choice throughout this year and we predict they will remain one of the top picks for Christmas 2016. Prices range from $15 for a mini model (Big W) up to hundreds of dollars ($359 from Apple Store).
Board games remain popular with teenage girls with a competitive streak, and they help your teen get some extra social interaction that doesn't involve much teen friendship drama. Our picks for Christmas 2016 for teen girls would be the simply adorable Takenoko (the Emperor's Panda) ($80), the communication-focussed classic, Articulate ($35), or the teamwork-based Pandemic ($65).
Affordable gifts for teenage girls
A hot fashion trend in 2016 has been the boho backpack ($28 on sale from Cotton On, otherwise $40 and up).
The most beautiful tunes beloved by teenage girls these days are no longer One Direction and Justin Bieber (thank God). Instead opt for inspiring voices with equally inspiring personalities, like Adele (25 is $20) and Jamie Grace (Ready To Fly is $17).
Source: Jamie Grace
For the Schoolies who plan to travel over the break between graduation and work/uni/TAFE/real life starting, a set of travel locks and luggage tags is a stylish gift ($14 on sale from Cotton On, otherwise $20).
For the creative types, think Riot Arts & Crafts. Watercolour pencils ($10 and up) and an A3 sketchbook ($10 and up) go a long way with many teenage girls.
For the readers out there, teenage girls often enjoy The Fault In Our Stars by John Green ($12), Little Women by Louisa May Alcott ($11), and the Tomorrow, When The War Began series by John Marsden ($15 each) with its strong, teen female heroine. To empower her for her future as a young woman, you can also gift her inspiring reads such as
Homemade gifts for teenage girls
For the Instagram-obsessed, you can DIY an "Instagram in a box" solution to the expensive printer we mentioned above (see this tutorial from Damask Love). All you need is some photos of them printed in squares with a border, like a Polaroid, and a square-ish box you can decorate like the Instagram logo. (But don't steal photos from their Instagram account unless you've cleared it with them first; you've probably already got plenty of your own photos of them anyway.)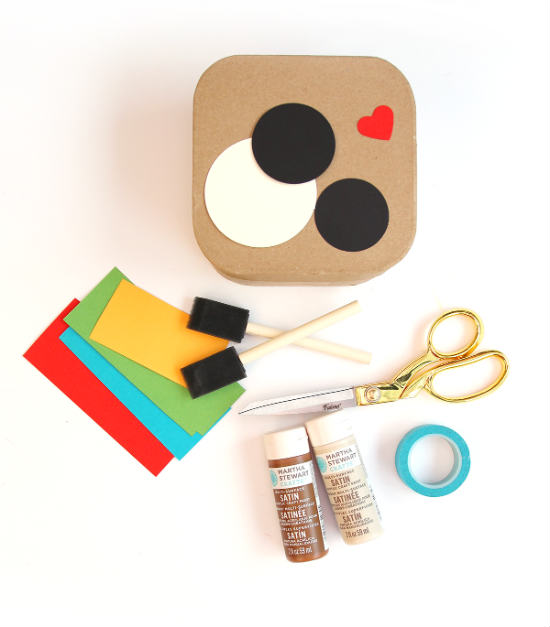 Amateur photography has really taken off in the past few years. If your teen girl has a camera, you can make her an amazing camera strap using a scarf (see tutorial from Pop Sugar) or some sequin straps from Spotlight or Lincraft (see tutorial from A Bubbly Life).
Every teen girl loves their smartphone (if they have one), and you can help her keep her keys, cards, and phone together in one place with a DIY smartphone case (see tutorial from Straight Stitch Society). This cute patterns are almost certain to prevent "uncool" eye-rolling judgement – although there are no guarantees at this age.
For something a bit more out of the box, remember that the teen years can be a time when many girls struggle with insomnia due to the bodily changes of puberty, the stress of multiple assignments, and changing friendship dynamics. You can DIY a sleep salve for her (see this tutorial from Pop Sugar).
World-changing gifts for teenage girls
Statistics show teenagers in the 2010 decade are 100% more likely to volunteer for a cause than teens in the last few decades. If you want your gift to have an impact on the world – and your young lady – consider asking her whether there's a cause he'd like to help out this Christmas. You can make empowering and enabling her part of her gift, by playing chauffeur and joining her as she serves a meal at a local women's shelter or teaches a kiddies' class at the local YMCA.
How to pay for Christmas gifts
When you're buying Christmas gifts for the young ladies in your life, don't rack up a credit card debt and spend the rest of the New Year regretting your Christmas debt hangover. Use your everyday transaction account so you know exactly what your budget is, how much is left in your account for your usual weekly expenses, and so that you don't pay interest on your gift purchases.
Don't already have an outstanding value transaction account with your bank of choice? Compare what's on offer out there with our website: